N9EWO Review :
Finmeccanica - DRS Technologies
Signia IDT - BAE Systems - Watkins Johnson
WJ-8711 / HF-1000 Series DSP HF Receiver

The now "discontinued" WJ-8711A DSP HF Receiver in it's lightweight shell. In our testing against the best SDR and non-SDR sets of yesterday and today, we still feel it's one of the BEST HF receivers EVER MADE . I highly recommend the use of a Hammond RCBS1900517BK1 "Tabletop"cabinet (not shown above). It has been reported that 4 different Motorola DSP devices were used in the life of the receiver (see text). Similar HF1000 "consumer version" were made for a limited time frame at a lower price. Top IF bandwidth was restricted to 8 kHz on the HF1000's (WJ8711A's normally go up to 16 kHz). The DS1643 Time Keeping RAM used in most of these receivers (except early samples which used a button cell) are no longer available (alternative available, see text).

---
The WJ HF1000 and WJ-8711A professional DSP HF receivers can no longer be purchased "BRAND NEW" (both discontinued).
This old "Watkins Johnson Telecommunications Group" is now owned by the Italian firm "Leonardo" as of January 2016,

(was "Finmeccania").

Previous owners and front panel markings : Watkins Johnson , Marconi , BAE Systems , Signia - IDT and DRS Technologies-(DRS Signal Solutions).

See text below for my review. Dave N9EWO





The "Discontinued" WJ-8711A Options List

WJ-8711A WJ-8711A Digital HF Receiver
WJ-871Y / 488 IEEE-488 Interface Option
WJ-8711 / PRE Sub Octave Preselector (11 Filter Bands, it also adds static and RF input protection)
WJ-8711 / REF High Stability Option ( .2 ppm )
WJ-8711 / SEU Speech Enhancement Unit Option
WJ-8711 / SPK Internal Speaker Option (a Misco in our 1999 HF1000 test sample )

Options listed below were factory installed only (at time of purchase)
WJ-8711A / COR Carrier-Operated Relay Option
WJ-8711 / DSO1 Digital Signal Output Option
WJ-871Y / 8KRF 8 Khz Roofing Filter Option (limits bandwidths to 8 Khz and below)
WJ-871Y / 485 485 Interface Option (Multidrop interface)
WJ-871Y / IFC 12.5 Khz IF Output Option
WJ-871Y / FSK Frequency Shift Keying Option
---
**** 3 Firmware EPROMS **** Beware Of Old Versions **** Different DSP Devices Used ****
All versions of these receivers use three separate EPROMS for the software / firmware operations. "Control Processor", "Front Panel Control" and the third is for the"DSP Processor". What numbers you see when you first turn it on is for the Control Processor only. For the other two one will have to see the printing on top of the actual EPROM or see page 2 in the "Final Test Results" that were included with any new production sample.

The last EPROM's versions for the WJ-8711A are :

* Control Processor : 04.01.10 (06.00.04 , see text)
Front Panel Control : 1.21
DSP Processor : 04.02.07

* - Important Update : Pat G3YFK tells us that 04.01.10 "Control Processor" firmware version was not the LAST one . In order to be able to keep manufacturing the receiver until mid 2010 (and a bit beyond ?), there were part changes made in the last "very late" new control board along with different "Control Processor" firmware to make it all work . This new LAST control board schematic is shown in the 2007 version of the manual (I have not seen it). So the LAST "Control Processor" firmware appears to be (or around) : 06.00.04 (perhaps around 2007 to the end ?) . The "Front Panel Control" and "DSP Processor" firmware shown above were used to the end of production .

Also appears there were FOUR different Motorola DSP devices used in the life of the WJ-8711 (and 4 speeds of course). Those are :

EARLY (non A's ??) : 56001FE27 / 56001FE33
MID (most samples) : 56002FC40
LATER (however not seen myself) : 56002FC66

Our thanks to Pat for the very important updated information here. Also be sure and see his added information on the internal Condor power supply repair near the bottom of this page .

My views / comments that you read here were based on a tested sample of the HF-1000A that was near the end of production (1999 mfg., Control processor 04.01.10). The WJ-8711A's tested units were a late 2000-2001 and an early 2003 production sample . WJ HF1000's were manufactured up to Dec 1999 (or early 2000). The WJ-8711A production ended in mid 2010 (or abouts).

Early versions of both of these sets had very serious problems with audio quality. It was so harsh that it would make your eyes water. This was cleared up in later production. The changes were not just with software, there were hardware changes as well over the years. I myself would avoid either radio with early firmware / hardware (say a non "A" version having a control processor before 04.01.04 ?). What actual versions are better than others (in-between the latest and the very early ones), I cannot be of any help, do not have any solid information. See the chart at the bottom of this page for some information (but is not complete).

Additionally, early versions of either model used a large lithium button cell (in a holder) on the DSP-microprocessor board to retain memory and menu information. In time this was changed to a "Timekeeping RAM" IC (Dallas DS1643-120 or DS1643-100). See user notes near the bottom of this page for more information on a alternative replacement.

Dave N9EWO
© N9EWO , all rights reserved
Ver. 4.1
---
N9EWO's Review on the WJ-8711A DSP HF Receiver
DISCONTINUED RECEIVER

What you read below include my own personal views.
One of the HF-1000A ,and Two of the WJ8711A's were tested for this report.

*** A Very Expensive Receiver ***

The first hurdle to overcome with any premium receiver like the WJ-8711A was the excessively high cost. We are NOT talking about a consumer product here.

** Very Light box and no proper feet included ***

The first observation that hits you about the WJ-8711A is it's weight. This is the lightest "Premium" tabletop receiver I have ever picked up , near 10 lbs. Both 8711A's tested did not have the internal speaker option, which would have added a couple of pounds.

The entire set is made of very thin sheet aluminum. It seems the top being a bit thinner than the bottom and sides. Overall we are talking about some very thin metal here. I would not set any other item on top of this receiver. Not a very robust case here.

The front panel is one very thick piece of aluminum. All is of a bear nature, no part is painted or anodized, except for the very front panel (front side only, rear is bear) which has a light gray painted surface. Watchout for the corners of this front panel. They have very sharp edges and one could very easy get injured.

Reports have indicated that the WJ-8711A's case and or front metal was of a anodized nature. If this was true, with later samples it was just painted to save costs ?

Another small observance is if you shake the set a bit, you will hear the "loose" internal mounting nuts that are set up to use speed screws for a rack shelf mounting brackets. If you don't plan on mounting the set using these 6 screws and the "jiggly" loose speed nuts bug you (as they did me), just insert six 10-32 x 5/16 pan head screws to tighten these up. Of course another way would be to just open the case and remove these 6 nuts and the little mounting clips.

Were all used in a table top configuration. I did not prefer the included hard pop-on plastic feet. For one they were not high enough for my liking and second were the hard variety so the set would slide around in use.

One would NOT be advised to use any self tapping screws (or ANY screws for that matter) into it's raw cabinet, say using older style rubber feet. In one mounting hole especially, this could easily contact and or penetrate the PC board/wiring and damage the receiver, let alone the metal filings that could enter the set using self tapping screws.

Best way around this would be to purchase a tabletop cabinet. "Hammond Mfg." makes very well made high quality "STEEL"tabletop cabinets that work great with these receivers and usually sell for around $ 200. USD. The WJ8711A operates cool enough so any excessive heat is not an issue being in a cabinet like this. These normally come with rubber feet (may come with the rack screws as well with the latest productions ??), but you may wish to order the better optional rack screws with it (with plastic cup washers) for mounting. These cabinets are made in Canada. I found other ones that can be purchased elsewhere are NOT made of steel and lack strength and are more expensive to boot. I used the "Hammond" Cabinet Model Number (black) : RCBS1900517BK1, plus added the "Hammond" Package of 4 Mounting Screws and Cup Washers (Cup Washers are Black Plastic) : 1421A

*** 2 Inch thick "Chubby Manual" for WJ 8711A *** Later Samples Included a CD-ROM Manual as Well *** Power Supply Schematic ***

I must say this is one of the most comprehensive and well written manuals that I have ever seen. At around 2 inches thick it goes over every control, function, operation and option. The manual for the HF1000A was about 1/3 thinner.

Schematics for all circuits and options are shown with an exception for the SEU Speech Enhancement. It is missing as well as a "Real" parts list for it .

A downside is that it is hard to page through with it's old style "webbed" binding. One should be careful not to bend the pages in the plastic binding as you go through it as it could damage them in time. Also this manual lacks pictorials of the 3 main PC boards, in fact the only one that is shown is for the "PRE" option. One other major omission is ANY schematic for the Condor SP1348A power supply.
The 2003 sample also included a copy (of the same printed manual) in a CD-ROM (PDF format).

*** Excellent - Warmish Running Power Supply ***

Both the WJ-8711(A) and it's old very close cousin HF-1000(A) both use a INTERNAL switching power supply that provides voltage to all circuits. But do not confuse this supply with switching types that are used in consumer/computer or even amateur radio equipment. These are low cost and noisy supplies .

This excellent "custom" commercial supply was built by "Condor" in Mexico (model number SP1348A). It runs extremely clean with no RF hash and with only moderate heat.

We see a small surge protection device (an MOV) mounted near the power switch, but one would be advised to use a additional plug in device (non-MOV) to protect the set even more from power surges and spikes. A "zero-surge" (http://www.zerosurge.com/) or a "Brick Wall" (http://www.brickwall.com) surge protection product would be a excellent idea here. Switching supplies are more subject to surge and spike damage.

But over the years I have only heard of two folks with any power supply failure issues in these receivers (a couple of capacitor failures). Again please see near the bottom of this page for more information on this topic.

*** S-Meter Markings ***

The "Signal Meter" is only calibrated in dBm. So you have to do a bit of conversion over to standard s-units. Better yet just use my free conversion chart below. The later versions of the HF-1000 did indicate a few "S-Unit points" (along with dBm as well). It works excellent with it's "true" readings and have yet to see it pin .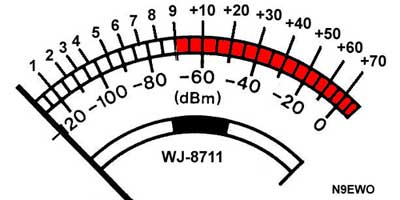 WJ-8711 / HF-1000 Meter Conversion Chart (from dBm to S-Units).
(N9EWO Chart)
*** Displays and Lights ***

Green "LED" displays and indicators are used throughout, and as anyone knows in this department, as long as they are properly fed with the right voltage, LED's will easily outlast any liquid or gas type display. I find LED displays to be easier on the eyes as well.

You do not need any type of "dimmer" with this display, it is good at any light level.

We have only one light bulb to have to deal with, and that is of course behind the signal meter. This is in a socket and easy to change. Bulb number is a 86 (6 volt). It burns on the dim side so should not need replacing too often. But thank goodness for a socket here. Early samples of Ten Tec's RX-340 meter light is another story, good luck on a easy job here. One could always use one of those LED replacement bulbs, but it then looses the "warm fuzzy" feeling for me. The only bug that can happen is , the 86 bulb's tiny connection wires on the base can become dirty and it can flicker (just clean the wires off).
LED Meter Bulb Replacement :
Bruce Lane informs us that a GREEN drop in LED replacement for the #86 that looks fantastic. This can be purchased via Mouser (at the time this text was added). Mouser part number is : 645-586-1A02-101F. This is a 6VDC device, T1 3/4 sub miniature wedge base.
Also available in WHITE : Mouser Part number : 645-586-1A06-101F. Of course being LEDs, and as he says

..."will likely outlast the receiver (or their owners)".

Many thanks Bruce for the great information here.
*** Memories and Tuning A Real Treat / Excellent 1 hz Tuning and Display ***

We have 100 memories. Some would say that this is a bit light and perhaps another 200 or so would be desirable ? I find the 100 works good for my uses. Having anymore would make it more of a chore of "going around the loop". The memories are used for hard to find channels and having too many would be bad.

Selecting , entering and scanning memories / frequencies is simply a first rate affair with this set. The separate display for memory channels are perfect to my operation. As you rotate this knob and select memory channels...you can have it activate as you rotate, or just display them in the "sub" display.

I like the tuning step arrangement. You can program any step you want. You may tune using this step, or select the digit of the display to tune (it flashes in this mode to indicate the selected digit). Excellent indeed.

We have a super fine 1 hz min. tuning step with of course a digit to show this. It is "dead on" across the entire tuning range as well. Here is an area where most consumer receivers/amateur transceivers are left in the dust. This makes manual ECSS tuning is simply a dream. There is even a external reference adjustment to keep this dead on too (see text located below on this same web page).

*** SAM (Synchronous AM) Near Excellent Overall ***

SAM (Synchronous AM) operates in double sideband. It's is still very useful, reduces fading distortion by leaps and bounds.

Only once in a awhile does the SAM loose lock (for split second) and usually this is because one is slightly a bit off of the center of the signal. Or if you are using too wide of a filter selection and adjacent channel interference creeps in (even a slight amount can do it). But overall it does hold lock very well (more times than not) and is very useful.

Ten Tec's RX-340 is a truly POOR performer with it's SAM (yes, I have run "side by side" test's with two RX-340 samples). It looses lock on a STRONG signal totally in the clear....ARF !!

*** Passband Tuning in CW mode / Excellent Notch Filter ***

We have Pass Band Tuning in the CW mode with the either the HF1000 or 8711. But there is a "sometimes" useful trick that most owners may already know about to use this in other modes. If you wish to "try" PBT for say an AM signal (quazi-manual ECSS) , select CW mode. Set BFO window (offset) to 0000, and then select the PBT mode and tune.

Does not always do the trick, but worth a try.

The adjustable "DSP" Notch is a huge winner. Extremely deep and sharp. Works in the AM, FM, USB, LSB, ISB, SAM modes.

*** Audio Recovery simply the BEST EVER ever used but more noise too / Punchy Audio ***

In my view where the WJ-8711 receiver shines is in the "Audio Recovery" area. With the right external speaker, this set just can make sense out of the spoken word on a very weak and even muffled station where as on a lesser set is in the noise . While not being a miracle set either..if you cannot make it out with this set..forget it !!!

We do hear a bit more of a harsher sound overall with this DSP set. Static, interference etc, can sound slightly painful to the ears. However this could be the reason why it does so well with audio recovery as well ?? SSB signals tend to have a bit of clipping distortion (even with the slowest AGC setting was used), but this was not detected at all with manual ECSS (brodadcast stations).

The audio amplifier from the speaker output with our 2003 sample has way above average punch and loudness. It works very well indeed. However, this may be questionable for later samples ?

Note : The "before" 2003 data sheet indicated the SPEAKER output level as up to 1 W and the JAN 2003 one gave the output of only 500 mW.

I do know for a fact that the 1.5 watt LM388 audio amplifier IC has been discontinued for a very long while now, and I'm wondering if they ran out and finally had to substitute a different "audio amp" IC in later samples ?

This is for "FYI" only ! Let me say here that I have no solid information on this and may mean nothing at all. However it does suggest that the audio is not as high now having a specification of only 500 mW for output? Folks that's 50% decrease in specification here vs the earlier data sheet.

My last sample was purchased in Jan 2003, and still has the 1.5 Watt LM388 IC.

*** No Local Antenna's / Some will detect Audio "Buzzies" / More noise as you grab the tuning knob on higher frequencies / Top Sensitivity ***

The 8711/HF1000's must have a antenna always away from the set using GOOD shielded antenna cable. It emits a nasty amount of noise that WILL be picked up by itself if not done. Even with a remote external antenna, there is sometimes a bit left above 15 MHz.

In certain situations on higher frequencies, touching the tuning knob increases this background "buzz" a bit. I have noticed this on both WJ8711A's and the single HF-1000 that I used.

Weirdly this does not seem to take away from the DX side of receiving weak signals. Unless I grab the knob on higher frequencies (above 15 MHz). This could very well be a trait of my antenna's and at different locations could be much different ??

The speaker output can emit a weird digital noise, but this is one of those subjective gremlins . To me is sounds like a hive of disturbed bees. Turning the speaker volume control down to min (speaker on and connected) shows this. When turned up in normal operation, I don't hear it at all. It does not emit from either rear line output, these are totally clean. Again many users may not be able to detect this at all, so it depends on your hearing. However, for some reason the Jan 2003 sample, has much less strength of this noise (if hardly any at all) .

A on/off switch on the back of an external speaker to totally shut off it's output when saying using headphones would be one idea. If you channel one of the "line" audio outputs to another external amplifier (don't use the speaker audio amplifier in the set), this should cure the speaker buzzies totally if it bothers you. Early versions of the HF1000 that use the rear DB15 connector and this "line output" idea still may not cure it.

Let me say once you do get whatever antenna PROPERLY made and placed , look out for awesome sensitivity and audio recovery. It really struts it's stuff once the self-generated gremlins are taken care of with a GOOD antenna ! It will blow you away !!

*** Both Audio Line Outputs Have "Hot" Levels ***

Connection for the audio line outputs are found on the rear mounted barrier strip block, shown below (as it is for many of the receiver outputs). Again earlier versions of the HF1000 will course have the dreaded DB-15 connector. In either case the line outputs are a bit too "hot" (loud), and appear distorted when connected to any consumer tape deck, audio mixer, mini disc etc. Level adjustment on the external equipment not helping the cause.

The simple cure of course is to just add a bit of external attenuation (one circuit for each if you use them both) from the line outputs. I used a 10K trimmer pot (using all 3 terminals, one end one as circuit ground, middle one input and other end output), mounted in a small metal box. And of course this control adjusted to proper level.

Eric Cottrell provides more information on this (many thanks Eric, however we found these values to cut a bit too much level in our testing, but is usable and improved over stock) :
"I made up an interface box with RCA Line Outs and 3.5mm Speaker Jack. The Line Outs on the Terminal Block are "hot" because they are close to Pro Audio levels. The 0 dBm nominal at 600 ohms in the specifications is 0.775 volts RMS. Pro Audio nominal level is +4 dBu or 1.228 volts RMS, which is about the level I actually measured. Consumer audio uses -10 dBV nominal level or 0.316 volts RMS."

"Consumer audio line inputs are designed to be driven by low impedance sources in voltage mode. Audio L Pad design guidelines specify the total resistance (R1 + R2) has to be greater that 6000 ohms for a 600 ohm line out, and R2 (resistor across the line input) has to be less than 1000 ohms for a 10k line input (typical value). I did not want to stray too far from these values to minimize the effects of the filter components. I used a 5600 ohm resistor for R1 and a 820 ohm resistor for R2. The audio sounded great using 16K bandwidth and feeding the aux input of my Bose Soundlink ."





The rear "TB1" connector as seen (left picture) on a WJ-8711A or a mid-late HF1000A . To achieve a proper audio "consumer line level" output with the WJ-8711 or HF-1000, some attenuation is required. I used a 10K trim pot (one for each output) to get the job done. Eric Cottrell found the above fixed resistor values to work properly (see text, but we found this to be a bit too much attenuation) .
(N9EWO Photo's)

*** Audio Connections - Do Not Tin the Wires !! *** In Need of TB1 ?? ***

The later versions of HF1000's and all WJ8711's use a rear mounted thirteen-terminal audio "terminal block" marked in the manual as "TB1", as shown above . The dreaded noisy DB-15 connectors were used in early versions of the HF1000's (see picture below). This is indeed a bit strange looking when compared to consumer / amateur equipment. The TB15 is a removable terminal block that allows you to pull it out to connect your wires into the holes, clamping these wires in this plug using screws. This system works fine, but I found in my testing that one should not tin the wires with solder. It will not make the proper "crunch" when the screw is tightened down on the wires. You will make MUCH better connections using un-tinned stranded wire and to be sure not to get too thick of a wire as well. I used 18 gauge for the speaker connections and thinner shielded wire for the "line out".

Who actually makes this plug / socket combo is hard information to locate. The manual states the mfg. of this thirteen-terminal audio terminal block socket on the receiver as "Precision Converter Design". After a bit of research here on the internet, it WAS called "Precision Connector Design, Inc" in Peabody,MA USA (PCD), but is now "Amphenol PCD" . The mfg. part number is ELFP13210 (DRS part number: 645518), the manual misses this PLUG part number totally.

Sorry, we have no sources for the TB1 removable terminal block anymore. You can do your own internet searches and hopefully unearth one (for those in need) ?

*** Watch that AGC ***

As indicated elsewhere, no matter how I adjust the AGC, SSB signals CAN have a bit of clipping distortion with certain signals. This gremlin was only heard once in awhile.

Switching over to the AGC threshold mode and dropping back the "manual gain" can help in this area when it happens , but again this could be another reason why we have superior audio recovery ??

*** 66 Bandwidths on WJ8711A up to 16 kHz (stock version) , HF1000 is more limited ***

Well this may mean a lesser importance to some, but one reason I did not like the HF1000A was the fact that bandwidths stopped at 8 kHz. I like the additional wider bandwidth filters that the WJ-8711A has that allows filtering up to 16 kHz. It really makes it for me here. I found myself using the wider filters more (above 8 kHz) than not. This really helps with audio recovery as well .

The WJ-8711A has 66 bandwidth selections from .056 to 16 KHz. USB and LSB modes have a range between .900 to 4 KHz and ISB from 1.8 to 3.2 kHz. All other modes have the entire 66 selectable bandwidths. The HF1000's is the same except it stops at 8 kHz for FM, AM and AMS modes.

One can cheat and use the CW mode (BFO set at + 0000) to provide wider SSB and "Manual ECSS" bandwidths right up to the maximum 16 kHz bandwidth. Not a perfect scenario mind you , but usable.

*** "PRE" Pre selector Option / RF Overload Circuit as a Bonus ***

With the HF1000A and the Jan 2003 WJ-8711A sample tested, the "PRE" preselector option was installed.

The manual states, the optional sub octave preselector will degrade sensitivity/noise figures between 1.5 to 2.5 db, depending on frequency. The test report that came with the set (tested for the actual sample) indicated the insertion loss at 1.2 db at 15 MHz and this appears to be correct. So a very slight loss with it in line and if you need every bit of sensitivity for a weak signal it can be bypassed.

Also if you have the "PRE" preselector option installed, it will give you the bonus of a "RF Input overload circuit" along with static input protection. 2 very important additional reasons to have the PRE option . The RF overload circuit will shut the RF parts of the set down if it detects an excessive RF input (1 watt). Will also display that the fact on one of the smaller LED displays when triggered.


WARNING : If the PRE option is not installed the internal preamp transistor (Q23 - BFQ19, SOT-89 surface mount , please note : is now a discontinued part) is much more susceptible to antenna "ESD" (static) and excessive RF damage !! In any event it's a good idea to totally "physically" disconnect the antenna when not in use . I would not count using a grounded antenna switch either to terminate the connection .


*** A Solid Proven Performer *** Doesn't Get Any Better Than This !! *** Anyone Repair These Receivers ??

This receiver has been around in one form or another since the early 1990's and has seen many updates and improvements over the years (DSP IC changes etc). It has been tweaked to a pure DX machine that works fantastic for pulling very weak broadcast signals out of the noisy HF bands. Warts and all, we may never see another set like this one in our lifetime.

In my view, even today with the SDR sets, it's still one of the BEST DSP "stand alone" HF receiver for super weak broadcast listening and downright excellent performance overall I have EVER used. But again, this is NOT a consumer device and so priced (even used).

But as they say , all good things must come to an end and main WJ-8711A production stopped in mid-late 2010 (I seen reports that a VERY limited number were made after).

Sadly we are not aware of anyone who does repair work on these receivers anymore (USA or elsewhere). You are totally on your own with that one (please...no request as I cannot be of any help).

Dave N9EWO
© N9EWO , all rights reserved
ver 15.2

DISCONTINUED RECEIVER


I will NOT be held responsible for any info that is listed here
ALL DONE AT YOUR OWN RISK !

**** WJ-8711 / HF-1000 "10 Mhz Ref. Xtal Adjustment" ****

This one is going to be a no brainer with many, but going to pass it along anyway. In most later versions of the HF-1000 and of course the current WJ-8711A, there is a rear panel adjustment hole (trimmer control) that allows for tweaking of the internal 10 Mhz Ref.Xtal. Early versions of both sets required to owner to remove the top cover to access this. It was made easier with newer samples with the rear access hole so the cover can stay on. Of course this will allow for adjustment of slight frequency display errors to be corrected either out of the box, or as the TCXO ages over time. Here is the best way I found to achieve this using the ISB mode, but I'm sure other owners have their own way too.

1. Allow the set to operate for a good 2 hours to reach a stable temperature. Have an speaker connected to the sets "external speaker" output (the internal one will work if you have that installed). DO NOT use headphones (or the headphone jack output) when doing this.

2. Find a very small flat blade screwdriver that fits the "very small 10 MHz Xtal Ref" trimmer control properly (check it for fit in the slot beforehand).

3. Tune to a very strong WWV signal on 20 MHz (15 MHz will work also) , not being too weak. Put it DEAD on frequency (ie : 20.000.000). If the WWV signal is too weak...this will not work right. If you are unable to tune WWV in your area, sorry I don't have any idea's for you.

4. Switch to ISB mode and select to 3.2 kHz bandwidth (this is the widest that you can have on ISB mode), AGC set to FAST. Be sure NB is off.

5. Select speaker output to "BOTH". This will NOT work if the speaker selector is in "LSB or USB".

6. Now comes the easy part, just "zero" beat the signal. It will be very touchy (as can be expected) but you will be able to hear what I'm talking about as you adjust it.

Dave N9EWO
© N9EWO , all rights reserved
ver 3.0

**** WJ-RCS (Computer) Control Software ****

We were able to give version 3.02.00 of the WJ-RCS software a test drive with the WJ-8711A. Just a few notes , we will not be going into great detail here.

(Sorry.......I cannot be of any help where one can obtain a copy of this software. Please do not ask me !!)

One has to keep in mind this software was written back in the early to mid 90's, so don't look for any fancy graphics and or killer applications. It was originally made to be used with Microsoft Windows 3.1 and Windows 95 operating systems. We used Windows XP Pro and installed just fine. Connection is made via a old fashioned SERIAL (COM port) connection to the host computer. A DB-25 type connector is used on the WJ-8711 .

Very Important Note : You MUST use a null modem cable (or adapter) in the connection, otherwise it will not function !!

There is a way for one to use a Icom CI-V system as an alternative interface to the computer (not tested).

INSTALL UPDATE : We were able to load and use this program just fine with the Microsoft Windows 7 operating system (tested in both 32 and 64 bit versions). You may see a DLL install error near the end of installation , but just ignore it. We found the program to be very hoggy with system resources (at least on Windows 7 64 bit) . About 50% on a dual core computer and 25% with a quad core processor . OUCH !!!

There are 3 parts to this software package : CONTROL RX's 32 for general receiver control and spectrum scan display. SIGNAL LIST CONTROL 32 for a frequency memory list. AUDIO PLAYBACK 32 gives a convenient way to manage receiver recordings. You must make the proper connections to the host computers line audio "input jack" from the WJ-8711. Be sure and add the proper attenuation in the audio line for the lowest distortion (see review above for details).

When you bring up the CONTROL RX's 32 program, the receiver MUST be properly connected to the computer , otherwise it will give an error. You need to configure the proper port settings. The internal (dip switches) and external settings (in special function menu's) are both default at 9600 kbps baud rate with the WJ-8711 and is what you want to use. Once this is done properly you will see the simple "manual" control screen (far right window in photo below). Every time the COR (Squelch) setting defaults to INF (squelch full on). So you will not hear ANY audio from the speaker at all when first used (every time). You will need to turn that to "zero" for listening, on the other hand it needs to be set at INF for spectrum scanning (so why it defaults to that).

All "front panel" receiver controls are locked during remote use. It's automatic, so no need to push the "remote" button on the receiver at start or shut down (the "remote" LED will light up while connected to the computer). May not look like it at first , but one can do "up-down" tuning in the manual tune screen. Click on one of the little squares just above the frequency display numbers (one you wish to adjust) . Next , click on one of the "Left or Right" arrows just below the frequency numbers a couple of times. Then finally you use the Left-Right Arrows buttons on the keyboard to make it happen (page up and page down buttons work too). Most of it is self-explanatory and the manual covers it fairly well . I cannot say one way or the other if it's usable with the HF1000 (I would think so, but some functions will not be valid , for example : Bandwidth selections up to 16 khz) ?

The WJ-RCS Control Software is fun even if it's from the early to mid 90's. It even works on a newer Windows 7 "64 bit" computer too (that has a serial port).One needs to watch the COR setting (squelch). Default at program start up is INF (on full), so you will get nada audio until it's turned back to zero.However it needs to be set at INF when using the Spectral Search function (so this is why it defaults at INF). Also the GAIN setting can get turned down by the software which can fool you (always keep at 127 "full gain"). A NULL MODEM adapter or cable is required for use. Please keep in mind the program is a resource hog (at least on Windows 7 64 bit).
(N9EWO Photo)
Dave N9EWO
© N9EWO , all rights reserved
Ver. 3.0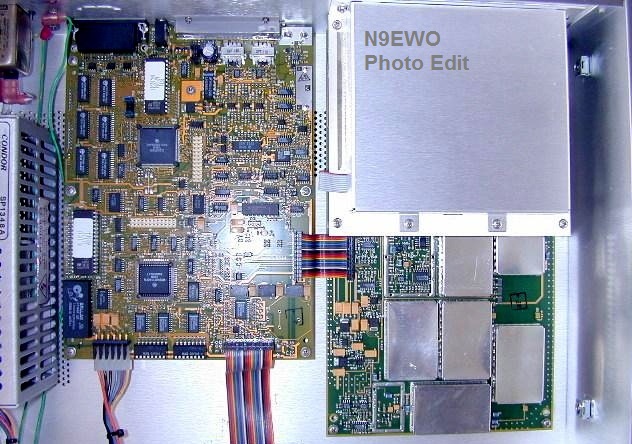 Internal Picture of a mid-late sample (with desired preselector option which is installed on the top of the right main receiver board)
(N9EWO Photo Edit)

Rear view of a "earlier non-A version" HF-1000 (no preselector-option installed) .
As the red circle indicates, a DB-15 was used for external connections on early versions of the HF1000. The WJ8711's never used the DB-15 connector that I'm aware of. This was not a good thing as the digital buzzies were even more of a problem using this DB connector. This is why for the switch in later HF1000 versions to the "barrier strip"and was a night and day improvement for the "line" outputs (cleaner). This does not help the digital buzzies for the speaker output which can be another "minor" internal gremlin. Our last WJ8711A sample did not suffer from this. (N9EWO Photo Edit)
---
**** WJ-8711 (A) and WJ HF-1000 (A) User and Repair Notes ****
---
I will NOT be held responsible for any info that is listed here
ALL DONE AT YOUR OWN RISK !
Repair of the "Internal Condor SP1348A" WJ-8711 - HF1000 Power Supply / SP1348A Schematic
Sooner or later the WJ-8711A's (or HF1000) internal "Custom Made" Condor SP1348A switching power supply will fail requiring repair (more so if used on a heavy basis). This is USUALLY due to electrolytic capacitors that become leaky or even worse. All kinds of strange things can happen when the power supply starts to fail, including no or improper operation (including powering up slow), shutting on and off erratically or errors being displayed. One should STOP operation immediately until repairs are done. Severe damage can happen if left on after the power supply starts to fail.
The 3 electrolytic capacitors that love to fail are C31 (10uf @ 63volts) , C7 (47 uf @ 35 volts) and C5 (120 uf @ 400 Volts) . Best to just replace out all 13 electrolytic capacitors with ONLY high quality ones (at least 105c temperature rating) and be done with it. But we are not saying that other parts can't fail. Also check out the dirty connector possibility (text below).

Information from the "Premium RX" List on this : When the power supply starts to fail it takes longer and longer to start. In the case of these sets here it is : C5 "120uf at 400 volt (105c)" HV capacitor that can become leaky ."Since the amount of current required to start is not available the power supply goes into hiccup mode. The voltage rails jump up and down and so do all of the devices on those rails. This is an unpredictable event similar to turning the power switch on and off every 3 seconds. Damage to the 1st LO amplifier and the 1st converter often occur. If your power supply is doing this don't wait until it damages your radio. Install new capacitors ASAP". As he also indicated, be sure and use high quality ones. Not the Chinese or eBay junk !! Manufacturers such as Nichicon or Nippon United Chemi-Con and at 105C temperature (or better) , low ESR parts that are proper size replacements.
Anyway here is a list below of the electrolytic capacitors as taken from the schematic, plus a shopping list. However I do NOT have size specifications on what is needed (you are on you own here).

Anyone who owns a WJ HF-1000 or WJ-8711 series receiver already knows a schematic of this Condor SP1348(A) power supply is missing in the manual for these sets.

CONDOR SP1348A electrolytic capacitors (105c) Note : This power supply uses plated through holes on it's PC board. All radial lead type.

C5 - 120 uf @ 400V
C7 - 47 uf @ 25V
C15 - 1000 uf @ 35V
C16 - 100 uf @ 25V
C19 - 1000 uf @ 35V
C20 - 1000 uf @ 16V
C23 - 220 uf @ 35V
C24 - 100 uf @ 25V
C29 - 10 uf @ 63V
C30 - 390 uf @ 35V
C31 - 10 uf @ 63V
C40 - 0.47 uf @ 50V
C41 - 10 uf @ 63V
---
*** List ***
Quantity
2 - 1000 uf @ 35V
1 - 1000 uf @ 16V

2 - 100 uf @ 25V
3 - 10 uf @ 63V
1 - 120 uf @ 400V
1 - 47 uf @ 25V
1 - 220 uf @ 35V
1 - 390 uf @ 35V
1 - 0.47 uf @ 50V
NOTE : I have NOT experienced this problem myself with any of the 3 samples I have owned / used .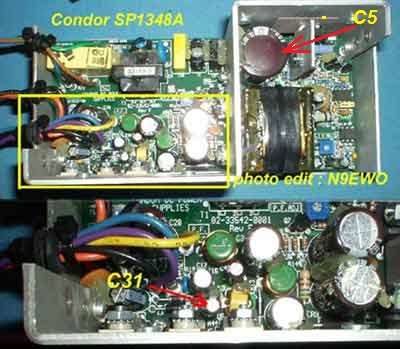 Internal picture of the Condor SP1348A power supply as found in the WJ8711 and HF1000 receivers. Lower part of this picture shows the "C31" 10 uf 63 volt electrolytic capacitor (temp 105c) "close up" as coved in the above . C7 (47 uf at 35 volts electrolytic capacitor) also has a nasty habit of failing (drying out and going high ESR). "C5" is another one that is prone to failure (120uf at 400v / 105c). All devices screwed to the heatsink should also be checked to be sure all is tight. (N9EWO Photo Edit)

WJ-8711/HF1000 RECEIVER CONDOR SP1348A POWER SUPPLY REPLACEMENT CAPACITORS via Pat G3YFK
CAP No VALUE WV MANUFACTURER/TEMP PART NUMBER SIZE in mm FIXING RS PART No
---
C5 150uF 450v KEMET 105C PEH536YBF3150M3 45H x 25W mm 10mm snap in 434-0964
C7 47uF 35V PANASONIC 105C EEUFC1V470 11H x 6W mm 2.5mm spacing 571-105
C15 + C19 1000uF 35V PANASONIC 105C EEUFC1V102 25H x 12W mm 5mm spacing 315-0754
C16 + C24 100uF 25V PANASONIC 105C EEUEB1E101S 11H x 6W mm 3mm spacing 747-2067
C20 1000uF 16V PANASONIC 105C EEUFM1C102 20H x 10W mm 5mm spacing 526-1266
C23 220uF 35V PANASONIC 105C EEUFM1V221 13H x 10W mm 5mm spacing 526-1828
C29+C31+C41 10uF 63V PANASONIC 105C EEUEB1J100S 11H x 5W mm 2mm spacing 747-2180
C30 390uF 35V PANASONIC 105C EEUFC1V391 20H x 10W mm 5mm spacing 572-441
C40 0.47uF 50v PANASONIC 105C UVY1HR47MDD 11H x 5W mm 2mm spacing 862-4178
NOTES:
These are highest quality 105 degree C capacitors.
Ensure correct polarity orientation when replacing.
For the UK and Europe the respective Radiospares (RS Components) Part numbers are shown.
| | | | |
| --- | --- | --- | --- |
| Voltage | Current in Amps (max) | Tolerance | Ripple (max) |
| + 5 v | 3.0 | +/- 2 % | 50 mv P-P |
| + 12 v | 1.5 | +/- 4 % | 50 mv P-P |
| - 12 v | 0.5 | +/- 4 % | 50 mv P-P |
WJ-8711 / HF-1000 "Voltage and Current" requirements.
---
More on the WJ8711 - HF1000's Power Supply and Dirty Power Connectors (perhaps not a capacitor failure in all cases, this should be checked FIRST !!)

(Ben Bijmans from Holland with the HF1000 power supply issues......many thanks Ben).

I hope the headache here will be not be for reading my bad English.

First you have to know in all cases mentioned here, the HF1000 was further working normal, except for the messages.

After I got for the very first time the message "PS ERROR 1" in the most left display, I sent an email to DRS on what the meaning of it was. They told me that there may be a bad electrolytic capacitor in the power supply. So I did remember the story from the man down under who changed with good result the C31 capacitor (10uf 63v) in the PS (as shown/listed above..N9EWO). And so I did, and after that the HF1000 was working for long time (about 9 months) properly. But then the message "PS ERROR 1" appears again.

For the second time I removed the old C31 and put a new, now a special type 10uf 100v electrolytic capacitor. And so again, after repair , the HF1000 worked good but now for shorter time , namely 2 months .

For the third time I put a new another new C31 capacitor, and again the HF1000 worked well without giving any message.

And then after about 4 weeks working well, not only "PS ERROR 1" appears , but also a new message was there, namely "LO ERROR ". I sent another email to DRS and they told me the meaning is the Lower PLL is not locking then. They advised me to make a cold start and so I did , but the problem was still there .

When I turned the receiver on the radio the first came the message "PS ERROR 1" going into "LO ERROR" and you can hear the receiver was not locking for a few seconds , but after about 10 seconds the radio locked and played well , but the message "LO ERROR" remains.

Having for the 4th time a bad capacitor was almost impossible in my thoughts. When I change the capacitor, the radio worked fine for a time. What more do I touch when I repair the capacitor ??? Well , simple: disconnecting the three connectors from the power supply to make it possible taking it out the receiver for repair.

With contact spray I cleaned the three connectors, WITHOUT doing ANYTHING further inside the supply. Without changing that capacitor again, the HF1000 worked well ! And now for one week the HF1000 doesn't give any error message anymore. I put the RX on and off after long and after short time working. I left it on for 24 hours . No matter what I do , it stays working well . So slowly my trust in the HF1000 is coming back.

I'm thinking that there probably was nothing wrong with the power supply at all ? The only thing from the very beginning on, was bad connections from the power supply to the PC boards. And when DRS was telling me there should be a bad capacitor, and give me more wisdom than I have normal about a receiver , I would have start with cleaning the connectors.

Ben Bijmans , Holland
The FIRST thing to check with any WJ-8711 / HF1000 receiver issues is with a possibility of a dirty 6 PIN "MAIN POWER" connector which is located on the DIGITAL ASSEMBLY PC board. Be sure and carefully clean the socket and the pins on the PC board. (N9EWO Photo Edit)

---
Are you seeing "RAM FAIL" message in the "Memory Channel" display at power up ??

If one sees "RAM FAIL" in the "Memory Channel" display at power up , this usually points to the RAM button cell in the black holder (early versions only) or the 28 pin-DIP "Timekeeping RAM" IC , Dallas (now Maxim) DS1643 in mid to late samples, needs to be replaced. Either are located on the DSP Digital board. The "TimeKeeping RAM" contains a non-replaceable lithium battery.
In the case of the DS1643 , either the 120 ns or 100 ns version works fine and what was used in mid later production. The actual part number/name is : " Maxim DS1643-100+ " .

Manual covers the simple replacement instructions. IMPORTANT : Be sure and do a total reset right after it's replaced (again see the manual on how to do this). This is REQUIRED !!
**** VERY IMPORTANT INFORMATION ****

The Dallas / Maxim DS1643 is discontinued and unavailable.

Please do

NOT

ask me were one can purchase as I cannot help. The actual current part number / name is :

"Maxim DS1643-100+"

(the + at the end means "lead free" version). These contain an internal lithium battery which does die in about 10 to 15 years of activated use. Of course early (non A?) versions used a coin type lithium cell in a holder and is not valid here.



WARNING :

"ebay" could be a place to look for one ? But as it goes these days, watch out for "counterfeit" manufactured ones (or ones that have been already activated....that is are USED) !!



IMPORTANT UPDATE :

It has been reported that the
STMicroelectronics
"
M48T08-150PC1"
NVRAM, 150ns, 5V 28-Pin PCDIP
is a exact replacement for the

DS1643-100+

.

WARNING

: We have

NOT

verified this ourselves in a actual WJ-8711A. Still available as I type this text. But this too is now a older part (2011), so who knows how long it will continue to be available ? Please do your own internet searches for the latest information and availability.

Dave N9EWO
---
I will NOT be held responsible for any info that is listed here
ALL DONE AT YOUR OWN RISK !
---
*** USER COMMENTS FROM OTHERS ***


Dallas Lankford


Just finished measuring the AM sensitivity at 1.6 MHz (usual parameters). 1.0 uV with the preamp on and 1.3 uV with the preamp off. They may as well have left the preamp out. Of course, a little thing like that…

Do I like the WJ-8711A ? You bet. It has the best frequency display I have ever seen. And the other LED displays are excellent too. The tuning knob is identical to the Racal RA6778C knob, but finished differently (black anodized or powder coated). It has a nice heavy feel to it, and an attached dimple (quite large) for spinning with your finger. The 8711A seems very intuitive and easy to use. The frequency entry, step change, and other features are simply the best of any receiver I have used. I suppose you can customize the BW's for each mode, but I probably won't bother because it is so easy to select a BW different from the factory default with the push button selected rotary knob (which, with other push buttons, is also used to select mode, AGC release time, noise blanker setting, and so on).

It appears to have 100 memories, but I haven't used that feature yet. There are separate audio level knobs for the headphones and speaker. Very nice. The manual specifies 2 Vrms into 8 ohms (1/2 watt) for the speaker output, but I measured 3.5 Vrms (1.5 watts into 8 ohms), and an audio BW of at least 100 Hz to 13,000 Hz at less than 3% harmonic distortion. Connected to a good speaker, it sounds excellent to me. Headphone output through a ¼ inch stereo headphone jack (stereo for ISB, L and R common in all other modes) is specified as 10 mW (presumably rms) into 600 ohms, no BW given. Low impedance headphones seem to work fine.

Pressing the special function key repeatedly toggles you through various user selectable parameters. In particular, it allows you to choose the release (decay) times for fast, medium, and slow AGC. You don't have complete freedom to choose, but 10 – 100 mS for fast, 100 to 1000 mS for medium, and 1 – 5 S for slow. I reset mine to 100, 1000, and 3. I haven't had any hets yet, but the (presumably manual) notch filter is there if you need it. And yes, there is AM synchronous detection if you want it. It is the only feature of the 8711A that is not well implemented. A good AMSD should be transparent to the user, i.e., never lose lock, and lock instantly to the strongest carrier in the passband. The AMSD of the 8711A does not meet these requirements. However, since most people can't tell the difference between a good slow AGC release time and a good AMSD, it doesn't really matter. The 3 second release time I chose for my slow release takes care of strongly fading SW and MW graveyarders. And in the rare event that it won't, the 8711A manual gain control is excellent for those occasions.

Tuning around in CW mode with no antenna connected, I did not find any internally generated spurs from 150 kHz to 10 MHz where I got tired of spinning the knob. I did find one at 125 kHz or thereabouts. This WJ-8711A is the most spur-free receiver I have ever tested, bar none. I wish I could say the same about the LO's, or perhaps it is the DSP circuits. I don't really know. But tuning around near a carrier produces all sorts of weak birdies. Most of these are within about +/- 20 kHz of the carrier. But there were additional (presumably 1st LO) spurs at about +32.5, +72.5, … and -47.5, -87.5, …kHz from the carrier, decreasing slowly in level. These correspond to phase noise of about -127 dBc/Hz when using a 6 kHz BW. So they are not really a serious issue, though I would like to see better LO performance in a receiver of this caliber. It is possible that they are spurs of the internal frequency standard. I'll check this later. I have been running the 8711A head to head against one of my R-390A's on some weak signals, and it is a dead heat. I am very pleased with it.
---
---
For weak signal reception, the 340 often keeps up with the WJ8712P / WJ8711A / HF1000A, but never exceeds (the WJ circuits do a better job with weak circuits). Both TT and WJ weak signal improved with use of SE-3.

The Ten Tec RX-340 does a poor job compared to WJ on trans-pacific MW dxing where the AM stations are on 9khz spacing while US on 10 (which means that you often have a weak TP station just 1, 2 or 3 kHz from a strong USA station, even with phasing). The skirts on the DSP filters of the Ten Tec just don't hold up well in this situation.

SAM on Ten Tec does not work well -- I don't use it. Instead you'll see that I use a SE-3 (and also for the WJ).

Don AC7ZG

PS: The WJ8712P's, WJ8711A's and HF-1000A's are far superior to the other premium receivers I own. Each has its own SE-3, DSP599zx, and Sony E10.
---
My Icom IC-7800 does not hold a candle to the WJ8712P / WJ8711A / HF1000A for TP medium wave dxing, nor weak signal recovery on the shortwave bands.

Like the ICOM IC-756 Pro2 and 3, the IC-7800 has an attenuator in circuit below 1700kHz to prevent overload by AM stations. Guy Atkins has made some circuit changes to his Pro3 to bring it into play as a weak signal MW receiver, including removing the attenuation circuit and replacing the roofing filter with one of the 6kHz versions from the 7800. (I've not similarly butchered my IC-7800)

Don AC7ZG

PS: I've used one of my WJ8711A's for receive (disabled during transmit) along with the IC-7800 to do some very weak signal ham radio qso's -- the 7800 could not keep up.
---
I have had my WJ HF-1000A for many years and for the last few years used it with a Sherwood SE-3 synchronous detector. It has been my top receiver, and I have tried many other high-end receivers that have not been able to match it. Then - enter the RA6790/GM .

But first a few word of what "DX" means for me.

a) I am only DX-ing mediumwave, so all my experience with these receivers are based on frequencies below 1700 kHz - no exception ;-)

b) I only target overseas radio stations, primarily North America, Far East and Pacific.

It useful to know that I am located in a "quiet" location - approx 63 degrees north, 10 degrees east, with good "protection" (mountains) to the south. There are no local AM stations, and the strongest AM-signal on the S-meter would be S9+50 dB. I often go on DX-peditions to even more quiet locations. This means that receiver sensitivity is very important, maybe the most important property of the receiver.

Last fall I got a RA6790/GM "in transit" and tested it for a while. It's not the world's most user-friendly receiver, but I was impressed by the ability of the receiver to pick up signals and make them legible. I would say that it matched the HF1000A in most situations where there was little or no interference from nearby channels. This unit was equipped with the standard Racal filters. I used the receiver mostly with the SE-3.

I now have a RA6790/GM with (the hard-to-get) preamplifier + Rob Sherwood's filters and it's dedicated SE-3. This unit was in excellent condition and had been serviced by Gary Wingerd. This one works even better, and I find it as an excellent second receiver. Second because it's not very fast to work with when checking frequencies for carriers etc. like I often do when looking for DX. It's still not as good as the HF-1000A on weak signals close to European stations - this probably both due to the filters and the missing
notch.

To me the biggest disadvantage with the RA6790/GM is the missing notch. When using the SE-3 I get 1/2/3/4 kHz tones (dependent on the filter width) when I am too close to European stations. On the HF-1000A and a few other receivers I have, there is an IF-notch that actually nulls the carrier of the interfering stations. This is much more effective than the audio notch. I do of course use an audio notch on the RA6790/GM now, but I believe this could be better if I had an IF-notch (with have tried with and without on the HF-1000A and there is significant difference).

So compared with the HF-1000A I will say it's the closest I have tried so far. Regarding the RX-340 I have not worked a lot with it, but from what I have seen I am not impressed by its performance. It's very user-friendly (like the HF-1000A) but it does not fit my needs very well. I'd rather have a (or two) RA6790/GM than the RX-340.

73 de OJS
Trondheim, Norway
---
I have the 8712P - I use them extensively, along with 8711A and HF1000A variants, dxing MW and SW on the WCNA. I don't have the 8712A's so cannot comment on these directly.

8712P are electrically identical with the WJ8711, but physically 2/3 the height (2U) and 1/2 the width of the WJ8711A( but just a little deeper). The price point is a big higher than a standard 8711A, but not by much. I have yet to see one on Ebay.

You might see an occasional 8712A variant on ebay as a bunch of 8712A boards were let go to the employees at reduced cost due to a QA mistake - - the boards were overcooked in the QA ovens during reliability tests - nothing major, the buyer didn't want them. These are invariably the older rev of the board that won't permit the upgrade to the most recent 4.01.10 microcode. (They are the older 4.1.2 and 4.1.3 microcode, and older motherboard).

Regards
Don
---
One of the bets tips I can pass along regarding the WJ HF-1000 (and most every receiver with an adjustable RF gain control) is to learn to use this control to optimize the recovered audio. With the 1000, you can select AGC Threshold mode (described in the manual); in this mode, the RF Gain control will set the AGC threshold when any of the AGC modes are selected. Using the RF Gain control in this mode is a real plus...by backing off the RF Gain to the point that the AGC stops pumping (especially in Synch AM mode), nearly all effects of fading and the like can be either eliminated or greatly minimized.

Due to the position in the circuit where the S Meter signal is derived (it is more an RF signal strength meter than an S-meter as most other receivers do it), the use of the RF Gain control will not be seen on the meter. On receivers where the S Meter signal is derived from the AGC line, you will see the meter reading rise when the RF Gain is reduced; when the meter has stopped fluctuating with fading (i.e., it is higher than with full RF gain but is stable), you've hit the optimum setting. Just sit back and enjoy consistent audio level.

This method of using the RF Gain control has the added benefit (usually) of reducing distortion in the recovered audio due to possible overloading of the detector.

Walt Novinger
---
via Dave Allaway N2XB
Ver 1.0
Correlation between S/N, or date of manufacture, or firmware version, and features on the WJ-8711(A) and HF-1000(A). (Chart via N9EWO)
Internal Control EPROM (A2U12)
************

***** PLEASE NOTE THIS CHART IS NOT COMPLETE *****



Release Date
Version
Summary
May 1991
1.00
Original version WJ-8711. Six AM bandwidths (others on request). Released with DSP 1.00
December 1991
1.20
Additional remote commands, BITE improvements, non-SSB bandwidth saved when switching modes, gain value display.Released with DSP 1.20
February 1992
1.21
Improved BITE
May 1992
1.30
Additional remote commands
June 1992
1.40
Pre-selector option, unit and version display on power-up
July 1992
1.41
Remote command enhancements
November 1993
03.00.00
DSP enhancements, up to 66 user-selectable AM bandwidths, adds tunable IF notch. WJ-8711A and HF-1000 original versions. Released with DSP 03.00.01. Note: HF-1000 with 8 kHz IF roofing filter as standard, and < 1.0 PPM (vs. < 0.7 PPM in WJ8711).
January 1994
03.01.00
IEEE-488 and PCSM support, improved CSMA
~1994
03.02.00
Released with DSP 04.02.01
April 1994
04.00.00
Synchronous AM, medium AGC, configurable AGC decay times, manual AGC threshold
August 1994
04.01.00
SSB bandwidths up to 4.0 kHz, manual gain in channel memory, RS-485 and RS-422 support
~1994
04.01.01
Released with DSP 04.02.03
December 1994
04.01.02
Speech Enhancement Unit support (turns off SEU in BITE and ISB modes)
~1995
04.01.03
Fixes notch filter in SSB > 3.2 kHz IF. Released with DSP 04.02.05. Last version supported by control board 797012.
~1995
04.01.04
No functional changes. Supported by control board 797214. HF-1000A original version[?]
November 1995
04.01.05
CSMA fixes
~1996
04.01.06
Released with DSP 04.02.06
~1996 or 1997
04.01.08
n/a
~1997
04.01.09
Released with DSP 04.02.07
~1999
04.01.10
Final version (also with DSP 04.02.07)
DSP EPROM
(A2U56)
************
Release Date
Version
Summary
May 1991
1.00
Original version
December 1991
1.20
Increased EPROM from 32K to 48K
November 1993
03.00.01
Required for Internal Control version 03.00.00 (DSP enhancements and extended bandwidths)
December 1993
04.00.00
Functionally equivalent to DSP 03.00.01
~1994
04.02.01
n/a
~1994
04.02.03
n/a
~1995
04.02.05
n/a
~1996
04.02.06
n/a
~1997
04.02.07
Final version
May 1995
05.00.00
Adds FSK mode (factory request). Receivers with standard pre-selector, high-stability and FSK mode are designated as WJ-8711A-3.
---
---
---