N9EWO Review:
YAESU VX-2R "Micro" DUAL BAND HANDHELD TRANSCEIVER
(Also at the bottom of this page : Icom IC-P7A mini-review , Older Icom IC-Q7A review)
YAESU VX-2R micro HT.
"Improvement over the VX-1R but still suffers from the nasty CTCSS delay problem".
Be sure and read the Icom IC-P7A / IC-Q7A reviews also on this page.
(N9EWO Photo)
---
Approx. Serial Number (3 samples tested) :
First Sample : 3G02xxxx
Second Sample : 6D6xxxxx
Third Sample (Last production run ? ) : 7Dxxxxxx

Country of Manufacture : VX-2R : Japan, FNB-82LI Lithium-Ion Battery : Japan, NC-85 wall charger : Taiwan , CSC-90 Case : Japan.

Discontinued Product
---
Dave N9EWO's view's and comments on the Yaesu "VX-2R"
---
Another Yaesu "Micro" Handie Talkie

Ok lets face it, when I first seen a VX-1R I felt that it was really neat. As small as you would ever want a HT (well except for say a Dick Tracy radio on your wrist). But the VX-1R was plagued with so many problems when it first came out as to make it a product not fit to even sell in a store. It was improved over the years to make it a usable set, but the memory structure still was so poor that scanning continued to be a big disappointment.

The first VX-1R that I had, not only was it's operating frequency off (new right out of the box), also the CTCSS tone frequency was not correct from the display. The microprocessor locked up frequently requiring a total reset(s). Low TX audio, so one had to open up the set and fiddle with the 2 trim pots inside. Receive audio was poor. Only 500 mw RF output. Mushy PTT button. We could go on, but overall it was neat only as far as the size.

I have pretty much stayed away from Yaesu HT's since my VX-1R and VX-5R (no longer own either), and steered well away from the VX-7R. So I was very hesitant when I first seen a picture of the new VX-2R. I purchased one anyway and here we go with my comments.

Same Size But More RF Power / New Larger Capacity Battery / 2 to 3 Watts with E-DC-21 External DC Power Cable for very short TX

Size is pretty much a dead ringer to it's old sibling, but we have a new battery pack marked as the FNB-82LI. Still with a 3.6 volt output, but at 1000mah capacity.

I don't know how they did it but the VX-2R boasts a RF power output of 1.5 watts on VHF and 1 watt on UHF. That puts it in a better ball game for a more usable radio with my uses. The VX-R1's 500 mw output was just too wimpy for ANY distance applications. Connecting the E-DC-21 power cable (not tested) increases the output up to 3 watts on VHF and 2 watts on UHF. I do not have a meter to check the actual RF output of my sample, so we are taking Yaesu's word on this one.

Of course the only downside is at this higher RF power level the battery will not last as long (even with the extra 300mah capacity). We have a 100 mw "Low" power setting (both bands) that will come in handy for very local contacts that should give for some longer battery life.

We have a metal heat sink sandwiched between the battery and the real innards of the set (see picture below). I never use the set at the 2 or 3 watt power level, so I will not be able to give any input on that front. With the small heatsink one should not expect very long operation at this super high power level at all.

Please note : The VX-2R will NOT accept 12~13.8 V directly. You MUST use the optional Yaesu E-DC-21 which contains a voltage regulator.

One should also remember that the VX-2R was NOT designed for any long transmit times (especially using the 2 / 3 watt levels). Common sense here, but for the record.
---
Battery Cover a bit thin / NC-85 Charger a Switching Type.

Battery cover slips on the rear and locks with a little switch like latch. I feel that this and the rear cover are the weakest links of the set structurally. This latch is a bit hard to flip and feels weak as well. The rear cover is made of very thin plastic and one would be advised to CAREFULLY "Slide" it off (not just pull it off). This has not been a problem for me as I'm treat even HT's with great care, but it may be a problem for many, either cracking this cover or even loosing it. But if you take extra care here it should not be a problem ?

The wall charger, the NC-85 is a switching type supply (can work worldwide with simple plug adapters). As expected, It does create interference on any near by AM/SW radio, but not to any serious level.

Sensitivity OK (except low band and 800 Mhz area's) / UHF intermod / Stock antenna not as good as VX-1R's / Scanning now works the way It should.

Using the VX-1R's antenna, VHF (144 to 174 Mhz) is very usable, but it's not super either. But improvement over the VX-1R for sure. Weather frequencies in the 162 Mhz area is very poor (this turns out to be an issue with the included antenna). UHF (70cm and 460Mhz area) is the real gem with antenna just as it was on the VX-1R. The UHF is very good if not excellent ,however read the intermod notes below. As for the 30 to 70 Mhz and the entire 800~ 900 MHz area, well it's a continuation of all previous Yaesu HT's, very very poor to almost totally unacceptable.

Scanning on the VX-1R was a disaster. You could only scan one band at a time. So either 2 meter OR 70 cm , but not both. There is some after market software that exists that is supposed to make that happen, but I never had any luck with it. It would scan but not receive any signals on some frequencies.

The VX-2 has none of this weird problem, they indeed fixed that totally. I feel that the scan speed is good too.

UHF Intermod Problems / VX-1R's antenna NOT the same as the VX-2R's / Watch that center pin !

I have now had a chance to use the set in a semi-large town of approx 250,000 people and "Intermod" was pretty bad on the UHF side. But with the VHF (2 meters) sensitivity being only "so-so", here I did not detect any. And well with 800 Mhz to be a almost "washout" , no internod and of course no real signals either. This has to be expected with the wide band receive coverage, but this is going to be an issue for many as it is with most new handie talkies.

In my tests the included VX-2R's rubber stubbie antenna does not work as well as the VX-1R's (see text and pictures below), it's outside appearance has changed a bit but is the same length. With the VX-1R's antenna attached ,the 2 Meter area is OK, but is fair in the 155MHz area, in the US weather band (162 MHz area) it fair to poor, and just downright "very poor" with the stock VX-2R's antenna. UHF is actually very good if not excellent with either antenna, but the HT's electronics has a part in this too.

Having a hard time finding an aftermarket antenna with use on the VX-2R. Either the "center pin" is too short so it does not make contact (see text below), or the size is just too large (or thick) to make me happy. So using an antenna for a VX-1R and that works for me overall. Remember, the VX-2R has a real short SMA connector.

Coverage below 76 MHz / SW receive performance only useful on the strongest stations with added wire.

OF COURSE one of the reasons why the VX-2R grabbed my eye was the fact that this radio can receive Short Wave Broadcast Signals (AM Mode only).
How well you ask does it do receiving SW broadcast signals? : Well after testing this out , it's nothing to get excited about. Now of course you are NOT going to be able to use a rubber antenna and receive SW signals properly, that just is not going to happen.

I connected my "test standard" 20 ft piece of thin wire via a Comet HS05 SMA cable to the VX-2R. SW reception was usable for any "STRONG" broadcast stations. If you are trying to pull in any weak or even semi-weak station, you will be disappointed. The set overloads bad (nighttime condition) with the 20 ft wire fully wound out and if I shortened it up to try and control the overloading, then the set became very insensitive to inhale any signals.

And as can be expected in a transceiver of this type, the selectivity is too wide and adjacent channel slop is a a problem. Again. If the SW broadcast station desired is one of the really strong ones, it might be of use. But overall forget it for receiving any serious SW on this or any other HT transceiver.
---
Volume Control Improvement / Same old Plastic Belt Clip / Power Button Still Hard to Use

Gone from the new VX-2R is the UP-DOWN pushbutton volume control. We how have a real control on top of the tuning encoder. Works great. Tuning encoder has a good feel with no excessive play. One must get used to turning one, but not other.

Sadly the belt clip continues to be a weak little piece of plastic. I don't use belt clips myself (even more so with the VX-2R's size), so it's not a issue for me. Perhaps another reason to avoid the belt clip. I have seen reports that the screw (a longer screw is used when the belt clip is attached vs the shorter dummy screw without) can be very easily stripped out. I can understand this as it is goes into the "soft" heatsink metal. Again I don't use beltclips, so my clip never made it out of it's little bag.

As does on the VX-1R, the side mounted "orange" power button pushes very hard and lacks real solid tactile response. The PTT and squelch break (or it can be a tone burst for Europe) buttons fair much better to my fingers having good tactile response and firmness (serial number 3G02xxxx).

Thank Goodness the external Speaker/Mic jack is located on the top , bad news is it's the dreaded single 4 conductor phone plug type that we have all loved to hate. But with this "peanut whistle" being the size it is, this is to be expected. At least it's not one of those longer than usual ones that the VX-6 and VX-7 both use.

Good Transmit and OK Receive "Audio" with three quirks.

Transmit audio on my sample using the internal microphone is nice and crisp and at a good level. Much improved over the VX-1R which even lacked on later samples. As an update here, I do hear the "PL" tone transmit level to be a bit too loud, but I don't find it excessive to be unacceptable. I have seen this same gremlin reported with the VX-7R as well, but cannot say if it's just as bad as I have not had a VX-7R in my hands....and from what I hear of this set..I will not be purchasing one either .

Receive audio is passable, even with it's internal quarter sized speaker. It's actually hard to believe that it works as well as it does. However I found in additional testing using outdoors with it's internal speaker, "audio punch" can be a problem if noises around you get a even semi-noisy. But is much better over the Icom's IC-P7A bomb (see review below). With the audio output being only at 50 mw's with the battery this can be expected, but no way is it as loud as a larger HT and don't expect it to. In a indoor setting this is not an issue. From looking in the manual , It appears that if one connects the E-DC-21 external power cord, then the audio output (as well as the RF output) is doubled (audio output boosted to 100 mw's), but I do not own this external converter adapter so cannot say if it really helps.

Another small gripe with the receive audio for me is it has a bit of a "grizzly" sound. Almost like a little AM pocket radio when the batteries are starting to go dead. Many may not even notice this, and it took my ear right up to the speaker to really catch it. Not a major drawback, but one that I caught.

When scanning, the "CTCSS Tone Delay" Gremlin rear's it's ugly head ( AGAIN ) / CTCSS Tone's are on frequency.

Just as it was on the VX-5 (and it seems to be on the VX-7 too..I cannot say for sure as again I have not personally had my paws on a VX-7) we have that dreaded CTCSS tone delay when scanning memory channels. So you miss a few words before it pops to life. If you are scanning "non-ham" police-fire frequencies that use tones, this does not work very well.

This is VERY annoying and I sure wish V-S-Y would fix this. Icom's IC-T90A , IC-P7A or IC-Q7A tested have none of this nonsense.

But at least we have CTCSS frequencies that are on frequency. As many can remember, the VX-1 when it first came out had very serious problems with CTCSS tones being on frequency.

No Schematic or Block Diagram with the radio ??

Ok, here we go again. No schematic or block diagram was included with the set. Funny, the Yaesu FT-8900 transceiver includes both. So what gives here V-S-Y ?

"Channel Counter" feature somewhat useful.

There is a so called "Channel Counter" feature found on this set, which allow for hunting of a unknown signal and the VX-2R will find and display the strongest signal. Even stores it into a memory bank just for this purpose. It really takes a pretty strong signal at least from my tests. I will say at least a transmitter of at least 5 watts right next to it is required. A 50 db attenuator is engaged while this is in operation along with muting the set while the hunt takes place.

You can set the sweep width at + - 5, 10 , 50 , or 100 MHz. But the larger the sweep width the longer it's going to take to work and in my tests less of a chance finding it. So perhaps keep it in the 5 (default) or 10 MHz width max?

More of a toy than a real feature of the set for me, but is fun anyway and it works (well not always). It's also a royal pain to use (keep the manual handy).

Be sure and use the CSC-90 case, this is really a requirement.

Using the CSC-90 case (it has protection for all of the keys) with the VX-2R is a requirement. This is also true with all other V-S-Y handie talkies too. The printing on the keys WILL wear off in quick order if you don't. Why they cannot fix this issue is a good question ? They have had enough time from earlier models to correct this. I have used the case from day one and have not had this appear with either sample.

Still better over the Icom IC-P7A to me.

One has to remember that this is still a "micro" set , and for many may not be the right handie talkie purchase. But I like small stuff and Yaesu - Standard has a neat "little" Handie Talkie that also has some performance to go along with the punch. Many improvements over the VX-1R for sure. However If you need good 30~50 Mhz or 800~900 Mhz sensitivity, you will have to look elsewhere. The discontinued Icom IC-P7A does better in these area's for sensitivity, but has it's own nasty problems. I have tested two Icom IC-P7A's and in my view the Yaesu VX-2R is still overall the "Big" winner even with the warts. See below for a mini review and a old report that I did on the older Icom IC-Q7A.

Dave N9EWO
© N9EWO, all rights reserved
ver 8.0

Discontinued Product
VX-2R : "
When the rose is not quite a rose. "

Power Up issue , Weird Display , PLL Unlock , Dumping Memory, Excessive distorted bussy audio, with sample # 2

My second sample tuned out to be a total disaster after 11 1/2 months. I treat radio equipment with the utmost care and has NEVER been abused, gotten wet or dropped. Here is the list of issues that I had before I was forced to send sample # 2 in to Yaesu for repair (USA), it was just under the 1 year warranty. Some of the issues below have been covered on the Yahoo Groups for the VX-2R. as well.

1 - This problem appears to be with most (if not all) current samples ? : Ever since day one with the # 2 sample, once in awhile I was unable to power it on. When it did this, I removed the battery and then just replaced it. It's then is OK for a while , but does this once again after a number of power cycles. At least for a good say 6 to dozen power up and downs, (IMPORTANT: In actual use and NOT just switched on and off 6 times fast). Battery contacts were not dirty or loose. Some have said that it's battery contacts are the issue here , but this is dead wrong !! I never had this one happen with sample one. (see bottom of this page for more)

2 – Once in awhile it was dumping ALL of its memory channels at power up. Yes, a total reset on it's own.

3 - Audio is always on the buzzy-distorted side especially at louder volumes (that's totally normal). But this had gotten much worse with sample number 2 before I sent it in. AS RECEIVING AN ACTUAL RADIO SIGNAL, Not just white noise (NORMAL FM MODE). Another strange note, It was not this way before the memory loss issue above started.

4 - PLL unlocking, once in awhile the display frequency flashed on and off with NO receive at all at power up (entered frequencies were all Amateur) and the squelch was open (just white noise). However, this issue is also intermittently occurring. If I turned it on and off a few times it came back to life when it happened.

5 - Here is another issue that hits most if not all later samples, but for the record: The LCD display at power up shows a lot of non-relevant quite faded segments together with the correct display information for a while. Those extra segments fade away within 60 seconds (depending on room temp). After that the display works perfectly as long as power is on. If you switch it off and directly on again it always works correctly. The problem only shows up when the unit was powered off for at least a good hour or so. Sample one had NEVER done this.

Well after a month it returned repaired. They replaced the entire "Main" board (CS1792002 in the service manual). The first thing I noticed was that the # 5 display issue above was now totally gone. No more power on bug issue either.

I let sample # 2 go after I ordered the VX-3R and well missed the VX-2 so much that I purchased new sample # 3 (just before they were all sold out). This one must have been near the last production run by looking at the serial number. No LCD bugs at all, however the power nasty does happen even with # 3 but no where near often as with sample # 2 .

Dave N9EWO
© N9EWO, all rights reserved
Ver 3.0

VX-1R Stock Antenna vs the VX-2R Stock Antenna.........not one in the same, Beware of Aftermarket Antennas !!
First thing I noticed when I first pulled the VX-2R out of the box was the fact that the stock "stubbie" antenna does not look the same as the VX-1R's. It's the same length all right, but is a bit thicker with the (now defunct) "VS" marking as well.

I always felt that for a stubbie duck the stock VX-1R antenna worked fairly well for a "stubbie". Some of performance has to be blamed on the so-so sensitivity of the VX-1R in the 2 meter and VHF public service area (150~174), but it passes.

So I was thinking that the VX-2R's stock antenna should work the same ?? Well in my testing in the 2 meter / VHF public service area, that's a big NO. Signals that I can barely here using the VX-2R's stock antenna , bounce in with some improvement with the older VX-1R's stubbie. Weather signals in the 162 mhz area are improved as well. Mind you it's still not going to work as well as a longer antenna, but overall to me the VX-1R's antenna is the better "stubbie" out of the 2. Not sure what Yaesu did, but in my view changes were made and not for the better. Dave N9EWO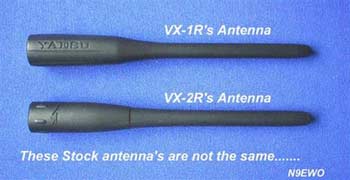 WARNING : I have found with many aftermarket SMA antenna's having a problem working with the VX-2R. The "stinger" center pin on many aftermarket SMA antenna's do not stick out far enough to make contact with the shallow TNC on the VX-2R. Sometimes you can remove the rubber dust cover and will then make contact (not a good idea in my view), but this does not always work either. Keep this in mind while shopping for a replacement antenna for a VX-1R, VX-2R or VX-3R (and others).
N9EWO test between the YAESU VX-2R & ICOM IC-P7A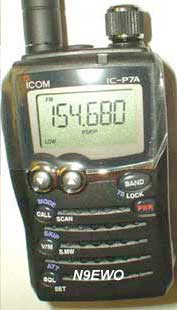 The discontinued Icom IC-P7A was totally unacceptable to me with the receive audio problem.
Overall the (also discontinued) Yaesu VX-2R is still the BIG winner to me.
It's close cousin in Europe is the IC-E7 (not tested)
(photo : N9EWO)

Discontinued Product

(2 samples tested)
Approx. Serial Numbers Tested (Both were USA versions, just slightly over 300 apart) :
# 1 : 05010xx
# 2 : 05013xx

Country of Manufacture :
IC-P7A Transceiver : Japan.
BP-243 Lithium-Ion Battery : Japan
BC-164 Desk Charger (base) : Japan
BC-145LA Charger Power Supply (Wall Type) : China
LC-161 Carring Case : China
CS-P7 Software : Japan
---
PRO : IC-P7A

- Very good 1800 mah Lithium Ion battery included. Excellent battery life (VX-2R is 1000 mah)
- Does not have the Yaesu CTCSS delay bug. (see VX-2R main text above)
- Overall better receiver performance (sensitivity), with 800 Mhz area being MUCH better over VX-2R.
(aftermarket antenna's can help greatly with either set.)
- Neat included drop in BC-164 charging stand, works great.
- Same RF output with battery operation (see Con).
- Hard plastic buttons used, along with better tactile response (except for PTT , see below).
- Easier to use over VX-2R (much less confusing)
- Better LCD backlighting over VX-2R.
- Can adjust the beep level (8 steps). The VX-2R has only on and off.
- Adjustment for display contrast (4 levels). The VX-2R has no such thing. Contrast and size also better in general.
- Useless (for my uses) ARTS and WIRES modes not found.
- Longer SMA antenna connector, center pin makes easier contact with aftermarket antennas over the VX-2R (see VX-2R text above).
---
CON : IC-P7A

- Higher cost over the VX-2R. (about $ 70~90 more at time this list was made)
- Larger size, sticks out more on the back (with the larger battery being used).
- No external DC power jack for operation (or charging on the set) via another power source.
- Power output 1.5 watts max, 2m. (with 6.0 VDC external power the VX-2R can provide 3 watts on 2 meters for VERY LIMITED use)
- No 1/2 deviation setting (as used with MURS and FRS frequencies). The VX-2R has this.
- No DTMF encode or decode at all (the VX-2R has DTMF encode, but is a pain to get to)
- Just as with the VX-2R, the included antenna is poor. (The old Yaesu VX-1 stubbie antenna still works a bit better even on the P7A)
- No way to switch off the receive or transmit LED to slightly improve battery life. (The VX-2R allows a toggle for the RX indication).
- No way to adjust backlighting level. (The VX-2R does)
- HERE IS THE MAJOR PROBLEM WITH THE IC-P7A TO ME : Speaker buzzes (breaks up) nasty bad at only a low-medium volume level. The VX-2R does not do this hardly at all even at full volume. Even with a external / speaker mic in use does not change this very much. So very limited audio output, worthless in just about any outdoor situation using the radio's internal speaker or even with a speaker microphone.
- Battery cover latch was very hard to open with first sample tested (VERY hard), could not open using ones fingers. The second sample was better on this. At least I could use my fingers to open it.
- With the first "early" sample used, the PTT and function buttons had a very sloppy feeling. This was not a problem at all with the second sample tested. Also the PTT feel is only fair to me.
- Memories do not store Hi/Lo power setting (the VX-2 does).
- No schematic of even a block diagram included (just like with the VX-2R).
- No FM Wide mode over 850 Mhz (USA version only).
- The Chinese made LC-161 case for the IC-P7A does not protect the display or buttons in "real" use (still must touch the actual body and buttons of the HT).. Just about useless in my view. Also is hard to dig out the radio out of this case for use and is also overpriced in the USA near $ 40.
- Must use ICOM's overpriced CS-P7 software and cable for computer programming. Good news is that the Icom CS-P7 software worked well.
- Alpha tags are either on or off (for all memories). With the VX-2R you can toggle the Alpha Tag selection for EACH channel.

Dave's Icom IC-P7A notes :

The included BC-164 desk charger is very nice, gets the job done too. Has a nice BIG 3 color LED to let you know that it's done. It does not have the problem that the IC-T90A desk charger (BC-139) has with heat , it only gets very warm to almost hot. Also does not have the almost falling apart feeling that the bottom cover has with the BC-139 charger. The huge BC-145LA wall wart adapter for the BC-164 is of a linear type, so no RF garbage (the VX-2R uses a noisy switching type).

Receiver performance with the IC-P7A is improved over the VX-2R to my ears (test made using a number of SMA portable antenna's including the Diamond SRH-519). The 220 Mhz area is still deaf as a brick. The 800 Mhz area is night and day, much better. It actually works here, with the VX-2R almost forget it on 800Mhz. Even SW has better reception (using a short 10 ft wire). MW and FM broadcast, ditto....a real improvement. However just as it is with the stock VX-2R's antenna, the Icom's stock antenna is poor, even more true outside the ham bands. It needs a aftermarket antenna as well. Good news is that the Icom has a standard length SMA connector , so the center pin with any SMA replacement antenna will not be an issue with the IC-P7A. NOTE: The older IC-Q7A does even better with overall sensitivity. The old IC-Q7A HT's receiver used a triple conversion scheme, the IC-P7A is only dual.

The MAJOR problem with the Icom IC-P7A for me is with the receive audio. Distortion and speaker break-up happens WAY too quickly. While the VX-2R is no barn burner either with receive audio power it still does better and at least passable. I found the IC-P7A's audio to be really whimpy and a no-go for most outdoor uses. A speaker mic will almost be required for any outdoor use, and that only helps slightly. The second sample was no better with this distortion. I feel even the old IC-Q7A model worked MUCH better for audio punch and much less distortion factor. What happen here Icom, you blew it BAD in my view !!

Transmit audio fairs much better, crisp and clean but it is a bit on the weak side (on both bands). The tuning encoder while having a good feel while rotating, has a little "giggle" play with the encoder shaft. It just does not have the excellent feel of the IC-Q7A's "dial". The painted chrome look knob with the rubber grip has a cheap look and feel to me.

Battery latch was so tight fitting with the first sample that it was impossible to open with your fingers. With the second sample tested this was not quite as bad as I could at least pop this one open with my fingers. It still takes a bit of finger strength to pop the cover off. Again the elder IC-Q7A's latch has non of this, works perfect.

PTT and function buttons with the first sample had a very sloppy feeling. With the second sample this was gone (fixed ?).

The LCD is nice and large with excellent "Green" backlighting and contrast. Unlike the IC-Q7, here we have DCS (Icom calls this DTCS) and a 6 character alpha tag for each memory channel.

I say totally forget about the Icom IC-P7A.

Final Word : Icom was extremely stubborn to make ANY changes to the MAJOR receive audio issue. I made hard contact with them when it was first released on this subject. So it had a short life on the market. Yeah I wonder why...right ??

Dave N9EWO
© N9EWO, all rights reserved
Ver 5.0

Discontinued Product
---
Below is a review I did back in about 2000 or so on the Icom IC-Q7A (updated slightly).
Here for general reference only. Dave N9EWO
---
Icom IC-Q7A Dual Band Transceiver

The excellent "Triple Conversion" Icom IC-Q7A (now discontinued).
Why this radio has great receive audio and the IC-P7A downright stinks is a good question ?
One could say, "well it's a bit smaller" , does not wash with me.
The IC-Q7A and VX-2R does not have these receive audio issues that the IC-P7A does.
(Icom photo)
Note: The IC-Q7A as well as the Standard C-508 and Yaesu VX-1R I talk about below, are no longer sold new (all discontinued). There is always the used market, so it's not a lost cause.

The Standard C-508 / Yaesu VX-1R (ouch!!)

After owning a Standard C-508 and making the "BIG" mistake of purchasing a early version YAESU VX-1R (Update: the later versions of the VX-1R were better), I was wondering if buying another micro-talkie was really worth it ?? I'm very happy to say that it most certainly was, I feel that the ICOM IC-Q7a is a big "Winner".

The real reason I wish to own one of these "micro" sets is to really receive on. The minor amount of RF that these "Pocket Marvels" emits, is not to be counted on in case of a emergency. So it should not be your main handheld transceiver .The RF output on the Q7a is supposed to be (at 3.0 volts) 350 mw on VHF and 300 mw on UHF.

The Standard C-508 was a real disaster on RF output when using ni-cads as of the lower voltage. RF is also really low, something in the order of 50 milliwatts. It was pretty close to specs when using Alkaline (about 250 milliwatts), but on rechargeable AA batteries, forget it. I could get out just as good screaming. Any local repeaters ,and I mean line of sight, were out of the question using ni-cads on the C-508. From my testing with the Q7's RF output using ni-mh batteries have been much better, but again output is still much better using Alkaline. I have no way to actually measure the output, just from my own observations.

Way Above Average "Wide Band" Receiver

The main feature that I love on the IC-Q7A is of course the very large receive range. 30 right up to 1300 MHz. Mode's are FM, FMW (wide) and AM. More important it is not just a advertising gimmick to get you to purchase it. It actually receives across the entire range very well. It can really receive signals in the 220 MHz amateur band, unlike the Yaesu VX-1R which is as deaf as a toothpick in that area. 2 Meter area, ditto, better on the Q7A. FM broadcast is also much better on the Q7A vs the VX-1R. I can receive about double the amount of stations. And to make this test fair, the same antenna's were used. This might have something to do with the fact that the Q7A is a Triple Conversion Receiver where is the VX-1R is only Dual ?? The C-508 actually has good sensitivity, but it's range is too limited and does not have a FM Wide mode. And of course the Q7a lets you tune in 6 Meter Amateur and 30 to 50 Mhz signals, Plus TV audio on Channels 2 to 6, with the VX-1R or C-508...No cigar Charley.

Reception on 800 MHz signals on the VX-1R, VX-2R and on the VX-5R, is about as bad as you can get (very very poor if not as all). The Q7a is right up there with the best of them, 460 MHz area is also excellent.

The battery situation is good on the Q7A too. It operates on two "AA" batteries as does the C-508. They are using the little plastic pop off latch. The batteries insert and remove just fine just using your fingers. On the Standard C-508, you need to grab your car keys or something to "Pry" the 2 AA's out, it's a very tight fit.

The Volume Control on the IC-Q7A (just as it is as it it on the VX-1R and IC-P7A) is electronic , that is up and down buttons. These are a bit on the small side, but you get used to this in short order. The speaker audio is "louder" and better audio overall than the VX-1R, but you cannot expect huge amounts of audio from a "peanut sized" radio. It's tinny and a bit shrill sounding so don't get too excited about ICOM's "Hype" in the brochure. However I can get it louder than either the Icom IC-P7A, YAESU VX-1R or Standard C-508, which all tend to break up into distortion much sooner. It even does better than the VX-2R.

The transmitted audio quality is good . You will not have to go inside the radio to turn it up either (at least on the 5 samples I have used/owned over the years). It was great out of the box. Other ICOM H-T's I have owned have had low "Transmit" audio, and you found yourself having to go inside to turn it up as all were going..."What's that again". Not with the IC-Q7A. Matter of fact I have to back away from the mic a bit.

The Display is a very nice size, very easy to read and see. Good contrast. It also shows the Mode used (on every memory channel) without pushing any extra buttons. The meter over reads a bit.

Buttons / Super Nifty Low Battery "Beep"

As your discharge the batteries a little picture of a battery on the LCD gets cut in half. When they are almost ready to expire, the radio will beep a few times. When using rechargeable AA batteries the radio will usually die right off after it beeps. Alkaline will run for awhile, however it will beep at you every few min's. This works quite well (not turning on too soon).

The side mounted buttons, the "function" and "PTT" , both push at bit hard to activate .As you put in you memory channels, and are using the function button to get around, the old fingers get a bit sore.

Remove those Batteries when not in use !!!

In the manual on page " ii" (actually this is page 3) . It states " Even when the transceiver power is OFF, a slight current still flows in the circuits. Remove the batteries from the transceiver when not using it for a long time. Otherwise, the installed batteries will become exhausted ".

This is very true, as from my tests..you can install a "Fresh Brand New" set of alkaline batteries.....and in just a few weeks with the radio OFF (not being used at all)...it will run them down to nothing. Weird to say the least, and with no clock to keep running...why should you have this kind of current being drawn ??

CTCSS Tone Operation That Works Right / 200 Memories

Nice touch that the IC-Q7A has CTCSS tone encode and decode included. Even better is that is works great. When you do a Tone Scan on a signal, it still allows you continue to listen to the signal, instead of it going into mute (as is the case with most other radio's). When it finds the correct frequency, it will stop and automatically enter it into the "Tone's" in the set mode item(s). It does not have DCS, or any alpha-tags on the memories, Two for the VX-1R and IC-P7A (as those do both). There is a small amount of hiss in the received signal, and a small "pop" sound as the audio amp comes on, but no worse than other H-T's that I have used over the last few years. It has the usual "ICOM" PLL lock trait, that you can here a small amount of "Ringing" for a second when you first tune to a quiet signal in. Even my old IC-R9000 had this little gremlin. This is not a serious drawback, as most people never know it's there. Phase noise is a bit on the excessive side I'm afraid.

Speaking of memories, the Q7a has 200 of them. It does allow you to put ANY memory on ANY band, AND SCAN ALL at the same time, without having to resort to a silly software scheme on a computer to "TRY" and do this , as the old VX-1R was. That was one thing that really made me "Steamed" about the VX-1R. You cannot do that on the YAESU, unless you have the optional ADMS-1 software, and do a weird command to allow it. So the Q7a even works good for a scanner, however the speed is a bit slow. If you are only going to scan, say 50 of the memory channels at a time, this should work fine. All 200, it's going to be a slow trip around.

You can set (to your taste) the Scan Pause Time (scan pauses for 2 to 20 seconds on a received signal or "Hold" until the signal disappears), Scan Resume time (1 sec to 5 sec after the signal disappears or Immediately). Memory Channels are in Two banks of 100 each , and can scan one OR the other OR both. Lockouts are provided. It has the usual 6 different types of scan that ICOM usually offers. 10 scan edges (marked as P0 to P9) can be stored. It uses memory channels for these edges.

Auto Power Off (30, 60, 90 or 120 mins), a Power Saver, 3 different priority types, are on board. You can even set up the monitor switch so when you push it, it will keep the squelch opened (with having to keep it pushed), or the usual way, having to push it. A nice touch here. And the power button is easy to push and recessed. On the VX-1R, you like had to squeeze the power button so hard that your face turned red.

As with the VX-1R and IC-P7A , the Q7a also uses the 4-conductor 1/8" phono plug for the Speaker-Mic. Yaesu VX-2R / VX-5R / IC-P7A "Mic" accessories with work just fine with the IC-Q7, it's the same scheme.

ICOM felt that it was not important to include a Schematic WITH the the RADIO, not even a lousy Block Diagram. !! Guess they want you to shell out $ 50.00 for the service manual (NOT) ??

Little RF Noise Generator (When it's OFF) ??

I received a little note from Edward W.Brown that is very intresting about the IC-Q7A.

"I found an interesting little quirk of the IC-Q7A. And the really weird thing, is that this shows up when the radio is turned off. Last night I was doing a little pre-sleep AM BCB DX'ing on the Sangean 909, and was also monitoring some local activity on the Q7A. Well, I turned off the Q7A, and placed it near the 909 and the reception suddenly got "trashed" by a barrage of noise. Yup, the little Q7A is a white noise generator when it is turned off. It has a range of only about a foot, but it can bury relatively strong AM band signals if it is within a few inches of the radio's ferrite loop antenna. Turned on, the radio doesn't do this as nearly strongly, though there is some much weaker RFI generated, but it is way down as compared to when the Q7A's powered off. I have not seen this with any other scanner or radio, but some further research is in order."

After reading this I ran over to my Q7, and grabbed my little SW portable and sure enough..."White Noise". Weird is right !! As Ed also said, This only affects the Medium Wave Band and does not touch Shortwave, and this is also correct with my sample as well. Thank's Ed for sending me this.

This is very weird to say the least, when it's off..... well it's not really off . Microprocessor noise on a set that is supposed to be off ?

LC146 Case

When the Q7 first came out the LC146 case sold at US $ 39.00 for a very small piece of vinyl, and no it's not leather...that was a sheer rip off. Later down the road Icom decided to reduce the price to around $ 25.00. Still a bit high for what it is, but at least better. The LC146 case was discontinued shortly before the radio was. However if one needs a replacement, the LC146A (for the IC-R5 scanner) will work just as well. There will just be a hole the right for the R5's power input, which the IC-Q7A lacks (no biggie).

Getting back to that LC-146 case, it fits fine. I do not use the belt clips, so I just hang on to the little "stub" where the clip goes onto, to help pull the radio out of the case. It does not use Velcro as does the VX-1R or VX-2R's case. One very good thing is that it does not stick to the display (as does the VX-1R's case), so it pulls out easy. However, when you use the case, be sure and align up a hole on the case's front for the microphone, if you don't your audio may sound a bit muffled.

Even after many years, I still really like the IC-Q7A. ICOM had a fantastic little QRP "Handie Talkie" here and a pity that it's no longer in production. I have yet to see another HT that uses a triple conversion receiver scheme after the IC-Q7A. The newer IC-P7A is a total joke to me when compared to the much better IC-Q7A (aside from the RF output power).

Dave N9EWO
© N9EWO, all rights reserved
ver 6.0

Note: The IC-Q7A as well as the Standard C-508 and Yaesu VX-1R I talk about above, are no longer sold new (all discontinued). There is always the used market, so it's not a lost cause.
---
VX-2R Comments and views from others (via email direct or newsgroups)
---
It appears that a nasty problem has been earthed with the VX-2R. Some have said it did not appear until the APO (auto power off)function was used. I have yet to have this problem, but have not used the APO or the software either. Another person had it lock up while switching memory channels. Here is a note via the Yahoo user group on this. Here we go again ...lets hope this does not turn into another nasty problem !!! But at least a cure is at hand as long as it's not a constant gremlin. Dave N9EWO.
Update : I have never had this problem appear with my sample .

"Had the failure to power up problem yesterday for the first time. Serial Number 3F010XXX Had unit approximately three months, and never had any kind of problem with it before. It is used daily for most of the day. Turned it off at night and plugged it in for charge. Red LED came on with CRGING message on LCD. Went to unplug it the next day, and Green LED was on with CHGFUL message on LCD. Pushed in PWR button and nothing happened even though there was a tactile click. Tried it several more times with no power up. Removed battery and reinserted it, and everything was fine after that. I have used the Commander software dozens of times - all versions - with no problems, and the last time I used it was over a week ago, so I don't think it has anything to do with this problem."
Scott
WA2CHJ
---
Edited note via the Yahoo user group on those NP-60 aftermarket batteries that others have made comment to. I guess to play it safe only use the real Yaesu FNB-82LI battery ?? Dave N9EWO.

"I tried an after market camera battery and it does not function properly , when I run high power and cup my hand over the base of the antenna on 2m the radio shuts down and the battery has to be removed to reset the low battery circuit . Reason for this is the original battery is probably a carbon electrode LIon battery which can source more current while the replacement battery is a coke electrode which has the same capacity but a slightly higher impedance ........." Howard VE2AED
---
A followup to the aftermarket battery question above (via the Yahoo user group again ). Again : If you want to avoid any probelms, don't be a cheapskate and just purchase the proper Yaesu FNB-82LI battery. Dave N9EWO.

"A follow up to the battery question...I looked up li-ion on the Cadex site to research Howard's comment on the electrode type. I don't see his point. The article seems to indicate that the coke anode is not in widespread use and hasn't been since 1997, and doesn't appear to affect the usefulness of the battery that much, anyway. I think Howard just got a bad one or didn't charge it properly before using. At any rate, I received my camera battery (a "Hi Capacity" B-9583, replacement for the NP-60) in the mail today. I charged it up in the radio and started to use it. It works fine. I did not note the problem Howard indicated. No drop in voltage at all in use, tested high on hi power w/10-30 second key ups in both bands. For $23, I think I did OK."
Gerry (KB0VOF)
---
---
---