Yaesu FRG-7000 HF
Communications Receiver

---
Sony ICF-2001 MW / SW / FM
PLL Synthesized Receiver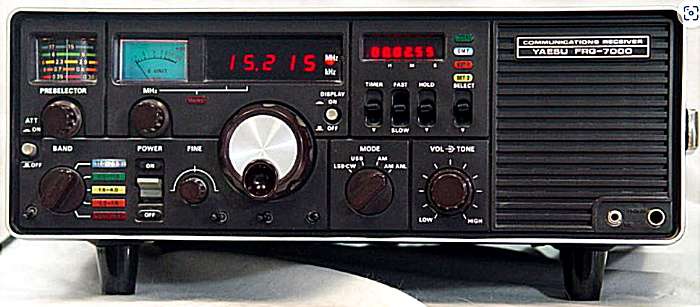 The short lived Yaesu FRG-7000 HF Communications Receiver.
Yaesu's first general coverage receiver with a LED frequency display
(uses a real frequency counter). Manufactured between late 1977 to 1980.
Knobs were either dark brown (early samples) or Black (later samples).

A vast improvement in our view over the earlier FRG-7 as It had greater sensitivity,
separate

crystal

LSB and USB offset oscillators, two decent metal case IF bandwidth filters and of course
the frequency counter along with the addition of a accurate LED clock / timer.

Suffered from digital hash into the audio (just turn the display off) and a very thin plastic bezel.
Keeping it's 14 incandescent lamps working was a chore. Main LED display digits also common to go out.
Has fair to poor dymanic range along with the common wadley loop bug-a-boo issues.
The later FRG-7700 and FRG-8800 models were overall better performers
and did not require the finicky preselector adjustment either.

This was our first tabletop set that had a digital display and fond memories abound.
(Owned a FRG-7 in the past as well and prefer the

STOCK

FRG-7000 much more in comparison.) Dave N9EWO

---
N9EWO's SWL set up in early 1980 that included a Yaesu FRG-7000.
Sitting on the left was the excessively drifty Panasonic RF-2800.
Pioneer Centrex KD-12 cassette recorder in the lower right.
Even back in that day I ALWAYS had a recorder ready for instant use.
In the spring of 1980 we experienced one of the first Sony ICF-2001's in the USA (see below)
---
Yaesu FRG-7000 Links (all subject to change without notice)

eham Yaesu FRG-7000 Reviews

Yaesu FRG-7000 Owners / Service Manual


Yaesu FRG-7000 modification to use the SSB Filter on AM
---
Sony ICF-2001 MW / SW / FM
PLL Synthesized Receiver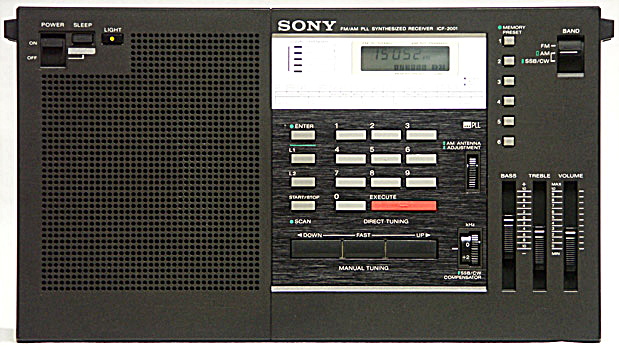 The landmark original Sony ICF-2001 MW / SW / FM PLL Synthesized Receiver.
First consumer SW receiver with direct keyboard entry / memories and LCD frequency display.
Manufactured between early 1980 to mid 1983. See the 2 rear inside pages in the 1980 WRTH.

Retail street prices varied greatly over it's life due to gray market sales.
Started out around $ 350. USD and got squashed to under $ 200. in time.

We were one of the first in the USA to experience a ICF-2001 in the late spring of 1980.
(Perry Ferrell at Gilfer Shortwave offered me one of his 2 test samples direct from Japan).

The ICF-2001 ills included the very common FAST failure of the "tac" keyboard buttons / switches.
Old age issues include DC-DC converter failure (usually bad electrolytic capacitors), along
with other electrolytic capacitor failures. As with many Sony SW receivers over the years
they are NOT easy to service ! Dave N9EWO

---
Sony ICF-2001 Links (all subject to change without notice)

eham Sony ICF-2001 Reviews
Sony ICF-2001 Owners Manual
Sony ICF-2001 Service Manual
Sony Walkman ICF-2001 Historical Web Page
Sony ICF-2001 "shortwaveradio.ch" Review
---
---
---