N8LFP Ham Radio
To Learn More about Ham Radio Click HERE
---
Hello and Welcome to Amateur Radio Station N8LFP. The photo above is a panoramic view or about 180° of what I see as I operate my radio station. Licensed since 1983, I have made many contacts and friends around the world. Some of most most exciting contacts have actually been out of this world! No, I'm not talking to aliens however, I have made many contacts with the Soviet Space Station MIR when it was still in earths orbit. I also made contact with astronaut John Blaha shortly after he entered the MIR Space Station while a US Space Shuttle was docked.
The love of radio bit me at about age 10 while visiting my cousin. We used a pair of "Archer Senior Space Patrol" walkie-talkies from Radio Shack. I was amazed at this talking without wires technology it seemed like magic to me. I remember working very hard to come up with the $9.95 it would take for me to own one of these magic radios.
As a teenager of the 70's the love of radio landed me in the middle of the CB boom. I found myself having as much fun experimenting with antennas and radio modifications as actually talking to other CB'ers. When I started attending high school I signed up for a Television broadcast class on our high school campus which is where I met my Elmer Lee K8MZH. Lee was the teacher in charge of the station and just happened to be a ham. With some encouragement from Lee I signed up for a ham class being offered by our local radio club and became KA8OXN. After being inactive for years and allowing my license to expire I started the licensing process over again in 1989 this time getting my Extra class license to enjoy ham radio to its full potential.
As I was initially attracted to the hobby of radio by its "wireless" magic I have also discovered the magic of people with whom I never could have befriended if not for the magic of radio!
Here is a list of the current station equipment: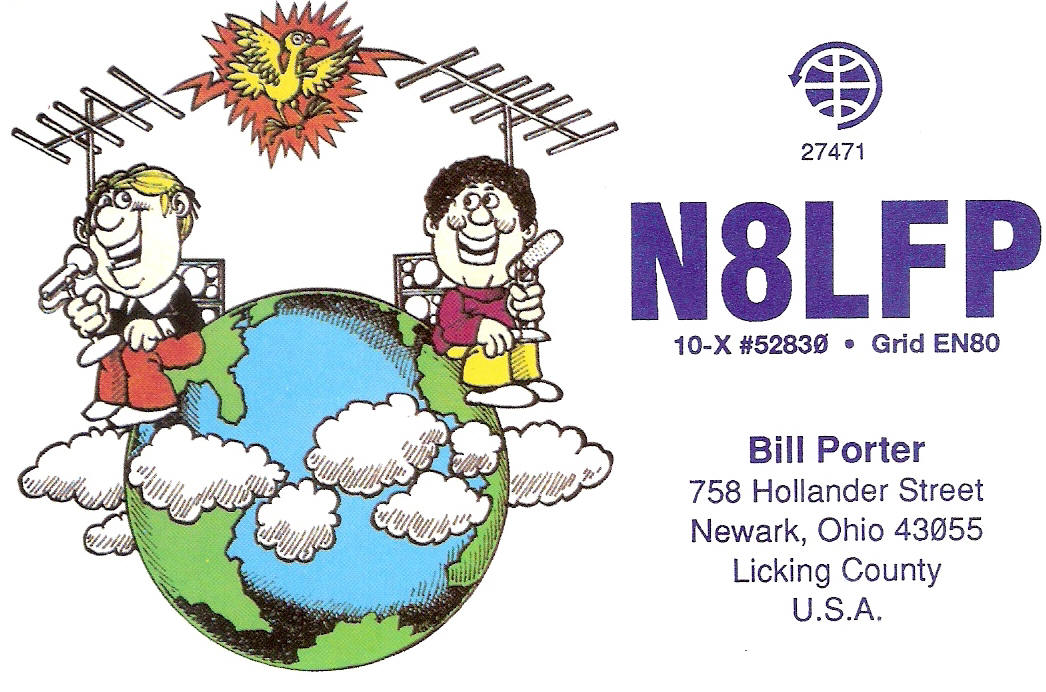 Click on Pictures for full screen view
---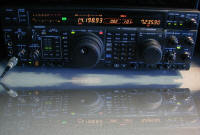 I have owned my Yaesu FT-1000MP for nine years now. Since I have not had any other radios that are in the same class to compare it to I guess I am very biased on the performance of this rig. Prior to the MP I had an old Yaesu 757GX and then bought the FT-847 Earth Station. The old GX was my first HF rig and I thought it was a good radio till I bought the FT847 then I realized that the old rig was not as good as it once was. Same thing happened when I bought the MP. The huge difference in the MP was the receiver. I would have never known even if someone told me the difference in receivers is huge. The MP is so quiet compared to my other radios. This may not seem like a big deal but, if you are tuning and listening for a long period of time the hash and white noise have a tendency to mentally wear you out. I know it is hard to grasp this concept unless you have experienced it. Just imagine very clean clear SSB signals while tuning with almost no other noise and you may be able to understand. Now, that being said, I talked to another ham using an Icom IC-7800 the other day and he told me he used to have an MP just like mine. Here's the kicker, he said going from the MP to the new Icom 7800 was like me going from my old 757GX to the MP. There was also a comment about not wanting to hurt my feelings thrown in there. Problem is, the new Icom 7800 and the Yaesu FT 9000 are in the $10,000 dollar price range so I guess I'll never know that difference.
My MP is pretty much stock with no aftermarket filters although I would like to install a 2.0 Inrad for SSB work during crowded band conditions. I have performed the NB mod, the key click mod, and installed the Inrad IF mod which greatly reduces the noise floor on the lower bands while improving weak signal readability. I must say the NB mod was a great improvement and almost acted as a new filter being installed. The original configuration of the NB button never allowed the NB to be completely switched off. This caused strong nearby stations to give a reasonable amount of interference. Now with the NB mod installed the interference has greatly been rejected.
Yaesu FT-847 Earth Station
This is a very interesting little rig that I have owned for about ten years. The reality is this rig is an out of the box one rig does it all kind of a radio. Does it do it all well? No, it does have some issues but nothing that really can't be fixed. First of all let's discuss what it does very well and that is two meters and 432 Mhz SSB. This rig has excellent specs on the receive end for weak signal terrestrial and satellite work. Prior to buying this rig I owned a pair of Icoms with very good receivers for the time period they were manufactured. For two meters I was running an Icom IC-271H and for 432 and Icom IC-471H. These were very good rigs and the "H" models designated high power out. The two meter rig had 100 watts output and the 432 rig put out about 75 watts. The FT-847 is a great all mode and satellite radio on two and 432. The weakness is the HF receiver. The receiver is noisy on HF and with the stock filters does not do well in crowded band conditions. I have operated the same rig at a field day site with a 2.0 Inrad SSB filter and the difference was night and day. I also have heard that replacing the stock diodes with high quality shotky diodes greatly reduces the noise floor on HF. I will soon know since I have some shotkys on order. I had a little accident and blew the original diodes out on 160 meters and since I will already be there I might as well replace them all. Overall I think with a small investment the little FT-847 will be a decent rig for a back up on HF and a great rig for two and 432 SSB and FM. Oh Yea, it does a good job on six meters also.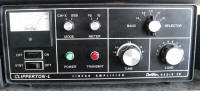 What can I say about my mid 70's production Dentron Linear Amplifier? I was fortunate to get a very nice one that has no scratchs and is in pristine condition. It does not do ten meters which means it was never a CB amplifier and always a ham amp which may explain why it is in such good condition. I do not have a 220 volt source in my shack (yet) so running the amp from 110volts ac gets me about 1000 watts across most bands. When I first acquired the amp I thought flipping switches and tuning was a pain (cause it was). Now I have a nice little Excel spread sheet I can get it where it needs to be quickly and it only needs a little tweaking. I know since it is all original including the tubes I will have to spend some money on it soon. The new capacitor board is just over $100 and the Chinese connection for a new set of tubes is about $200 but, where can a get a reliable kilowatt for $300?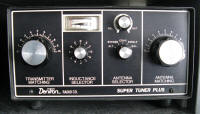 I bought this Super – Tuner for $20.00 from an estate sale where they obviously had no idea what it was worth. A good cleaning and I had another scratch free mint piece of Dentron equipment on my desk to stay. This tuner is built like a tank and has never arced or failed. It may not be a roller inductor model, or be the latest, or prettiest, but how can I replace it for $20.00?
Yaesu MD-100 Microphone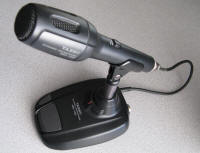 Everyone has their own preference in mics as they should since all voices are different and not all mics work well with all voices. Prior to buying the MD-100 I had an MD-1 for years. The MD-1 is considered by many to be one of the best ham radio microphones ever produced. I used the MD-1 on my MP for the first few months after I brought the MP home with good audio reports. I heard a lot of guys running MP's with the MD-100's so the next trip to Dayton I found a deal on a new MD-100 and took it home. Several audio checks switching between the two mics and switching many settings proved that for my voice the MD-100 was the better mic. I eventually sold the MD-1 since it just collected dust for a couple years on the shelf. I still have a really nice old D-104 that works very well as a DX mic. I also picked up the W2IHY 8 band EQ that puts that extra little polish on the tone. With all of the noise in my house I really do like using the noise gate to make my background quiet.
---
Feel Free to send me your feedback and or comments by clicking HERE
Copyright 2009-2010