The Happy Wanderer
Sometimes memories of good things last even longer than memories of the bad things...and just thinking of them from time to time will bring gladness to your heart and a smile to your face!
Many, many years ago, there was a show on television called The Happy Wanderer. It was a travelogue, and as I recall, it was on a Saturday. Each week was different, because each week you got to visit a new place. It was always interesting...and I liked it.
The title of this article, as you may have guessed was also the title of the theme song used for the show. It was played at the beginning and end, and while it played it kept showing various scenes of places they had been and things they had done. And YOU had done it too...right with them, through the medium of television.
If you didn't grow up in that era, it is hard to understand how television has changed over the years. We didn't have a color TV set. Heck, so far as I know, this was BEFORE color was adopted into the NTSC standard. Our family had a monochrome set (black & white to most folks, except that it wasn't really) and that's what we watched it on. The advertising was also different...more reserved. We didn't have the TV violence as we see today. And the magic was still a part of the television. We used to wonder if the studio could really see us though the set!
During the theme we used to sing along, and if we didn't know the lyrics, we made up something that sounded "sort-of" like what was being said. Some of the lyrics we came up with didn't make a lot of sense, such as at the end of the chorus where we sang "The bom-bom the whiskey on the cob!" I don't know how we came up with it, but as little kids we were taught that drinking whiskey was very bad, and so just saying that word was sort of naughty; and gave us a thrill!
<![if !vml]>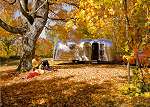 <![endif]>Well, today I went off to look at a trailer that I might very well buy. It's an Airstream, 29 feet long, from 1975. It looks like it's in good shape and the price is right, and more importantly, something that I can afford! (You'll pardon me if I don't mention the EXACT price to you...)
<![if !vml]>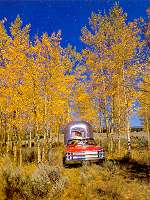 <![endif]>Click on each picture to see a larger version!
I am happy about the prospect of finally having a trailer, since my wife Yvette has M.S. and tent camping is becoming progressively more difficult for her. We have looked forward to this for quite awhile and plan to fix it up inside to suit US...and plan on keeping it, if not forever, than "half that long" anyhow.
So here I am driving home, and I think of the old show that I used to see on television. In one of the scenes that was shown every week during the theme song, perhaps only at the end, but I'm not sure, there was a shot of an Airstream trailer being towed and going around a curve in a highway. The folks who were pulling it were going off somewhere, and I'll bet it was an interesting place!
As I drove I thought about the song, the "naughty" lyrics we had invented as children and I began to wonder if the World Wide Web contained anything about that television show. I regret to say that I could find nothing, using several different search engines, different combinations of works and so forth. So if YOU know about some small spot on the web that has this, how about sending me a message?
And now, here are the REAL words to the song. It's a beautiful one, the words are good and I hope that you get as good a feeling reading (and singing) them as I do.
Play it now! 46K Midi file (Wanderer.mid) by Frank Schober, downloaded from Polkasound Productions.

---
The Happy Wanderer
I love to go a-wandering,
Along the mountain track,
And as I go, I love to sing,
My knapsack on my back.
Chorus:
Val-de-ri-- Val-de-ra-
Val-de-ri-- Val-de-ha ha ha ha ha ha
Val-de-ri-- Val-de-ra,
My knapsack on my back.
I love to wander by the stream,
That dances in the sun,
So joyously it calls to me,
"Come! Join my happy song!"
Chorus:
I wave my hat to all I meet,
And they wave back to me,
And blackbirds call so loud and sweet,
From ev'ry green-wood tree.
Chorus:
High overhead, the skylarks wing,
They never rest at home,
But just like me, they love to sing,
As o'er the world we roam.
Chorus:
Oh, may I go a-wandering
Until the day I die!
Oh may I always laugh and sing,
Beneath God's clear blue sky!
Chorus:
---
If you have comments about this story, I'd be happy to hear from you!
Original text Copyright ©1998 N7JY
Photos © Airstream, Inc.
Looks best using
<![if !vml]>
<![endif]>Disclaimer:
The contents of this page do not necessarily reflect the opinions of my Internet provider, my page host (QSL.net), my employer, nor anyone else.
<![if !vml]>

<![endif]>Copyright © 1998 N7JY.