N6QAB Hidden Transmitter Controllers
When it is time for you to hide a Hidden Transmitter there are several ways to control the transmission timing and audio of the transmitter. The most basic of these is of course the manual method of hiding in the bushes with your trusty HT and talking on and off for several hours. Having been there and done that, I don't recommend it.
A more effective, if not pleasant, method is to build or buy a transmitter controller. Below are several controllers that can be built or purchased.
---
The UnMusic Box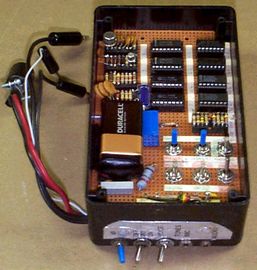 The UnMusic box was designed by Joe Moell/K0OV. Details on it's construction and programming can be found in the TRANSMITTER HUNTING Radio Direction Finding Simplified book.
---
The Tone Box (Rev 0)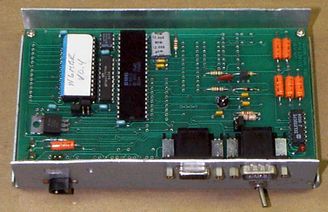 The Tone Box was designed by Ron Seese/N6MBR. Features include: DTMF decoding, parameters stored in EEPROM, Clock calendar for scheduled delayed starts, audio repeat from another receiver, programmable via DTMF or RS232.
Ron designed the Tone Box for use at the FARS Friendship Games ARDF competition. Ron had professional quality PCBs produced and put together a kit complete with an enclosure. Yours truly assembled six of the Tone Box kits. They were successfully used in conjunction with ICOM IC-2AT's, Gates battery packs, and ammo boxes as the Foxes in the ARDF competition.
The picture shows the original run of PCBs and V0.4 of the Tone Box program. The most current version of code is V1.5B. The most recent PCB is Rev B. The latest version of the Tone Box has many useful features. Check Ron's web page for the latest on the N6MBR Tone Box.
---
The RaCon 6805
The RaCon 6805 was designed by Marty Mitchell/N6ZAV and Byon Garrabrant/KD6BCH. The RaCon 6805 is a multi-function radio controller designed especially for amateurs. It's a CW keyer, FoxBox for T-hunting, DTMF decoder, DTMF controller, and an Auto-pager all-in-one. For more info on the RaCon6805 check out Byon's web page for the a complete guide to the RaCon 6805.
---
The PicCon
Byon Garrabrant latest transmitter controller is the PicCon. The PicCon is a PIC microcontroller based radio controller designed for hidden transmitter hunting. When combined with a radio transmitter, it will produce tone sequences and Morse code messages at user-programmed times. It is completely field programmable via DTMF tones, utilizes EEPROM for all programmed options so they are remembered when power is removed, and is quite compact. Check out Byon's web page for details on the PicCon
---
The Montreal Fox Controller
The Montreal 2 meter ARDF Fox Transmitter, fully compatible with International Hunts Pic software by Francois Tremblay VE2JX, RF design by Joe Leggio WB2HOL, Integration and PCB by Jacques Brodeur. Features include: Power output is more than 600 mW at 146.565 mHz. FM modulation for North America. Power consumption is less than 3 mA while timing and 130 mA when transmitting. Small size; 3 1/2" X 4 1/2". More information on the ARDF Fox Transmitter can be found at Jacques webpage.
---

Back to the N6QAB home page
This page revised on 02/05/99