These parts are the heart of my new transmatch. The capacitors have a 0.075" plate spacing. This should be adequate even for my Drake TR-4C when I get it restored.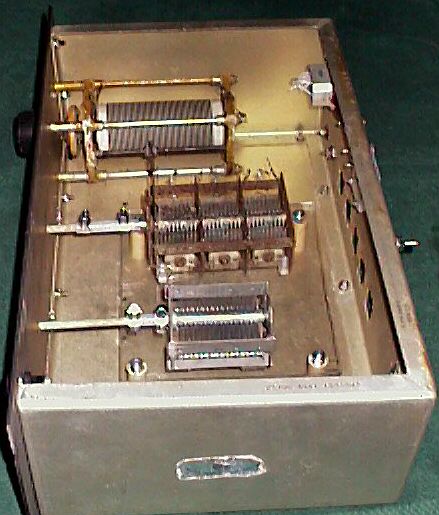 This is the inside layout. It isn't wired yet, but should be done soon. The isolation platform is 11/2" above the deck. Note the shaft couplings. As I thought, 1/4"ID tubing was perfect as a coupler. I live in a small town, so when I went to look for non-conductive shaft material, I found nothing.... except, that is, 1/4" dowel stock. Maple is a pretty good insulator if you keep it dry.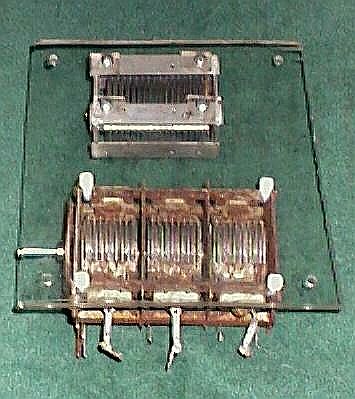 This shows the mounting technique I used for the capacitors. Note, too, the rust on the ganged capacitor. I will almost certainly replace this in the future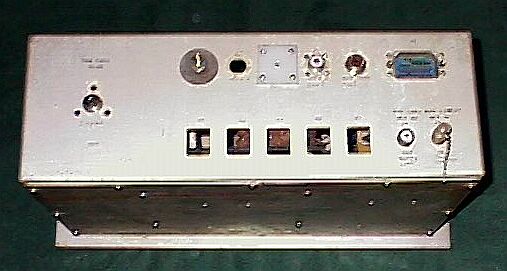 The top picture is pretty much how it will look when completed. I do not have a turns counter. Someone like to volunteer one?
The bottom image is of the back panel. From Left to right, the connections are: input, ground, vacant, end fed wire, antenna 2, antenna 1, down to lower right- dummy load, and the frequency counter probe. The blue connector in the upper right corner is a remnant of the original application - it is not used. The row of square openings at the bottom was for 5 relays. I hated to leave openings, but the relay sockets wiring made quite a birds nest.