A 'Mint Idea' APRS Tracker
In a perfect world, I would have a Kenwood TM-D700A dual-band mobile transceiver with integrated packet data TNC and a Garmin V Street Pilot GPS unit custom mounted in the console of a Ferrari 575M. In the real world, and in the true spirit of Amateur Radio do-it-yourself experimenting, I settled for a less elaborate APRS tracker mounted in a Ford Explorer. If you are content with simply beaconing your position to the Automated Position Reporting System network, a portable or mobile APRS tracker does not have to be an expensive proposition. The project described here was built on a rainy weekend for a total cost of under $100.
TinyTrak-II
$33
Byonics N6BG
Rand McNally Streetfinder GPS
$20
e-Bay auction
Alinco DJ-110 2-meter transceiver
$40
Hamfest bargain table
2-meter magnet mount antenna
$5
Hamfest bargain table
Misc. connectors, boxes, hardware
$0
Bench junk box

TOTAL

$98
Weekend Project
TinyTrak-II, www.byonics.com, is a GPS position encoder which, when connected to a GPS and a radio, will transmit its location at an adjustable rate. TinyTrak-II is a construction project providing an inexpensive way to build a mobile tracker without the need for a full TNC. TinyTrak-II is personalized for your call sign by connecting to a computer's serial port and running a simple configuration tool which allows setting of all user options. Construction consists of a hand-full of supplied components that must be populated on the PC card and soldered. It can be completed in
under an hour. Mounting in a suitable enclosure, connection to a radio transceiver, configuration and testing require additional planning and time. There is an on-board mounted +5V regulator which allows powering from a variety of external sources. I mounted the unit in a tin Altoids Mints box to provide some measure of RF shielding and added a DB-9 connector wired as a Kantronics KPC-3 compatible radio port. This allows easy interfacing to a transceiver using common Kantronics data cables. This is consistent with the interfacing scheme I've used for other digital data radio projects such as a PSK-31/packet sound card interface and commercial TNCs.
The 12-channel OEM GPS board is manufactured by Talon Technology. The one I used was 'hacked' from a Rand McNally Streetfinder GPS for Palm III. I removed the GPS board and
passive antenna disk from the molded plastic case designed to attach to the Palm III PDA. Then, I separated the Talon OEM GPS board from the Palm III data port interface and battery charging PC board to which it was mated. Two minor modifications are required to make the GPS self-start and run from an external power supply. Complete instructions on how to 'hack' this unit can be found at www.radiohound.com. With a little experimenting I've found that the board will operate satisfactorily from a supply voltage of +4.5V to +15V DC. This, like the TinyTrak-II, allows for a wide range of power options for fixed, mobile and portable operation.
I mounted the GPS board and DB-9 connector in a tin Altoid Mints box. This provides good RF shielding and antenna isolation. The GPS
antenna is mounted to the Altoid box top lid. The DB-9 connector is used to connect the GPS to a computer serial port. For the time being, until I come up with a permanent placement, the stacked boxes sit on the dash of the SUV with the status LEDs positioned so I can monitor operation and channel activity. The receiver is surprisingly sensitive and the disk-shaped 'patch' antenna has a wide angle of view. When the RS-232 level GPS receiver output is monitored from a notebook computer, it is not uncommon for it to lock on eight or nine satellites. Four satellites are required for true 3-D positioning.
I used a PS-2 mouse/keyboard extension cable to connect the GPS to the TinyTrak-II. I cut each connector end off leaving about 4" to 6" of cable attached, using the male connector on the GPS side and female connector on the TinyTrak-II side. When connected, ground and +12V power is supplied to the GPS from the TinyTrak-II box and GPS data output is supplied to the TinyTrak-II from the GPS box. The two boxes are attached to each other using Velcro strips.
When the boxes are separated, I can insert the DB-9 connector on the GPS box directly into the serial port of my notebook computer and plug the male PS-2 connector into the PS-2/mouse connector on the notebook to draw +5V power for the GPS board. This allows
use of the GPS with UI-View, Rand McNally Streetfinder, DeLorme Street Atlas USA or other APRS/GPS/mapping software running on the notebook computer. Alternately, I can leave the GPS box attached to the TinyTrak-II box and connect a short serial cable from the GPS to the notebook computer. This allows GPS position data to be routed to both the notebook computer for real-time navigation and to the TinyTrak-II which beacons my exact position to the APRS network. My son likes to play navigator in the shotgun seat of the SUV while I'm driving, calling out intersections and points of interest from the mapping software on the notebook computer.
These links will give you more info on the GPS board.
Talon Technology: http://www.talon.co.nz/
NAVMAN review: http://www.gpsnuts.com/myGPS/GPS/Hardware reviews/RandMcNally/rand_mcnally_gps.htm
The Streetfinder GPS for Palm III units are now discontinued by Rand McNally, but are regularly featured on numerous e-Bay auctions. Average winning bid prices range from $20 - $40 US.
TinyTrak-II Design
TinyTrak-II Configuration Program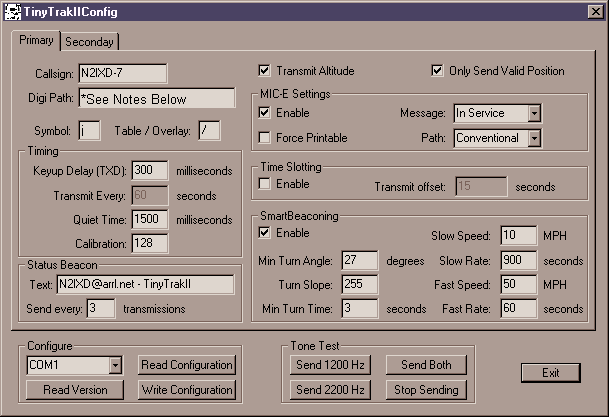 Recommended TinyTrak-II Settings
Field
Suggested Value
Default
Callsign
Your Callsign-SSID
NOCALL
*Digi Path (see below)
WIDE1-1,WIDE2-1
WIDE3-3
Symbol
Your choice
-
Table / Overlay
Your choice
/

TIMING

Keyup Delay (TXD)
300
250
Transmit Every
60
60
Quiet Time
1500
1500
Calibration
128
128
Status Beacon
Your email address
TinyTrakII
Send Every
3
3
Transmit Altitude
Checked
Checked
Only Send Valid Position
Checked
Checked

MIC-E SETTINGS

Enable
Unchecked (unless you have a MIC-E)
Checked

TIME SLOTTING

Enable
Unchecked
Unchecked

SMART BEACONING

Enable
Checked
Unchecked
Min Turn Angle
27
27
Turn Slope
255
255
Min Turn Time
3
5
Slow Speed
10
2
Slow Rate
900
1800
Fast Speed
50
65
Fast Rate
60
90

*OPERATIONAL NOTES

*Note: In October of 2003, Bob Bruninga, the creator and driving force behind APRS, proposed a plan to "fix" APRS. In his paper "Fixing the 144.39 APRS Network - The New n-N Paradigm" he states: "The purpose of this page is to show how we can drastically improve the 144.39 network by simply getting everyone to use the proper settings in their existing digis. The network evolved over 13 years and some pretty bad settings are out there causing tremendous inefficiencies. These can be fixed in most cases just by remote-sysop adjustments of parameters without even a trip to the site. We call this initiative the New-N Paradigm. These changes are mostly transparent to users and it all boils down to one universal path recommendation for all users. Use WIDEn-N where N is appropriate for your area."

I encourage everyone operating an APRS mobile, fixed station or digi to read Bob's entire proposal. The Digi path settings in this chart reflect the New n-N Paradigm. Jim, N2IXD
Click Here to see my DigiTraker APRS project.
ã2002, N2IXD
rev.050615
Notice: This work is protected by U.S. and International Copyright Laws and is the Intellectual Property of its author. Unauthorized use of this resource for activities other than those permitted by applicable acts, codes and legislation is strictly prohibited.