This page describes the station and some of the activities of Finn Jensen, LA8YB, who went Silent Key in 2011 at the age of 82. His obituary (in Norwegian) is on the NRRL pages.
LA8YB Earth-Moon-Earth Station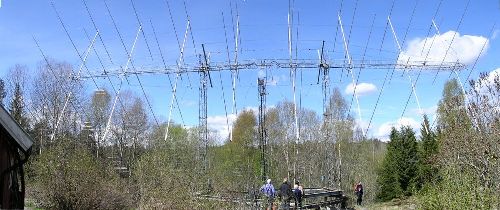 Data for LA8YB 144 MHz EME antenna:

Each individual 17 element antenna has a length of 10 meters (Type 17M2).
Total number of antennas is 32 arranged in an 8 by 4 rectangle.
The array consists of 8 vertical booms each of length 12 m
Stacking distance: horizontally 4,22 m, vertically 3,96 m.
The antennas are mounted on a 32 m long horizontal boom which is supported by 2 vertical masts each of length 9.5 m.
The antenna is mounted on a rail of diameter 10,3 m and may rotate through 360 degrees.
The phasing cables between the antennas are 1/2" and 7/8" cellflex. The feeder from the transmitter is diameter 3" with air dielectric
Beamwidth is about 3.7 degrees and total gain is about 29.4 dBd making it possible to hear one's own EME signal with only 10 Watts.


Some QSLs from past operations:
LB8YB (JX, Jan Mayen), 1953: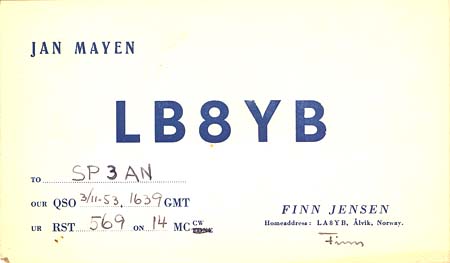 LB8YB (OX, Myggbukta, Greenland) 1955: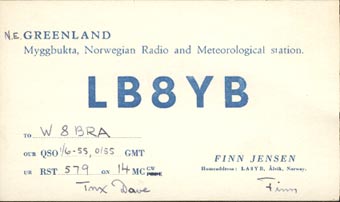 15 Sep 2005
LA8YB, Finn Jensen