Click on the Dare Graphic above to go to our D.A.R.E Graduation ...




Click on Walt's World Logo to See This Month's Cartoon ...



My name is Arnie Macy. I am an Amateur Radio Operator (HAM) and my Callsign is KT4ST. I have been a Ham for ten years and have an Extra Class License. I Really love Morse Code (CW) and use it about 98% of the time. You can usually find me on High Frequency Radio (HF) in the CW portions of 20, 30, 40, and 80 meters. If you are in the Savannah, Georgia area (and have 2 meter privileges) feel free to give me a call on the 146.97 repeater (minus offset) ...

Vy Best 73 OM Hpe CU Agn Sn Arf

Current Tropical Storm and Hurricane Outlook



Tornado spawned by Tropical Storm Kyle in 2002



My Job as an Emergency Management Officer



A Little More About Me ... and WALT

Member of These Organizations ...

American Radio Relay League (ARRL)

A-1 Operator Club

National Traffic System (NTS)

The FISTS CW Club (FISTS)

FISTS CW Club of Coastal Georgia

Amateur Radio Club of Savannah (ARCS)

FISTS Slow Traffic Net (FSN)

Georgia State Traffic Net (GSN)

Maryland Slow Traffic Net (MSN)

CW Stuff ...

Morse for Beginners & Improvers

Morse training using Koch's Method

A Beginner's Guide to Making CW Contacts

Radio Equipment ...

Kenwood | Icom | Yaesu | Alinco | Standard

A Few of My Favorite Links ...

FISTS CW Club of Coastal Georgia (NC4CW)

Al and Jane Perreault's Home Page

The Telegraph Office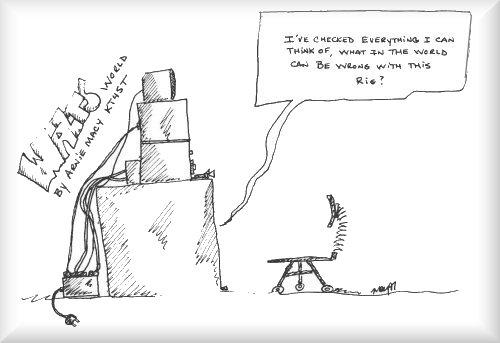 Look Up a CallSign ...
(QRZ HamCall)
Just Enter the information in the box below and click ...




(Buckmaster HamCall)
Just Enter the information in the box below and click ...



Search the World Wide Web
(NBCi.com)
Just Enter the information in the box below and click ...



FISTS | ARCS | ARRL | NTS | BENCHER | VIBROPLEX | WALT'S WORLD | ART of TELEGRAPHY


---
---




Sign My Guestbook
View My Guestbook



CHAT ROOM




Copyright © 1997-2003 by Arnie W. Macy, KT4ST, All Rights Reserved
This page last updated 15 September, 2003