!Written by KL7J, I have not bothered to write much CSS to this page yet, I dont use an editor.>
KL7J - Zone 1 - BP40mm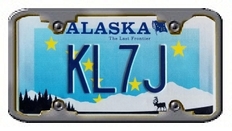 ---
2023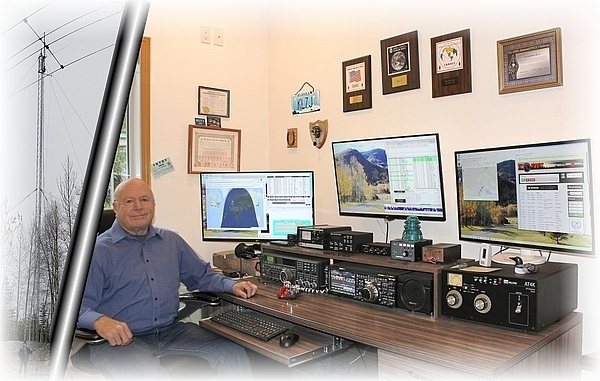 SteppIR 6-40 mtrs @ 74 ft on a Hazer Tram.
Verticals: ¼λ 30M, ¼λ 40M & ¼λ 80M. Inv Vee 60M & 80M, 160 Meter Inv L.
100 ft of buried ⅞" Heliax to remote coax switching antennas on 8 acres.
Yaesu FTDX101MP.
MicroHam Interfaces & Windows 11.
AT4K Transmatch (for random wire). Haven't owned an amp the past 5 years.
Antique gear... namely the operator 😃
---
I have lived in Alaska 52 years.
I visited Alaska 56 years ago (1966). Returned in spring of 1971 after finishing a B.S. degree and working for 2 years. Alaska was very much a self reliant low population frontier before the 1975 Trans-Alaska oil pipeline. Career was almost 30 years for Alaska, raised a family and been retired in the State of Alaska system 23 years. I received my radio license in Alaska 44 years ago.
---
Some snapshots over the years.

KL7J in 1979 as KL7EO.

Stacked 3 rotatables - 2001.
My Callsigns over 44 years of continous operating in AK.


KL7J (11/1996 to Present)
NL7J (1980 to 11/1996)
KL7EO (1979 to 5/1980) Extra Class w/20 WPM
WL7AFE (11/1978 to 3/1979)




---




My 22 year journey to DXCC Honor Roll #1 accomplished in 2001






Top of the DXCC Honor Roll, 2001 to 2023.

ARRL DX life time total is 351 DXCC, all QSO's from South-Central AK.
Honor Roll worked in SSB and Honor Roll worked in CW.
9-Band Digital DXCC.
10-Band 100 DX countries incl 60 meters.

U.S. States - 8-Band SSB, 9-Band CW, 10-Band Digital.
WAZ mixed 7-Bands, WAZ in SSB, CW, and Digital.


Band activity and Mode Stats over the years


Propagation and patience is a great equalizer of antennas.

---






Some of my favorite DX'ing cartoons.

            





---




HF Mobile in the far north and to the Arctic Ocean.


I have been HF mobile on the Alcan many times including one winter trip. Alcan Hwy in 1966 was almost 1000 miles of rough dirt road and infrequent fuel availability. It was wonderfully remote. I've been HF mobile on the Yukon/Northwest Territory Dempster Hwy 454 miles of dirt road to the arctic VE8-Inuvik (along the way was /VY1 and /VE8). Also HF mobile the 300+ miles dirt 'Dalton' Trans-Alaska Oil Pipeline Road to Arctic Ocean at Prudhoe Bay, Alaska.

HF rig was occasionally taken when dropped off in remote wilderness by bush pilot for big game hunting or wilderness fishing. Below are a few HF mobile/remote trips, I frequently used a 20/40 meter alligator clamp jumpered dipole when remote tenting.










---



Contesting interest is limited and the frequent geomagnetic realities (and aurora) of Alaska's location so close to the magnetic north pole with the burden of high-latitude effects on radio propagation.
Some years I was active low power category in ARRL CW Sweepstakes weekend trying for a 'Sweep'.



---




Uploading LoTW real time and QRZ is uploaded daily

Photo QSL via SASE to QSL Manager N3SL
(N3SL, 22 N Hidden Acres Dr, Sioux City, IA 51108-8641)
or
KL7J CLUBLOG (Updated monthly)


I have a special affection for dogteams
In early 1970's I had a dogteam.



73



---




Miscellaneous

*Alaska Judicial Districts reference for County Hunters. Map and cross reference


* Transmitting 60 meters with no mods on a Yaesu FTDX101MP using WSJT-X program. PDF











Aurora with a local Kenai River temp inversion.
Soldotna, Alaska




My antenna in Aurora.
Soldotna, Alaska




Visitors to this page.

The world is a DX canvas to paint.








Email 📫