U.S. Submarines visit the North Pole
Picture page; takes a while to load!
The "Submariner's Verse"
If I take the wings of the morning, and dwell in the uttermost parts of the sea;

Even there shall thy hand lead me and thy right hand shall hold me.

Psalms 139: 9-10
As mentioned on one of my other pages, philatelically documented covers from under-ice ops or actual surfacings at the North Pole, as here, serve as a tangible documentation of the U.S. involvement in the Arctic, and thereby of their conquest of those frozen waters, thus these "souvenirs" also serve a very real geopolitical purpose, as well as making some attractive items for our polar collections.
U.S.S. Grayling, A.K. Hayashida signature. Ship Type "F" postmark.

U.S.S. Spadefish 1992, cachet is very lightly inked, doesn't scan.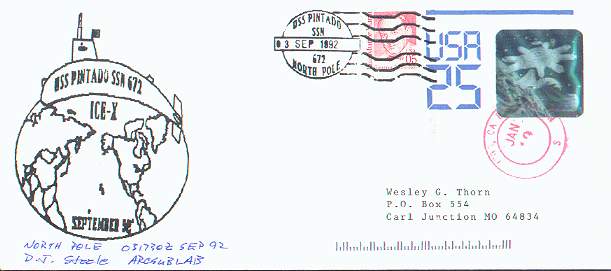 U.S.S. Pintado, SSN-672, Daniel Steele signature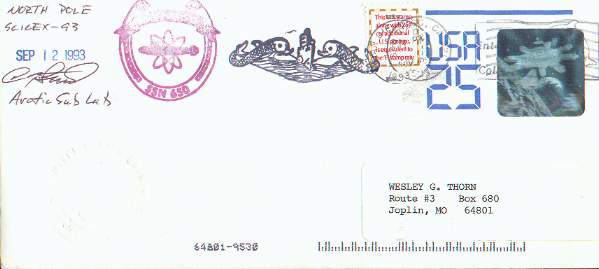 U.S.S. Pargo, SSN-650 for SCICEX-93. The embossed seal in lower left is hard to see.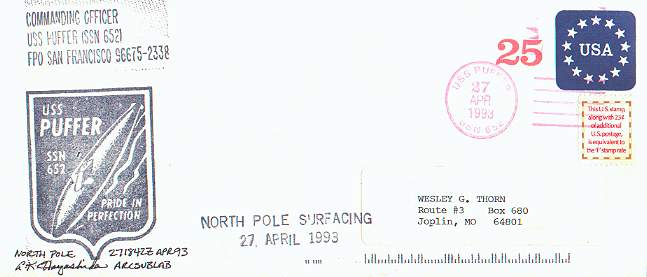 USS Puffer, also with Hayashida signature. Ship Postmark--Type F
USS Whale, 1994 NAVUNSEAWARCEN DET ASL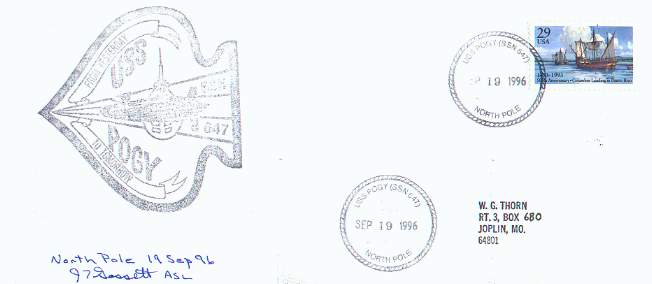 Sand Lance, SSN-660, signed by Daniel Steele, Technical Director of ARCSUBLAB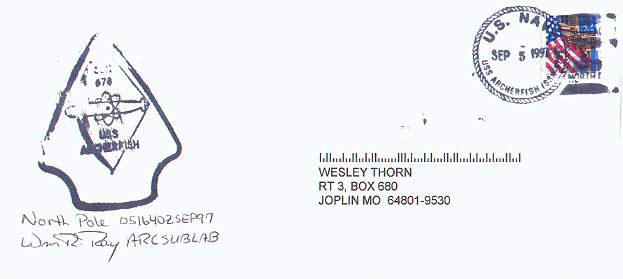 Back to My Arctic Submarine/Northwest Passage Page
QSL.net/KGØYH all rights reserved; page last updated 08 August 2009 1608Z