Vessels making the Northwest Passage
Covers that have been philatelically documented from such vessels serve to document the cruise to (or in this case, through) a certain polar region, and their historical conquest of these waters, thereby often serving a geopolitical purpose as well. The United States has for instance, in the last 30 years or so, been very active in establishing their presence in the Arctic regions, and it was no secret that Admiral Rickover took full advantage of opportunities to tout the nuclear program by sending letters to Congress from submarines that had surfaced at the North Pole. Such letters and accompanying envelopes are sometimes found in polar auctions.

Surface vessels also were involved in our efforts to make our presence known in the Arctic. On September 14, 1969, the S.S. Manhattan became the first commercial ship to negotiate the Northwest Passage to Alaska, fulfilling a 500-Year dream. The 1,005-foot vessel sailed through the Prince of Wales Strait to the Amundsen Gulf (in the Beaufort Sea) to raise the prospect of a commercial route that sea merchants had dreamed of for 500 years. The purpose of the expedition was to test the feasibility of using the Northwest Passage as a new and relatively inexpensive route between Prudhoe Bay on Alaska's North Slopes, and the oil-hungry markets of Europe and the eastern United States.
Maiden Voyage of Humble Oil's S.S. Manhattan via the Northwest Passage. They hooked up with the USCGC Northwind a few weeks earlier, as evidenced by this next cover.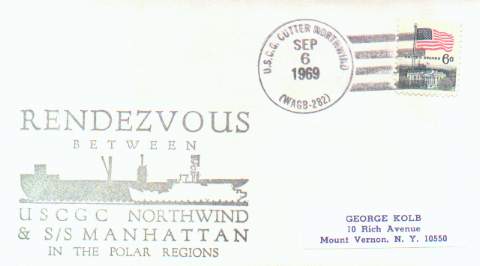 ---
M/S World Discoverer makes Northwest Passage
Society Expeditions' M/S World Discoverer, 1985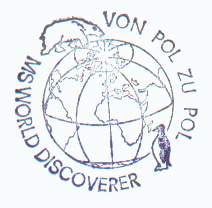 Cachet that appears on backside of above cover and the one below, postmarked at a port of call.
I would be interested to know if the Little Diomede Rural Branch is still open; I understand it is a rather uncommon modern day postmark, but I am not really an expert on Alaskan postmarks. Go here for a good page on Little Diomede. If anyone knows, please let me know.
Back to My Arctic Submarine/Northwest Passage Page
Back to My Main Polar Philately Page
QSL.net/KG0YH all rights reserved, page last updated 08 August 2009 1549Z