Wes' Barbeque Joint


Spreading the Gospel of Real BBQ


Real BBQ is not sloppy joes…

Time to update my opener. Well, I'm not really a Texan by birth. I did live there for a couple of years, so I guess that makes me an ex-Texan. And I try to make a dandy Texas-style beef brisket.
This is a "fun" page for me, and a chance to let you learn a bit more about those smells and billows of smoke emanating from my backyard BBQ joint.
I'll give you a few of my favorite links to barbeque sites, as well as a suggested menu for what I view as the perfect BBQ meal. If you're lucky, you might be in the neighborhood when there is a haze hanging over and there is an arresting smell in the air. I like to put on "feeds", as we say in these parts... grab a cup of artisan-roasted award-winning Buna from Johnny Milton's Homemade (@coffeeoath on Twitter) and let me share some of my philosophy about real barbeque.


REAL BARBEQUE...
I grew up on a farm, so I always had meat of some sort, but to be honest- I never really knew what constituted "real" barbeque. My Grandma raised me, and barbeque to her was to put some spareribs in the oven, pour ketchup over them, and that was barbeque! (She pronounced it "barbie-Q"). I had some disastrous attempts at cooking when I was a young boy hanging out at Fort Thornsboro. (As in Boonesboro; I'm showing my age; this is when the "Daniel Boone" TV series was popular, and like every lad of the day, I was the very embodiment of Daniel Boone, as played by Fess Parker. My hideout and home away from home was called Thornsboro, named after myself, of course.)

I would buy a steak (to satisfy my basic male urge for red meat) and cook it over an open flame, impaled on a forked stick. Not knowing any better, I thought that to cook meat the fire had to be raging, so I kept pumping on more lighter fluid to make sure the flames were licking the meat. None of my folks knew the first thing about outdoor cooking (obviously) or grilling or such, and I was hurt when no one would partake of my rustic entrees... I'm sure I'd still test positive for petroleum distillates.

Anyway, I survived those culinary disasters and in my late teens, attended a Missouri Young Farmers organization conference in Southeast Missouri, and I was turned on to what constituted real Barbeque. Like love, real barbeque cannot be rushed. It is long and slow and best enjoyed at a leisurely pace. For instance, I used to always cook my Texas-style brisket by smoking it in an authentic surplus 55-gallon barrel homemade smoker (which came with molasses in it, not carcinogens!) for about 12 hours, minimum. Real barbeque is not fast food, as you can readily tell. My methodology for this tough old piece of meat involves what I call "triple-dipping" it; I marinade it for a minimum of 48 hours; I also use a dry rub before smoking it; and then after smoking it a few hours, I then remove it from the cooker, wrap it very tightly in aluminum foil and finish it off. I have found very few briskets that don't eventually give up the ghost and turn tender!! Simplicity is best when serving brisket... one of my favorites is just to pile thin slices high on WonderŽ White Sandwich bread, and serve with your favorite sides and BBQ sauce... if you think you need it! (Pretty darn good even without sauce!)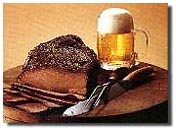 Wes' "Triple-Whammy" Brisket, Zarda-Style Baked Beans, Slaw, pickle spears, Texas Toast and an ice cold O'Douls Amber...
Folks, it just doesn't get any better than this!
This brisket will generally always end up being fork tender, and crumbly to some degree. I jokingly term it as being "ruint". It may not win any KCBS contests, as it is not "pretty" enough, may not give picture-perfect slices as it is so tender, and it doesn't always have that pronounced smoke-ring, but even Grandma could eat it, if she were still alive!
My Favorite BBQ Joints
I used to live about 125 miles southeast of Kansas City, Missouri. I'm a bit further south now, but I plan on making the trip at least a couple of times a year. Click on the link to see where you might find me chowing down while in the greater Kansas City area. (Click on the other links to see where the "feed bag is tied on" closer to home...) These are totally unsolicited reviews and I call 'em like I see 'em, call me a BBQ umpire!
BBQ Restaurants in Springfield/Rolla/Aurora
BBQ Restaurants in Joplin: Give me Lumpy's

BBQ and Chicken under the same roof? Arkansas Delivers!



My BBQ Links
Kansas City Barbeque Society
Connie Black's Texas Barbeque Page
Members List of The Smoke Ring
About.com Barbeque and Grilling Page (This page was listed there under best Personal BBQ Pages)
Barbeque'n on the Internet Page
Great Recipes from Cookshack
The Kansas City Barbeque Connection Page, includes chat
Link Page to other great BBQ sites on the net
For us rib fanatics! Rib Man's "Everything you've ever wanted to know about Ribs" Page.
Garry's BBQ Pit Homepage, a very nice one.

My Pilgrimage to Memphis In May




Restaurant Reviews from 1999 Memphis Trip

Christy Jordan's Southern Plate!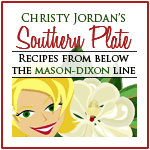 ---
BBQ Tips, Recipes and Ramblings
Bookmark this page & check back occasionally. New material added occasionally.
---

(Back to my Main Homepage)
This page last updated 13 October 2012
Barbeque, BBQ, Bar BQ, Barbecue, Barb-B-Q, Brisket, BBQ Philosophy, Sauces, Sloshes, Slathers, Marinades, Dry Rubs, Mops, Ribs, Missouri BBQ Restaurants, Smoking, Side dishes, BBQ Menu Ideas, Reviews, Pork, Reviews of Real BBQ Restaurants, Smokers, Smoking with Wood, Events, Memphis in May, Tennessee, Arkansas, Missouri, Joplin, Springfield, Kansas City, Rolla, Aurora, Chicken, Arkansas Quality, AQ Chicken House, Pittsburg Chicken, Frontenac