Brook Hill Local Post
Genesee Depot, Wisconsin (Waukesha County)
A Classic Modern-Day Local Post
Also known as: "The Purple Cow Rides Again!"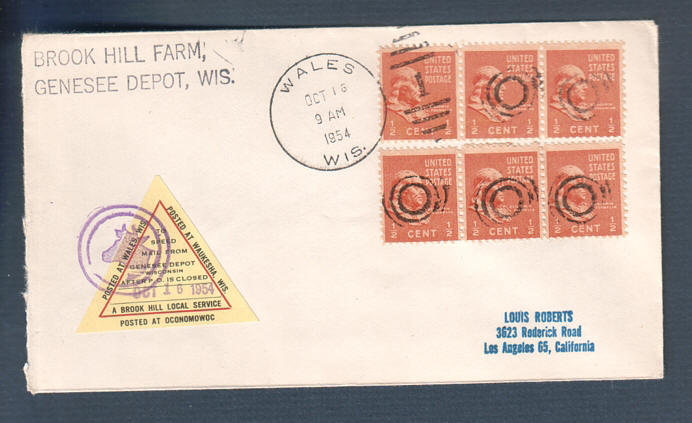 Figure 1. 1954 Brook Hill Cover, postmarked with a Wales "Duplex" postal cancellation device
This page is the result of my initial and continuing research about the Brook Hill Local Post, also called the Brook Hill Local Service. I continue to find new material and will update the page as needed. Thus far, it is the ONLY page on the internet with information about Brook Hill, so I would like to make it a clearinghouse with other philopolists worldwide and continue to improve this page as I obtain more information.

Page with additional history about the Brook Hill Farm, the beginnings and history prior to the time of Walter Brink.

Brook Hill Local Service was started by a Wisconsin dairyman named Walter C. Brink. The story is that Brink, who was the manager of the farm at that time, was irritated by the fact their local post office (in Genesee Depot, Wisconsin) closed early and outgoing mail would often have to wait until the following day to be picked up. He developed a private carriage service, which we collectors refer to as a local post, which provided a service of taking the mail by private carrier, on to one of three other local Wisconsin cities, which did have late pickup of the mail, so that the outgoing mail could be expedited. Note that Brink was first and foremost, a dairy farmer, not a philatelist, so he didn't necessarily get into some of the same "things" a collector might have set up for a local post. In fact, he simply called it a "local service", which in fact it was-a valid service to local residents. My guess is that Brink was overwhelmed by the publicity he received in the philatelic press, and probably wondered what all the fuss was about. You will see later that he painstakingly tried to fulfill collector's requests, to a point, but he didn't have time to mess around with them wanting plate blocks and such. Those cows still had to be milked, after all!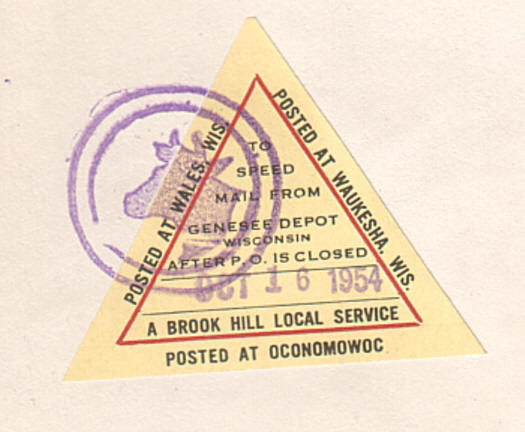 Close-up of the "Purple Cow" marking as used by Walter C. Brink.
We will find later that this was NOT the first time the purple cow marking had been used in Genesee Depot!
Its application to the left quadrant of the local post stamp indicates it was posted from Wales, Wisc.
The marking was applied as appropriate to whichever of the sides of the triangular-shaped stamp to reflect which one of the three cities it had been deposited at.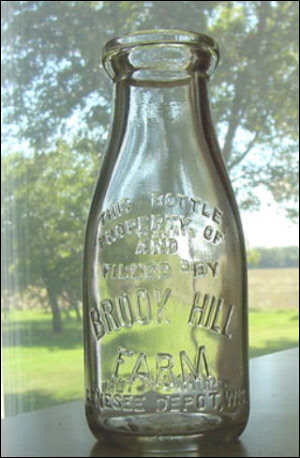 Milk bottle from Brook Hill Dairy. You will often see these on online auction sites.



Notice what appears to be a portable smoker at the lower left. Barbeque in Wisconsin?
Above is a fairly recent picture of the Brook Hill Dairy Farm; obviously it appears to have fallen into disrepair, but is still standing. The entire dairy industry is in danger right now due to the economy, and America's dairy farmers deserve our support. I drink a gallon every day or so myself, trying to do my part, but they need help from the government to survive. For more information about the dairy industry and their plight, go to this informative website:
http://www.dairyfarmingtoday.org/DairyFarmingToday

Brook Hill Farm was one of the largest dairies in the United States at one time, and the county in Wisconsin where it was located had more certified dairies than any other county in the United States. It was said there were more purebred dairy cows per square mile than of any other county in the United States. Waukesha County was long called "Cow County USA." Brook Hill dairy milked nearly 900 cows at one time, putting in milking machines in the 1920's, providing the milk supply for Milwaukee and Chicago, sending most of the milk out by rail. In fact, model train enthusiasts can even buy a kit for their model railway setup, showing the Brook Hill Farm Dairy!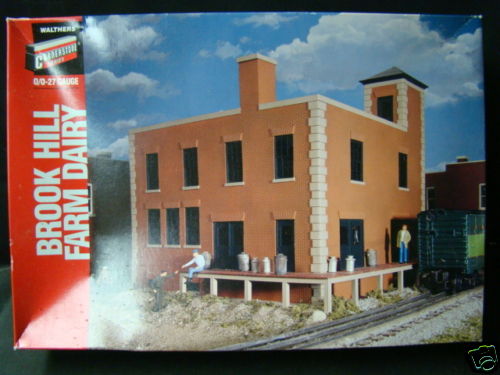 This conception by Walthers, a model railroad supplier, illustrates what Brook Hill Dairy was probably like in its prime, shipping out milk products by rail. Brook Hill Farms advertised that they produced milk specialties, which included milk for infants and air pressurized cans of real whipped cream.



Another model railroader's conception of the Brook Hill Dairy! Fantastic. Wonder whose setup it is?
---
As to the logistics of the Brook Hill Local Service, Walter explained it best in his own words,
in detailing how the local service would work:

Go here to see a scan of the original notice Brink included inside the 1953 cover.
Under P.O. regulations, the Genesee Depot P.O. business hours are:

Monday-Friday 8:00AM-12 Noon & 1:00PM-to 5:00 PM

Saturday 8:00AM -Noon

Mail left after 5 P.M. does not leave the P.O. until the following day about 7 P.M., and if left on Saturday after Noon noon until after 5 P.M. on Monday.

The voluntary local service will deposit mail left at Brook Hill Farm at either at either Oconomowoc or Waukesha where it will receive prompt dispatch.
It will be necessary that all mail for this service will be brought to Brook Hill Farm.
No unused stamps will be for sale. There are no pairs or blocks.
The fee is 10c per cover via either town. Covers should bear regular postage plus the fee of 10c per cover. Do not specify what town should be used for postage. The majority will be posted from Oconomowoc.
---
Brink had added a personal note to the recipient, a Mrs. Stewart A. Methven of Springfield, Massachusetts. At the top he notated that she had paid $.30 for three cancels, and then sketched a hand-drawn triangle showing a "postmark" on each side of the triangle. In the upper left hand corner, he had wrote "$.20 due, are sending card from Genesee for your cancel. Hope I did right." This cover has the purple cow marking at the bottom of the local post stamp-- showing it was dispatched from Oconomowoc, and the local post label being dated August 6, 1953, and postmarked (socked-on-the-nose) from Oconomowoc, on August 7, 1953. Do readers know of any earlier date, or know what the first day of issue was?
An unattributed clipping inside the cover (Believed to be from Mekeel's Weekly Stamp News) states:
The Genesee Depot, Wis. Local about which much has been written in recent months can be seen on the left hand side of the above cover. In triangular shape yellow paper, the printing is in black while the printed triangle is in red. This local is the activity of Walter Brink, Brook Hill Farm, Genesee Depot, Wis. Because of limited postal service at that post office sometimes delaying the shipping out of mail for as much as 48 hours, Mr. Brink will take mail left with him, and for which 10¢ per each piece is paid over and above the 3¢ U.S. stamp, to one of three towns for speedier handling—Wales, Waukesha or Oconomwoc (sic), Wis. He has none of these local stamps for sale.




An August 6, 1953 Brook Hill Local Post cover, mailed from Oconomowoc, Wisconsin via private carriage from Brook Hill Farm, Genesee Depot

A separate clipping, possibly included later by the subsequent owner of the cover, appears to have been clipped short, and it states the following, which makes it obvious the beginning of the article is lost. Again, there are no notations on the article as to its origin, but my best guess is Mekeel's or some similar stamp publication.


…original printing order amounted to 2000 copies. Of that quantity the printer delivered 200 for initial service. As this supply dwindled Mr. Brink asked for delivery of the 1800 balance. In preparing the cliché for the press it was pied with damage to the bottom line. This necessitated its resetting.

This line on the 1800 reads "POSTED AT OCONOMOWOC". On the original 200 it reads "POSTED AT OCONOMOWOC, WIS." In resetting the line, the printer left off the "WIS."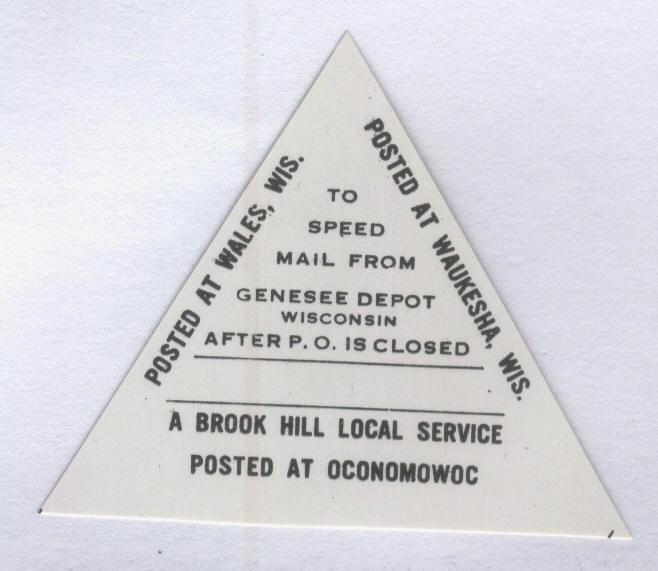 "Proof "of the Brook Hill label after correction

The error was called to Mr. Brink's attention by one of the recipients of his mail and on checking with the printer he discovered how the variety came about. This brings on a unique situation where an error is more common than the original item.

Mr. Brink laments the occurrence of this slip-up. He advised "I tried so hard to avoid anything like this."

---
Purple Cow Marking: Deja vu all over again?
Some sharp eyed collectors will note that the "purple cow" marking employed by Brink seems kind of familiar. Well, it should. In the 1920's-1930's the Genesee Depot post office used several "fancy" postmarks, primarily as killers on stamps used on registered mail. This splendid example was offered in a foreign auction a few years ago, and bears 9 separate strikes of the purple cow.




As with all registered mail, strikes of the all-purpose dater are seen on the seams of the envelope on the back side, to show evidence of any attempts at pilferage. This image is not large enough to make a precise comparison, but the configuration of the horns in the 1929 cow seems to differ from Brink's usage. This is possibly because the cows at Brook Hill Farm were Guernseys and their horn configuration is slightly different from the ambiguous cow seen in the first usages on regular US post office mail. Most dairy cattle today are polled, but back then, many horned cattle were seen in the dairy industry.
My guess is that Brink, being the manage of a large farm, was well known to local residents, including the postmaster, and when Brink talked about the delivery service, the local postmaster may have hooked him up with the local producer of rubber stamps. Although it has a certain home-carved appearance to it, my guess is that it was produced from a drawing and a metal plate made. I would love to know for sure and be able to know all the details concerning how the "purple cow" marking was manufactured. If any readers in the Genesee Depot area have further information about the beginnings of the purple cow idea, or even better, have Brook Hill Local Service material for sale, please contact me.
---


Another cover from my collection is marked with a straight-line marking for the First day of use of the Third Issue, and is postmarked May 8, 1956 with a Wales, Wisconsin duplex postmark. Brink has added his corner card simply saying "Walter C. Brink, Genesee Depot, Wisconsin" which is very small, about ½ inch long and 3/8 inch high, in purple ink. These stamps are still imperforate, but have a large number 10 added, imposed over the center triangle.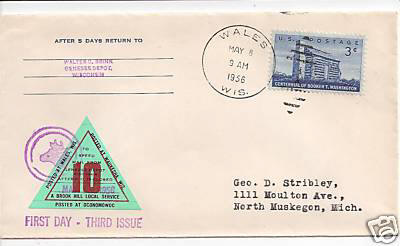 Go here to see a close-up of the Walter C. Brink "corner card" illustrated on the above cover.
To me, it speaks loudly of frugality, and it is a personal rubber stamp as opposed to the "Farm"
rubber stamp shown in Figure 1 above. This personal corner card is seen used on many of the items;
it is usually seen used in purple ink (matching the cow).

Brink also sent covers on Brook Hill Farm stationery 6 3/4 size envelopes. Here is an example from 1955.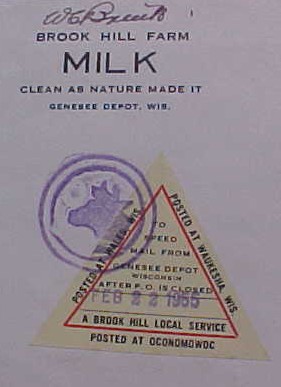 Go here to see examples of Brook Hill local post stamps cancelled by punch.

---
Covers from the last few years of operation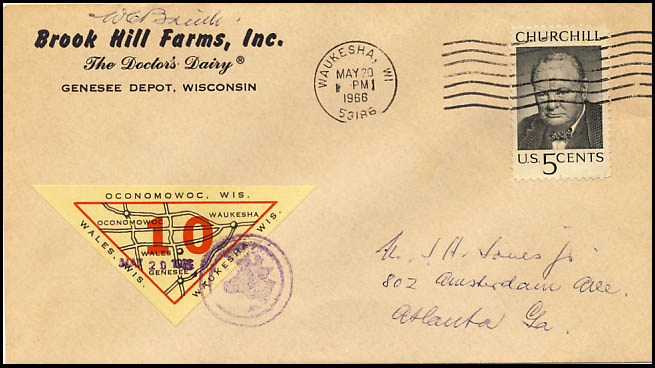 Courtesy of Todd Ronnei


The above cover scan is provided courtesy of Mr. Todd Ronnei. I had not seen this version of the Brook Hill Farm stationery before. In May of 1966, Brink was using a standard date stamp to "cancel" the local post stamp and of course, used the purple cow marking. He has autographed this cover, "W.C. Brink." Thanks to Todd for allowing me to use this illustration.


The last day of service was apparently in May of 1967, which is about a year after the Ronnei cover. I cannot make out the date, but I will guess it is May 25th.
This is Walter Brink's autograph in upper left corner of the cover, and it also appears to be his handwritten notation of "Last Day" at the bottom below the stamp.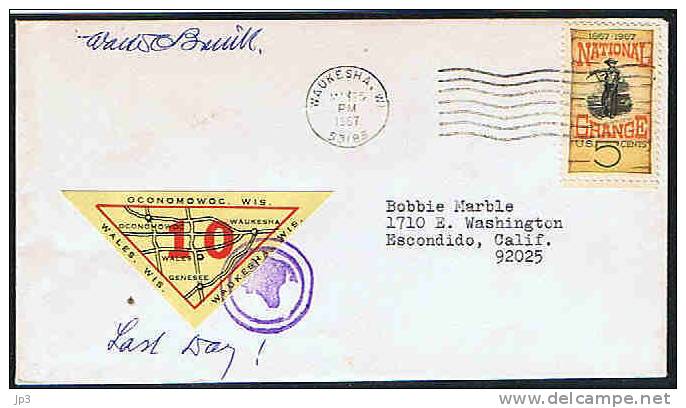 Back to Polar Bear Local Post Page

Go to Cape Kennedy and Satellite Beach Local Post Page

Go to McDonald Territory Private Dispatch Page

Back to KGØYH's Polar Philately Page
---
NOTE: DISCLAIMER: NOT IN THE PUBLIC DOMAIN Any photographs, graphics, icons, web page devices or images used or depicted herein are either personally owned by me under license of software purchase; believed to be within the public domain; used with specific permission; obtained from a publicly-funded website or from websites that granted or of which I could reasonably understand as giving implicit permission for subsequent re-use. If you are the copyright holder of a device or photograph used herein, are aware of any copyright infringements or similar restrictions in my usage or have a concern about any of the web page devices used here, please e-mail me with full details. Please do not just make an entry in the guestbook and claim infringement and ask for removal by leaving a guestbook entry. I will not consider such a notice "received" unless it is sent to me by electronic mail. I will remove any offending items or devices upon demonstration of valid ownership and objection. Likewise, if you are wishing to use any of the textual descriptions, photographs or cover scans that appear herein for philatelic, historical or research purposes only, common philatelic courtesy reigns and I will most likely grant specific permission if you request the same in advance. Please e-mail me with the details of your request, including intended usage. Otherwise, note that all rights are reserved, and no "public domain" status or endorsement is granted or intended by their publication on this web page in pictorial or written form. Reproduction of this web page in a "mirror" format or the exact duplication of/ copying of HTML and pictorial content herein, either in part or whole, to produce a new web page in any language, residing at a different server is prohibited.


This QSL.net/KGØYH page was last updated 19 November 2012 0134Z