I FOUND A PICTURE OF THIS AMP ONLINE USING A 9:1 AND TWO 600 WATT DEVICES. I DECIDED TO TRY IT WITH TWO BLF188XR. MAKES 1.5KW PEP WITH VERY LITTLE DRIVE, A COUPLE WATTS. I DON'T RUN THESE DEVICES AT THEIR FULL RATING, I HAVE HAD A FAILURE WHEN PUSHING ONE TO HARD. THIS IS A NICE LEGAL LIMIT EVERY DAY USE AMPLIFIER.
(UPDATE) 4-9-2018 I BUILT THIS AMPLIFIER WITH A PAIR OF MRFX1K80H AND IT WORKS GREAT WITH THE 10DB ATTENUATOR ON THE INPUT. IT WILL HANDLE 5 WATTS INPUT FOR CW AND OUTPUT ABOUT 1KW. IN SSB 15 WATTS OF DRIVE PRODUCES 1.5KW PEP. PERFECT IN MY BOOK. ALL THE BYPASS CAPACITORS ARE VERY IMPORTANT ON THE 50VDC!
INFORMATION: THE 50VDC COMMON MODE CHOKE IS AMIDON T200-2 CORE WITH 10 TURNS OF 2 x 12AWG ENAMEL WIRE. THE INPUT TRANSFORMER IS 2 TURNS TC-24 COAX ON TWO LAIRD 28B0375-300 CORES. ALWAYS USE THERMISTORS IN THE BIAS CIRCUIT. THE BIAS CIRCUIT IS THE SAME AS ALL THE OTHER AMPS ON MY WEBSITE.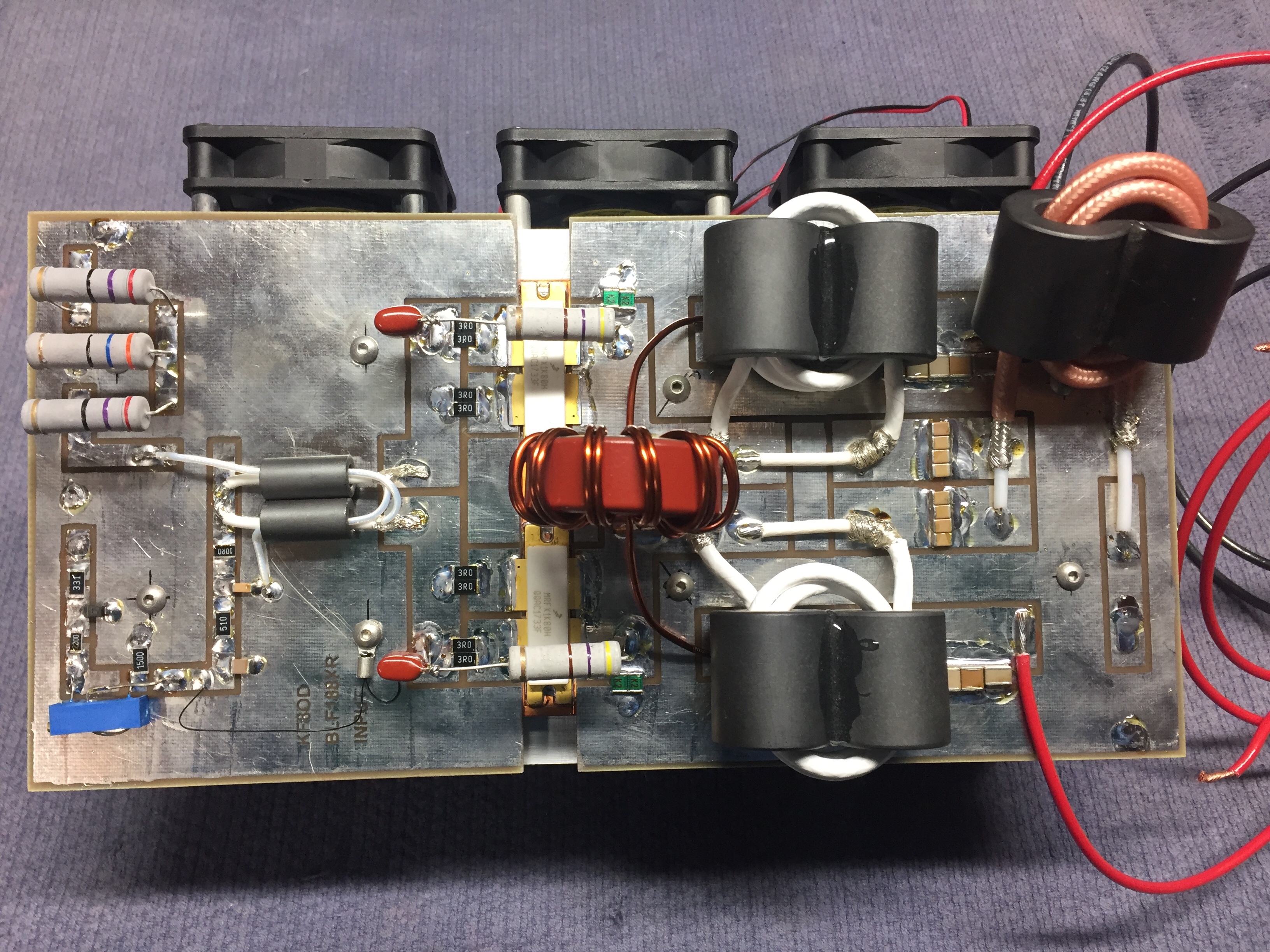 THIS IS A 2XMRFX1K80H AMPLIFIER USING THE FREESCALE OUTPUT CIRCUIT. IT WORKS VERY WELL WITH THE NEW DEVICES.
UPDATED 9-16-2018
HOME