Ed Middlebrook, KC5NT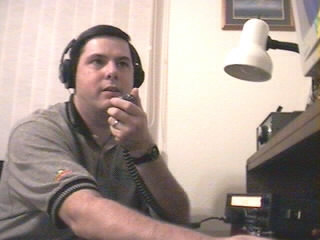 West, Texas
Welcome to my webpage! I've been an amateur radio ("ham") since January of 1977 when I was a high school freshman. My original call was WD5BCI which I held until 1980. I started with a very modest station and made very few contacts during those early days, but times changed (as did the equipment) and my log book soon filled with many DX and stateside contacts. Over the years I've owned the following station equipment:
Knight T-60 CW Crystal Transmitter
Hallicrafters SX-110 Receiver

Hallicrafters HT-37 Transmitter
Hammarlund HQ-215 Reciever

Kenwood TS-520S Transciever

My station today (see below) is a far cry from my early days. I'm especially proud of the Kenwood TS-570D and would be happy to share my experiences with other proud owners of this fantastic rig! [email protected]
I would like to also acknowledge special thanks to my two Elmers:
Howard Freund - K5KNW
JW Roach - W5AYX
The tradition of "Elmering" newcomers to this hobby is one of the greatest gifts an individual can pass along and these two gentlemen personify that gift!
---
Station
My station consists of:
HF
Kenwood TS-570D 160-10m Transciever
MFJ 969 Antenna Tuner
Mosley TA-33jr 3 element 20-10m beam @ 30 feet
40m Inverted Vee @ 28 feet
SSB - CW - AM - FM - PSK31

VHF
Yaesu FT-2400 2m Transciever
Alinco DJ-160 2m Handheld ("Handi-Talkie")
Cushcraft Ringo Ranger @ 32 feet
MFJ 1270B Packet TNC
FM - Packet

Computer
eMachines 400i Tower (400 MHz Celeron Processor)
HP Deskjet 600 printer
---
Activities
I've held the Advanced class license since 1980 and I enjoy:
Contesting
DXing
Packet Radio
PSK31
Emergency Communication
I actively participate in contests throughout the year and also act as one of several net controls for the McLennan County ARES VHF net.
2000 ARRL RTTY Roundup
2000 ARRL Milineuim DXCC Award
ARES
10X number 53261
---
Links
Here are links to some of my favorite web sites:
Heart O' Texas DX Society
10-10 International
PSK31 Homepage
Please e-mail your commets to: [email protected]
---
Last updated:12/06/99
See ya on the bands!