Table of Contents
Adopted POW/MIA's
Military Causes
Veterans Organizations
Veterans Organization and Support Group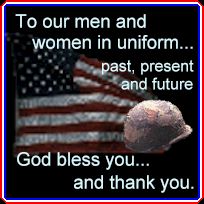 Home of the
Military Families Webring
This page is dedicated to all who fought & gave all for a country they loved, some came home, the rest are POW/MIA's, "NOW its time to fight for them" Bring Our Heroes Home!
Please visit my Adopted POW/MIA's, you'll find the links to them on the table of contents to the left.
If your a military family or have POW/MIA or military dedication pages, please feel free to join the webring below, its the Military Families Webring. If your already a member of the Military Families Webring or in the que or a just wanting to join the ring, you can edit your site here
If you have any questions or comments about me or any of the content on these pages, please feel free to email me at [email protected].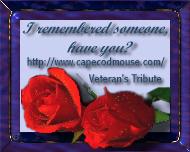 The Military Families Webring

[ Index | Random Sites | Home | Join ]
We will not forget those who gave all to a country who had forgotten
about them , bring our Pow/Mia's home.
This country shall not be complete until the last one is brought home!!!

I Am The Soldier
I am the soldier, I will walk through the turmoil, not giving a second thought of my friend just fallen by death, I must go on because thus is my duty, I will not sorrow because there is no time for sorrow, I must be strong, I must have the courage to go on, because I am the soldier, through the triumphs and challenges of each and every day, I take pride in knowing that through this time of courage and bravery, I gave it my all!

Posted By: Specialist Dale E. Catron
Period Of Service: 1988-1997