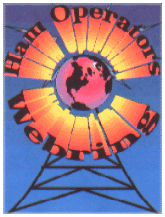 RULES AND REGULATIONS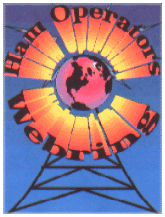 Please read these rules before submitting your site.
Your site must be positive in nature for the whole of Amateur Radio. If your site has foul language, adult content, violence e.t.c. do not submit your site, it will not be added to the ring. If however a site does slip through that does not fit these guidelines please E-Mail the Ringmaster and that site will be removed.
You MUST have the HTML fragment on your page before you will be inserted into the ring. It must be easy to find so we don't have to search for it. It does not have to be on the front page, but the URL you submit must be on the page it is linked to or the ring won't work. After you have the code up E-mail the Ringmaster of Ham Operators Webring and ask him to add you to the ring. Be sure to include your Site ID Number in the e-mail message. He will probably want to look at your page to make sure it fits the rules and make sure the Ham Operators Webring HTML fragment on your page is okay.
After checking out your page, the Ringmaster will take your Site ID Number and use it to add you to the ring. You should then receive an e-mail stating you have been added.
That's it! You should now be able to navigate the entire ring until you make it back to your own page (although it may take a while). An easy way to make sure it is working is to go to your own page and click previous site. After bringing up the previous sites web page find the ring code and click the next site button. This should bring you back to your own page.
Click the Ringmaster's name below to E-mail, Don't forget your ID# and URL in the message!

--------------------------------------------------------------------------------
THE Ham Operators Webring
The Ham Operators Webring was started in May 19, 2000 and now has over 1 sites. It is for any licensed amateur radio operators who has a web page pertaining to Amateur Radio and wishes to allow other people interested in amateur radio to find each other and visit home pages of other hams. If you would like to join The Ham Operators Webring read below on how To join.

--------------------------------------------------------------------------------
How to join
You will need to save a copy of the two Ham Operators Webring graphics you see below and upload them to the same directory the Ham Operators Webring HTML code will be installed on. The one on the left is called hamopjoin.gif and the one on the right is called hamopnext.gif.
The source code that needs to be added to your page will be e-mailed to you after you complete the following information and submit the form. The html fragment must be added to your page before you can be added to the ring. If the source code and graphics are not added to your page within 7 days of adding your site to the queue your site will be removed from the queue.
Complete the following form and submit to the queue. Your site will be added to the ring as soon as possible, and you will be notified by e-mail when your site is added. That's all there is to it. If you have any questions, or problems please e-mail me. Thank you.
If you are an ICQ user please feel free to add me. My ICQ UIN is 8445129

Save these graphics to your hard drive