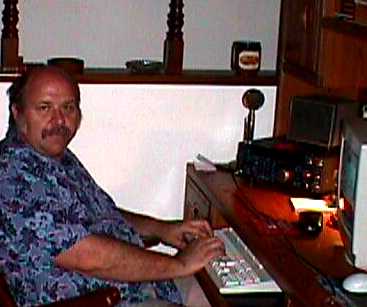 Hi, this is what I look like while working PSK-31 my preferred mode.
The rig is a Kenwood TS 850s. The computer is a Intel Pentium II @
450 MHz with 64 meg ram. The program is Zakanaka and Logger from Bob Furzer,
K4CY Zakanaka is a psk31 terminal program which interfaces with logger and is
now interfaced also with MMTTY a powerful RTTY engine. Logger is a program
which handles all the logging activities in a normal or in my case not so normal ham shack. Links to psk31 sites which may be of interest. Click the button
to make the leap.
Small Wonder Labs
Mix 32
RCK RTTY
PSK31 & GNR Software
Win PSKse by KA1DT
Win PSK by AE4JY
RigBlaster
Stream by IZ8BLY
Ø7Ø CLUB
Sponsored by the Penn-Ohio DX Society
(click the certificate to jump to the info)
Other Amateur Radio Sites
JV Comm (SSTV)
Chromopix (SSTV)
VK7SA (PSK, SSTV)
you are visitor number
tnx for stopping by