Here are some of my photos that I recently shot with my new Canon A20 Digital Camera.
---
Here is one of the DC-9's that I fly for Midwest Express Airlines. In my humble opinion, It is really one of the best Airlines in the World.
Here I am when I am not DX'ing sitting in the First Officer seat of a DC-9-30. Along with the DC-9-10 series in the other picture. You can tell a "10" and "30" apart by looking to see how many over wing exits each one has (on one side). The "10" has one and the "30" has two.
And last but not least....my qsl card (this week)
I have also been introduced to Satellites this past week and will add some pictures of antennas that KB2UBO and I built to work Uo-14 and Ao-27.
Here is the third try at getting something together to work Uo-14 and A0-27. It is portable, and works great. It takes only one person to operate, but two is better. It consists of a 5 element 2M beam that was featured in a July 1999 Article in QST, that you can build from a Radio Shack Antenna for the FM stereo band.
The 435 Double Helix we built and then rebuilt is featured in the 19th Edition of The Arrl Antenna Book on page 19-30. In the book it calls for a reflector made from a 30" reflector. Well unless you cut your own sheet metal, most stores only stock aluminum sheets in 24"X 36" sheets. Unable to find so such item, we improvised and found that Railroad Signs and Stop Signs are exactly 30"X 30". Now NOT wanting to risk persecution by the many law enforcement agencies from partaking of a sign that could cause physical harm or injury to the public, we chose to purchase a blank street sign from a company here in Milwaukee called TAPCO (Traffic & Parking Control Co., Inc). What a great bunch of people. They helped us find what we were looking for, for the least amount of hassle. What we got was a "blank" RR crossing sign, that is exactly 30 inches across. What a Deal ! You can find what we found at http://www.tapconet.com/ and talk to Steve Wisniewski at 1-877-814-7329 and he can help you..
Here's the "Full Monty"- The "KB2UBO/KB2QQM SPECIAL" Two homebuilt antennas to work AO-14 and AO-27, which has about 2 to 3 passes overhead per day here in Milwaukee.
Another Picture Simple but Sweet.
We were cheap and used an SO-239 for the connector, 5" wooden dowels stuck into a fiberglass painting pole and the helix is 1/4" copper tubing, pre-wound on a paint can and then installed on the sticks and the gray holder is made from a cut in half pvc-T, along with some pipe clamps. As you can also tell PVC does a great job holding the whole thing up along with a $5 roof mount I bought at a local swapfest last year.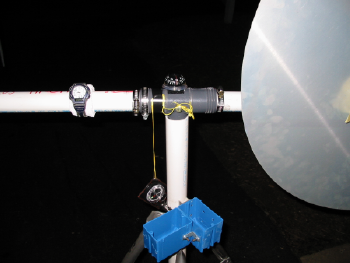 This is Dave's ingenius way to point the array. A wrist watch for time, A compass for Azimuth, Lines drawn on the PVC drawn with a protactor for Elevation, and the blue cups at the bottom are Wall Socket mounting boxes, which are there to hold the radios. "She" is not much to look at, but it really does work very well.
I will be posting more pics and stuff as we keep changing things:
Greg