Keep love in your heart today, tomorrow and always.


Love is the yardstick by which we measure to see if something agrees with Love.
The apostle Paul wrote that if it does, then it's acceptable... even if it goes against the majority.
A special thank you to a very special man in my life. He is the one individual who stuck by me (and continues)
during a most difficult, painful and very trying time. Without him, I don't know where I would be today.
May you always know how much I love you dad!


American Red Cross "My Choice"
6/14/06
It is with great pleasure for me to say that one person can truly make a difference.
An individual who has gone above and beyond in guiding such a wonderful and very
important community institution with her courage, strength and exceptional leadership skills
thru some pretty significant and important changes. As you banged your gavel one last time,
your leadership passed and into the history of the American Red Cross will you always be remembered.
For this I am honored to say:
"Thank you"
I am very proud of you Lorraine!






Accessible <--- Please read!

Text only version


On this 14 year anniversary of 9/11, make a day to
make a difference in the lives of others: A Good Deed




Forever frozen in time
September 11th, 2001
At approximately 8:46am, a senseless and cowardly act occurred.
The worst act of terrorism to occur on U.S. soil.
An act that will forever change the course of U.S. history...
Beginning with hijacked Flight 11 that slams into the North Tower of the World Trade Center.
9:03am, a second hijacked plane, Flight 175 slams into the South Tower of the WTC.
9:40am, a third hijacked plane, Flight 77 slams into the Pentagon collapsing the side of the building.
9:50am - The FAA orders all air traffic in the U.S. shut down.
9:58am - The South tower of the WTC collapses.
10:28am - The North tower of the WTC collapses.
10:37am - A fourth hijacked plane, Flight 93 crashes in a field outside Pittsburgh, PA.
It is later believed this plane was headed for the White House but was overtaken from the hijackers
by the passengers in an attempt to take back control of the plane.
This sad and tragic event shall never dampen the spirit of the American People as it showed
it only strengthened our spirit and brought us closer together to do whatever we could
to help in the relief effort. I was one of those people who responded to the tragedy and was involved
hours after the first incident occurred. Being a member of the Red Cross for around 30 years
as well as other various disaster services, I was willing and able to do what I could on a moment's notice.
One of the those various functions was emergency communications through Ham Radio.
Ham Radio played a vital role in getting emergency traffic through when other forms of communications
were either difficult or otherwise lost.
Victims of September 11th - Confirmed Dead 2,948 - Reported Dead 24- Reported Missing 24
Total 2,996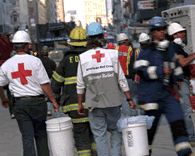 See how the American Red Cross has met the challenge.
Visit the September 11th Response & Recovery Legacy Web site to learn more


All gave some, some gave all


I would like to thank the following people in my life:
Aunt Janice - A very special person in my life who has given me so much inner strength.
Bob Imparato - A friend who took care of my cat Booboo so I could be there to serve the American people.
Bonnie and her children - Kind people who opened their heart and home to me.
My Dad - Who believes in me and told me how proud he was. I love you very much!

G-d bless this great nation we call America.




Spend time on this earth loving and not Judging.
G-d loves us for the goodness in our hearts and the good deeds we have done in our lives.





Welcome to the Home Page of KA1YMC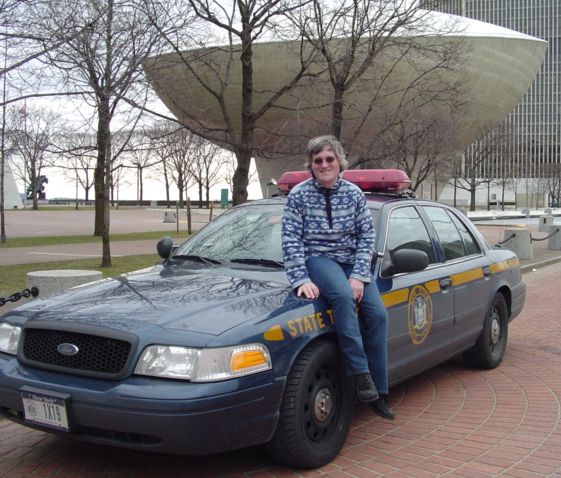 Hello, my name is Bonnie. Located in beautiful NY State. Currently, I hold an
Advanced Class license and have been a ham for around 20 years.

One of the things I enjoy doing most is volunteering my time to helping others in the community whether it be the Red Cross ,
EMS, ARES/RACES, New York State Disaster Preparedness, advocacy, the LGBT community, the disABLED or with
other various non profit organizations that help make a difference in other's lives.
In previous summer months I enjoyed volunteering for a camp for the disABLED in upstate CT in which I did various functions
from counselor to computer instructor. Working with others who are disABLED is wonderful!
People with disABILITIES should be judged on their ABILITIES and not their disABILITIES.
My educational background includes Emergency Medical Technician, EKG tech/instructor, automotive technician,
NY state peace officer, disaster preparedness/response (including WEVR) and computers.
Amateur Radio Sites...
An event I was very much excited to be a part of in July of 2005 was communications
support for the 28th annual Empire State Games (ESG) of New York. ESG is the largest
yearly Olympic event sponsored by any 1 state. Besides this being my first time, it was also
a record for communications support where approx 140 ham radio operators participated!
Empire State Games (ESG) 07' was an event I was looking forward to volunteering. But, unfortunately was not
able to participating due to the fact there were NO handicapped accessible dorms in the college or other places for
disABLED people looking to volunteer their time. My participation was to be a ham radio operator once again.
What makes this more difficult this time around is that the ESG was held in a place beloved to my heart,
Westchester County. I have found it difficult to believe such a place like a college in Westchester would NOT
be able to accommodate me as I am usually very flexible in my accommodations. SHAME on the people involved
in the ESG volunteer sector who did not plan ahead to make sure it was open to everyone to help...
While recently helping the victims of the Texas Floods regain some normalcy in their lives,
much hospitality was show from the people of the Wichita Falls, TX community to me during a situation
that occurred threw the negligence of the airlines. It is with great respect and gratefulness that I would like
to say "thank you." We came together and made a difference in each other's lives...
Radio/Equipment Manufacturers
Disaster Preparedness/Response Sites...
If You See Something, Say Something!

| | |
| --- | --- |
| | Be Ready, Prepare! |
EMS/Fire Sites...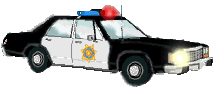 Law Enforcement Sites...
Lets stay safe out there!



Click scanner for live broadcasts
Thank a Police Officer!




Health Info Sites...


disABILITY Sites...

Computer Anti Crime Sites...
Before crediting or forwarding that email warning message
to others, click one of the * links below and you too can be
a myth buster and save others from falling victim!


LGBT Sites...
| | | |
| --- | --- | --- |
| You are beautiful in every single way! | | Love makes a family |
Blessing and honor, glory and power be unto God.
Jesus came to earth to heal us, not condemn us. John 3:16 & Matthew 8:3,7








Sincere thanks to Al for his patience!!!
You are visitor number
since 08/03/97
This site was created using Netscape Navigator 3.04 Gold
Comments, suggestions, drop us an email:
nywh...@hotmail.com
BCS. 97'


This THE BEAT Law Enforcement Connection site is owned by Bonnie.
Next Page | Skip It | Next 5 | Previous | Random | List Sites
Want to join the ring? Get the info.




The Emergency 911 Ring is owned by CodeRN2 This Site you're looking at is owned by Bonnie
Next Page | Skip It | Next 5 | Prev | Random
Want to join the ring? Get the information



···The Emergency Services Web Ring···
[Skip Prev] [Prev] [Next] [Skip Next] [Random] [Next 5] [List Sites]
The Emergency Services Web Ring is maintained by Bytes "O.S". Want to Join The Web Ring?
Bonnie's Poetry Corner
Peaceful Flight
My life as I know it has no meaning
No happiness or smile am I gleaming
Without love for my heart or a smile on my face
How much longer till I leave this place
So often tired and not feeling right
With no will and such little fight
I have cried and cried and will cry no more
Finally I am free as I spread my wings and into peace I will soar

Keep a smile on your face and love in your heart!

Page Updated 9/6/2015
4:17pm