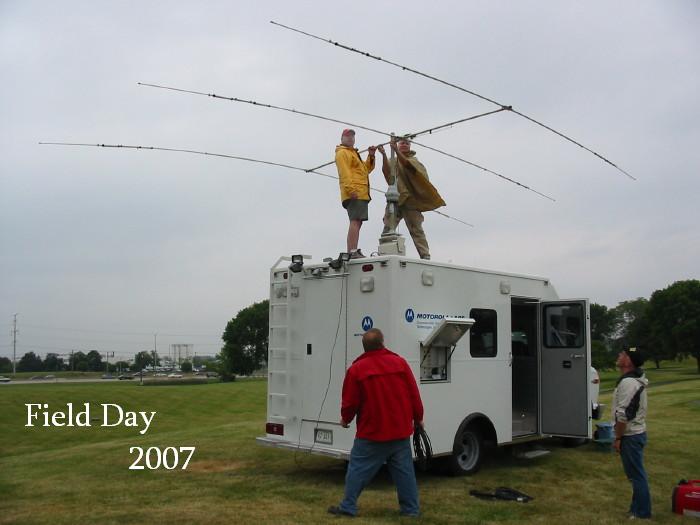 Hello all,
I would like to take a page or so to thank everyone that participated in and made our Field Day, 2007 a huge success. If you don't want to read about the history of our FD efforts, skip down about 5 paragraphs. Otherwise, read on.
As some of you know, I was on the verge of canceling the event for MARC entirely. Several of our work schedules conflicted with the originally scheduled meeting, and the response prior to the MARC pizza meeting last week was, at best lukewarm - I was not sure how we were going to pull it off. From that standpoint, I would like to thank Don Backys, K9UQN, for pounding some sense into my head! He told me to stick with it and gage the interest at the planning meeting last Thursday. It was clear at that time that we had the needed support and there were several anxious hams ready and willing to participate.
Historically, Motorola has had a radio club for a good number of years. In the early 1990's interest had waned a bit, but a few good hams, like Hank Pulkowski, decided to revive the club and the Field Day effort. Hank got a good sized group of people together, hung some dipoles, and proceeded to oversee a 2A effort that was to continue for many years. In those days, a Novice tent was allowed - ours used a 5 element beam on 10M and cleaned up! Thanks to good propagation, we also had a great effort on VHF including great results on 6M - John Kalanowski made sure of that. Finally, one each CW and SSB stations piled on the points. Over the years, this first phase of our revitalized club improved year after year in performance; never losing sight that we wanted to make sure that everyone that wanted to operate got a chance to operate.
By the late 1990's, we had over 30 members operating each Field Day. Jim Taylor, WB8HMD, spearheaded an effort to get towers up and beams in use for the CW and SSB tents. At the same time, Bill Graf pushed us to find a better solution for 75M phone. The latter lead to Hank Pulkowski and Harold Mowbray designing and building the famous "H & H Engineering" 60 foot masts. Having those supports available, we constructed a 75M full-wave delta loop. The performance and noise immunity of that loop pushed our performance to new highs. In fact, this "Phase 2" of the MARC FD effort proved that we could do an all out effort and push ourselves to new limits.
In the early 2000's, the business cycle began to decline. We lost a lot of members to early retirement and layoffs. Still, a number of retirees and alumni continue to participate with us to this day - and it is welcomed support! By 2005, it was apparent that we did not have the manpower required to raise a successful 2A endeavor. If we were in the peak of the sunspot cycle and could count on good 10M and 6M performance, we may have tried the effort, but those bands were dogging and we knew the effort might get the best of us. As FD coordinator that year, I suggested at our May meeting, that we consider reducing our effort, do a 1A station, and steer our goals towards rapid deployment. To that end, we received permission to utilize the Motorola Labs trucks. A special adapter was designed and constructed that would allow our tri-bander and rotor to be placed on the 40 mast of the truck. The second, identical truck was utilized to support the other end of our 75M loop. That first year, we went from a full 3 hours on Friday afternoon and 6 hours on Saturday morning effort to get the stations on the air, to a 45 minute set-up. Rapid deployment was to be our "Phase 3" of MARC FD operations and we did it well. In 2006, we perfected the rapid deployment technique and our operating skills, which was reflected in our overall scores. At the same time, we did not forget about visitors and others that wanted to operate on a walk-in basis. To that end, we always had a GOTA station, even though it did not count for points towards our 1A operation. Still faced with a shortage of manpower to do a 2A effort (we still keep that hope alive), I suggested a new twist to our rapid deployment approach - low power QRP, running the radio entirely from batteries for the entire weekend. I proposed this last year after FD 2006, and suggested it again earlier this year. It was met with skepticism, but, to everyone's credit, the idea was given a fair shake. At the June meeting, we agreed to run QRP for the first hour and then evaluate our results. At that point, we would decide whether to continue in that mode or "crank it up" to a 100W and continue on - both designators are the same: 1A; so it did not matter as far as our exchange was concerned. This was to be "Field Day 2007, Phase 4".

Our FD exercise this year started with breakfast at 8AM over at Palmers. We had a good turnout for breakfast, and, despite the drizzle coming down, there was great excitement among the group. At 9AM, were met by more participants for set up on "Mt. Suribachi", the name given to the hill we use for FD by Hank several years earlier. The team work was probably the best I have seen to date: Simultaneously the beam went together quickly, a second team prepared the adapter plate, mast, and rotor which were then quickly attached to the mast of truck 2, and a third team hooked up the rig, tuner, rotor control box, and computer inside truck 2. Truck 1, in the mean time, was moved to the other hill, the support for the 80M loop was installed, and it's mast was raised. Finally, Adrian Engele, from the Libertyville MARC chapter, worked to set up a VHF GOTA operation, which he then operated under his callsign. With help from Jerry Breuss and Steve Sherman, that station came together well. Ed Picha contributed to that effort by setting up his portable HF station. We probably could have been on the air in 30 minutes, but we knew we had plenty of time, so we took the opportunity to catch up with each other and speculate how the QRP operation might work for us. Our decision point was to be 2PM - that is when we would make a decision to stick with QRP or run it up to a full MARC FD "gallon" of 100 watts. History teaches us that sometimes we just can't wait to make those choices. In 1969, the Apollo 11 astronauts were to step onto the moon hours later than they actually did - they got there and decided to skip a rest period and just "go for it." Don did the same thing for us: By 10:30, he had made several QSO's on 20M, getting 599 reports at 5W, and decided that QRP was the way to go. An hour after the event started, 2PM came and went without even a thought. We were committed to finishing this thing at 5W!

Our setup was simple: A TH33jr at 45 feet for 20, 15, and 10; and a full wave loop with the top at 45 feet straddling a 10 foot valley for 40 and 75/80M. The rig was the club's FT1000MP MkV-Field, with its full compliment of filters for SSB and CW. It was carefully reduced and calibrated to operate at 5W. All operators were asked not to touch the power control, and nobody did! I am sure the temptation was there to crank it up once in a while, but it stayed fixed for the entire 24 hours. Don, K9UQN, did a great job of setting up CT on our old PC and had the interface working well: It was programmed to follow band changes and handle CW calling and exchanges. While we did run the generator in the truck for lighting and air circulation, the rig ran off three 12V, flooded cell deep cycle batteries. Each had a conservative 120AH rating. As it turned out, we could have run the entire event off one battery! For the last 2 hours of the event, I switched to a fourth battery, taken from my radio trailer, and that has only been solar charged for the past 2 years. It is rated at 100AH and also could have run the entire event on its own.


The event started at 1PM local time. Don Backys ran our first 2 hour window on CW. Operators that followed were Ed Picha (N9EP) with Joel Nelson (W9NXM) logging; Sevim Ablay (WB8BHN) with Dave York (KC9KUB) logging, Bill Graf (K9RR) and Donn Dengel (W9TOC); Nick Berg (K9NB) and Bob Pautsch (WB9PFM); Mark Anthony (K9AM); Ed Picha and Joel Nelson for a second 2-hour shift; Don Backys for his second shift, and, finally, Bill Thompson (N9BT) with me logging. And, yes, I did get to make some Q' myself! Statistics:


| | | |
| --- | --- | --- |
| Hours Operating CW: | 18 | |
| Hours Operating SSB: | 6 | |
| | | |
| Band | Total QSOs CW | Total QSO's SSB |
| 80M | 163 | 39 |
| 40M | 133 | 6 |
| 20M | 170 | 68 |
| 15M | 4 | 0 |
| | | |
| Total / Mode: | 470 | 113 |
| | | |
| Pts: | 4700 (x10) | 565 (x5) |
Total Raw FD Score: 5265
Bonus Points: 950
Preliminary 2007 FD Score: 6215
As a comparison, our previous scores for the last few years were:
| | | | | |
| --- | --- | --- | --- | --- |
| Year | Operation Class | Total Q's | Final Score | Participants |
| 2003 | 2A | 2546 | 7906 | 25 |
| 2004 | 2A | 2362 | 8530 | 22 |
| 2005 | 1A | 643 | 2768 | 11 |
| 2006 | 1A | 1202 | 4420 | 15 |
| 2007 prelim | 1AB | 583 | 6215 | 15 |
Although we will not have any idea of how we did against others this time, based on the last 2 years, we have a good chance of placing about 5th in the country and 1st in the 9th district and in Illinois for our class of operation. Of course, others may have done the same ting we did and these guesses of rank may be all wet, but it is clear that we surprised ourselves and did quite well indeed.

Another interesting think to note is that, if we extrapolate our scores into a 2AB operation, we could expect about 450 Q's on phone and about 625 Q's on CW. That would give us a raw score or combined CW and phone of about 8500. Add to that a conservative 50 Q's on VHF (which we could once again run) and 950 pts for bonus, and we get a score of 9750. Finally, add a GOTA tent, with points that also would count, and we could be over 10K! Just food for thought..... Maybe that is a high estimate, but 8500 is all we need to match our club all-time best for 2A.

Some observations and comments: The bands were not very good making phone difficult. 20M did open up Sunday morning quite well and Bill Thompson had a great time working phone for the last 2 hours of the event. It was also open fairly late Saturday night to the West Coast (thanks to Bill Graf for noticing this after he left when his shift was complete, but contacting us for the tip that did payoff). 40 and 80 were fine on CW; phone was difficult with the bands as noisy as they were. 15M was poor and 10M was nonexistent. Adrian did have fun on 6 and 2M; making about 60 contacts on those bands from the guest / GOTA operation. QRP is a challenge as many of us that do it for fun have known, but it is an interesting challenge; one we may be game to try again (how about 2AB next year???) The bands are about as bad as we can expect them to be; it should be all uphill from here as we come out of solar minimum. Funny and human interest notes: John Gilbert showed up with his 2 children to show them the operating. He walked in to see Don operating and commented that this "must be killing him." Don did not at first understand what John meant, so John reiterated, "It must be killing King Kong Kilowatt to operate QRP!" Don sat back, and then started to laugh. I guess he was making enough contacts that he forgot the power level he was running at!

Jerry Breuss brought his almost-1-year-old and his wife to see the operation. There is a new ham in the future of that family! Jerry stayed quite a while to help Adrian set up his station. Ed Picha brought some of his family along for tear down - I guess he figured it was a good workout for them, too! Don Backys told me he thought when I said QRP, we were going to try to use some little battery and try to run all weekend. Even he was impressed with the "submarine batteries", as he put it, and the fact that we never budged off 12.8V!

We got a checkup / visit from our official ARRL official, Eric Rademacher, at 2:30AM. Mark was shocked to see him walk in at that time. We were his last visit of the night and he was impressed to see our configuration and effort. He was also impressed that he was able to gain access to the campus as we had published. There were stories circulating about how the public could not access our facility due to security, but he found that we really were telling the truth when we said that we got special dispensation for FD and that anyone that wanted to visit, could. Mark has posted a separate note about the visit from Eric.

Dave York, KC9KUB, from Mot Labs, participated in his first FD this year. Dave got his Tech earlier this year and upgraded a few weeks back so that he could be ready for FD. Although somewhat overwhelmed by the pace of FD operations, he vowed to be back next year and told everyone he had a great time. It is great to see renewed interest from the current roster of MARC, but also to see that there are new hams also interested in the hobby.

Ed Picha also arranged for a visit from one of the EC's Sunday morning. Showing off our effort this year was a "good thing!"

Finally, I would like to thank a few people specifically for their help and support this year. First, Hank Pulkowski (N9KNS), who could not be with us due to a family conflict, for dealing with the facilities and security people, thus making sure we had access to our site and so that alumni, retirees, and others could visit as well. Next, Richard Belter (K9RJZ)for being our "official videographer". Rich not only helped us with setup and tear down, but he offered to capture it for us this year on video. He has about 45 minutes worth so look for an edited version at this year's Holiday Dinner Meeting! Bruce Mueller of Motorola Labs for allowing us access to the trucks once again this year - it really makes rapid deployment possible....and comfortable! Bill Graf for spotting band conditions for us and for supporting us and operating QRP - I know he was skeptical, but it really did work out good. Of course, everyone that operated and helped with set up and tear down - if I did not mention your name, I apologize - it could not have been done as efficiently and with as much fun and camaraderie without each and every one of you. Finally, I want to thank Don once again for not only handling the task of preparing CT and the logs for submission, but for his support and words of encouragement leading up to the event. He, too, was skeptical of QRP, but who 'would have thunk' that he would run 6 hours of QRP....and have fun!

They say the planning for next year begins the minute FD ends for the current year. That is certainly true for our group. The electrons had barely stopped flowing through the rig and we were already planning for next year. It is up to the group, as usual, to decide what we want to do next year. Personally, I would like to see a few more guys operate and participate with us. We miss Perry, Skip, Hank, Harold and Jim Taylor as well as others. With a few more guys, we could do a 2A operation once again. Maybe we could even consider a 2AB operation? With the right rigs and antennas, it could be a lot of fun. Plus, we could also have a GOTA and VHF station once again. If you have any comments about this year's event, or suggestions for next year, please forward them to me.

Parting comments: Thanks to everyone for making this a successful, fun, safe, and rewarding experience. We proved we could do it. We let anyone that wanted to operate do so, and we all had a great time in the process. That is the true spirit of ham radio and Field Day. Each and everyone that participated this year should pat yourselves on the back - it was one for the books! I, for one, am looking forward to next year already! It was a lot of fun doing FD with each and every one of you. I will post some pictures within a few days.


72 / 73 es tnx,

greg

---
Some comments received since the FD report was issued on the reflector:

First of all my hats off to you and the Schaumburg MARC team. What a class act! I must say this was one of the most fun Field days I have had in a while. Despite the early morning rain everything seemed to go very well. Your station came together in a flash! Our station got a late start but that was OK. My thanks to Jerry and Steve for all their help in setting up our VHF station on Saturday. Putting together unfamiliar hardware and tent for the first time was a challenge…. Thanks again for letting us participate. Our effort was more to just have fun and set something up. If we decide to come back next year, I think we would like to do a more formal effort. Perhaps we can do a 2A and the VHF station??? I will keep my fingers crossed for 2008. Any ideas for improvement, I will be happy to hear them!

73,
Adrian
AA5UK

Adrian also provided me with a detailed list of what he learned and items he would improve upon next year. I hope the Libertyville crew joins us again next year. I agree: We could do a very respectable 2A/2AB effort in 2008! (greg)

This was the first FD I did running low power. At first, I thought band conditions were causing the low rate, but felt a lot better when you mentioned our 20/hr rate (on phone) was good for QRP power levels. If the low power category gives us a shot at contention, excellent! The FT1000 audio is very comfortable, which makes a big difference. Using an active noise cancelling headset helped with concentration, too.

I agree the primary considerations are everyone getting on the air & showing the flag. A high score is icing on the cake.

Some years ago, I operated an all-battery FD with Palatine, and it was a lot of fun.

Five stars and two thumbs up all around!

73,

(W9)Toc (Donn Dengel)

Greg, thanks for the great summary …I am fired up for next year. Let's begin talking it up in the fall or sooner. I promise to work on my CW to make it easier on Nick.

I am ready for next year. Let's think new antennas, cookout, or other activities to attract folks.

Bob Pautsch, P.E.

Yes, I was amazed. Gave me a whole new slant on what FD is all about. I didn't realize I convinced you to hang on to your convictions. But.......with the U.S. Navy Sub batteries and a 2-hour into the mission plan, it all came together..........."The Band".......yep, this will be the Blues Brothers Field Day for me.

Nice write up about the history of FD at MOT. That is something the secretary of club should "capture" and keep in a scrapbook.
Take care.

Don............the now "confused Dr. DX"............I don't know if I will ever be able to wear my "Life's Too Short for QRP" button again.


| | |
| --- | --- |
| John and his kids with Don(K9UQN) operating | Motorola Lab's truck with the Tribander on the mast |
| | Don, K9UQN, operating QRP |
| The truck holds lots of ops | |
| | |
| | Ed's portable antenna tower |
| 2 N 6 N screen house | |
Have a good caption for any of these photos? Send them to [email protected].
More photos will be posted in the very near future!