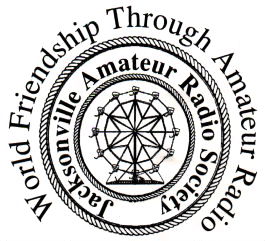 Jacksonville Illinois



Located in West Central Illinois
The Jacksonville Amateur Radio Society Inc. is a not-for-profit organization that provides support for its members in all aspects of Amateur Radio which is regulated in the United States of America by the Federal Communications Commission (FCC). We conduct monthly meetings, publish a bi-monthly newsletter, and establish communications in emergencies, disasters, and various drills.
"NEW CLUB CALL"

The JARS operates two repeaters located in Jacksonville, IL. On two meters the frequency is 146.175/146.775 with access via carrier or 103.5 PL tone. The repeater on UHF is on 449.675/444.675 with the same access modes, carrier or 103.5 PL tone. We operate an open net on the 2 meter repeater every Saturday evening at 9 PM local time. At the end of the net ARS Newsline is played. Our Repeater is 911* accessable in emergencies, with the # dump for the autopatch.
Meetings
The JARS meets the first Friday of every month at the Red Cross office at 700 North Prairie in Jacksonville, IL.
Officers
The JARS Officers for 2008 - 2009 are:
President - Tim Childers, KB9FBI
Vice Pres - Al Tabor, N9MAF
Secretary - Mike Meyer, KB9ZBS
Tresurer - Frank Anderson, KC9IDX


Links and Information
Jump from here!

Or Jump To QSL.net Our Provider's Page

Copyright © 2000 Tim Childers KB9FBI
Most recent revision Saturday, December 23, 2000 9:16:49 AM



You are visitor number
Today!!!!!