Repeaters: K9HAM/R
2m Repeater:
145.230(-) K9HAM
PL 79.7
ECHOLINK Node # 204755
2m Repeater:
145.130(-) K9HAM
PL 123.0
70cm Repeater:
442.900(+) K9HAM
PL 123.0
70cm Repeater:
442.225(+) K9HAM
PL 123.0
linked with 902.0125

70cm Repeater:
442.775(+) K9HAM
PL 123.0

902.0125 (+25mhz) K9HAM



PL 123.0

linked with 442.225


The 145.230 repeater transmitter and main receive site is located in Alton IL.
There are two remote receive sites.
North remote located 16 miles North in Jerseyville, IL. and the South remote located 20 miles South in Shrewsbury, MO.
It has ECHOLINK
The 145.130 repeater is located at Alton St. Louis Regional Airport in Bethalto IL.
The 442.775 repeater is located in Collinsville, IL. Plans are in work to link 442.775 with the 145.230.
The 442.900 repeater is collocated with 145.23 in Alton, IL.
Repeater Committee & Repeaters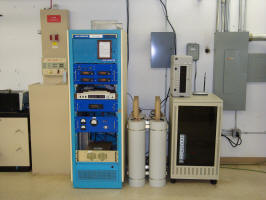 These practices were published sometime ago but occasionally they need to be re-visited. Just found these on another Ham Radio web site, however they are worth noting. Editor unknown.
Repeater Operating Practices and Etiquette:
Repeaters and Common Courtesy:
Amateur radio repeaters are very important to the service of amateur radio. Repeaters make it possible to communicate good distances while operating mobile, and communication of hundreds of miles in some cases is possible between two or more amateur radio base stations. Repeaters can be used to contact a fellow Ham operator, to get assistance, get driving directions, make an emergency telephone call (by autopatch), communicate emergency traffic, relay important information to another amateur station, report and relay severe weather events, for training purposes, conduct nets, just to have fun carrying on a two-way radio conversation, or other purposes.
Repeaters may have open telephone autopatches. Most do not. Some repeaters have open autopatches for access to 911. In some cases this would require keying up the microphone and at the same time pushing the DTMF buttons 911, releasing the microphone and then being connected to a 911 dispatcher. To end the call key up the microphone and at the same time pushing the # button. Be sure to always identify your amateur callsign before and after making the call. Check your repeater directory, club, or repeater trustee or owner.
When Would It Be Appropriate To Break Into A Conversation?
It would depend somewhat. Some amateurs would consider it impolite to break into a conversation without being asked, others would gladly welcome it, especially if they know you. If the conversation in progress is leaning itself towards asking for information, and you can supply the answer or give relevant information pertaining to such questions, then it would be appropriate to break into a conversation. You might get by with breaking into a conversation to ask for an equipment check or signal report if it is really important. By all means break into a QSO if you need assistance or have an emergency. To break into a conversation on HF say break, contact, or your callsign during the pause between transmissions.
On repeaters usually say your callsign during the pauses between transmissions or during the squelch tail after the courtesy tone. Be sure to leave pauses between transmissions so other stations can break in if necessary. This is in good taste with amateur radio. Saying break, break is only for emergencies. Q signals are generally used on SSB. They prove beneficial when they may be the only way to understand a weak station. You generally don't hear Q signals used on FM or repeaters. But, if that is the only way to communicate between two stations, then Q signals should be used.
Remember to always be polite, obey the rules, and always give amateur radio a good name by the way we operate.
How To Get Assistance ?
If you have an emergency or see one, or need assistance, how do you get assistance on the repeaters? First you need to know where you are and which repeaters to use in your area. Always have this information handy. If you need directions; identify and then ask if there is anyone on frequency that could help you with directions or assistance (it helps if you were to give specifics). For example I could say this is kb9jlf, can anyone give me directions for finding a state park located in anytown, Indiana?
If it really is an emergency, (life or property threatening), identify, then you can say break, break I have an emergency (ex. car accident) can anyone report it? Don't wait long. If no one answers go ahead and give all the information (ex. car accident with injury, location, number of subjects, injuries, and people are trapped in vehicle ). Someone may be listening that is out of range, but, could call in to Police your report. Or, it can speed up the process of reporting. But, it is possible a control operator may be able to bring up the auto patch and you can give the information directly to a Police dispatcher. If you can't reach someone on a repeater, try simplex. 146.520 is usually or should be monitored. You might be able to reach someone here first.
What is the best way to get someone to talk to you? For example I could say "This is KB9JLF monitoring", "listening", or "Is anyone on frequency?". Say once then wait a couple of minutes and repeat again. If nothing is heard, it wouldn't be polite to keep saying this. But, you could wait a while and try again. The reason being is, someone may have had a conversation in progress and may have taken a pause waiting for the other station to return for some reason or another. Or a station may have just a minute and may need to make a quick call. It wouldn't be proper to tie up a repeater if know one answers you.
Other Things To Know
Don't run more power than you need. Especially would this be true when operating a base station.
Should I use a repeater or use simplex? There is nothing wrong with using repeaters. Using a repeater might be the only way for a round table discussion or net to communicate, where you have several stations spread out over a large distance. Or a couple of stations might be in QSO waiting for another one to join. For mobile operations, it is usually best to operate through a repeater, however, it is not always necessary. It might be possible to talk simplex without a repeater. I can remember a few years back operating mobile stationary at about 3500 feet, with a 5/8 wave antenna and 25 watts FM, and communicating 165 miles simplex. I'm sure others have far exceeded this distance. However, if it is not necessary to use a repeater, why would it be better to use simplex instead? Using simplex when possible will free up a repeater for other stations to use. Another station might want to make a call, use the auto patch, or the repeater could be left open for relaying of severe weather events. The station wanting to make a call might choose not to break into a large round table discussion to make a call that is not of high priority, if it would mean having all the other stations wait on the side. And of course there is wear and tear on the equipment. Consideration is always a good idea. Especially might stations want not to tie up a repeater for extended periods of time without the owners permission or if it is a high use repeater. Of course, it might be more convenient to monitor a single repeater frequency, make a quick call on a repeater, or move to simplex shortly thereafter. And simplex operating can bring excitement and a sense of accomplishment.
This article does not cover all aspects of repeaters. This article may in part represent my own opinions and understandings.
[email protected]
Copyright LCRC © 2012, 2016
Last revised: 15 February 2016