Updated August 26, 2018
Return to K9AC Satellite Images
A version of this article appears in QRP Quarterly, April 2018. www.qrparci.org The SolderScope:
An inexpensive DIY electronics lab microscope.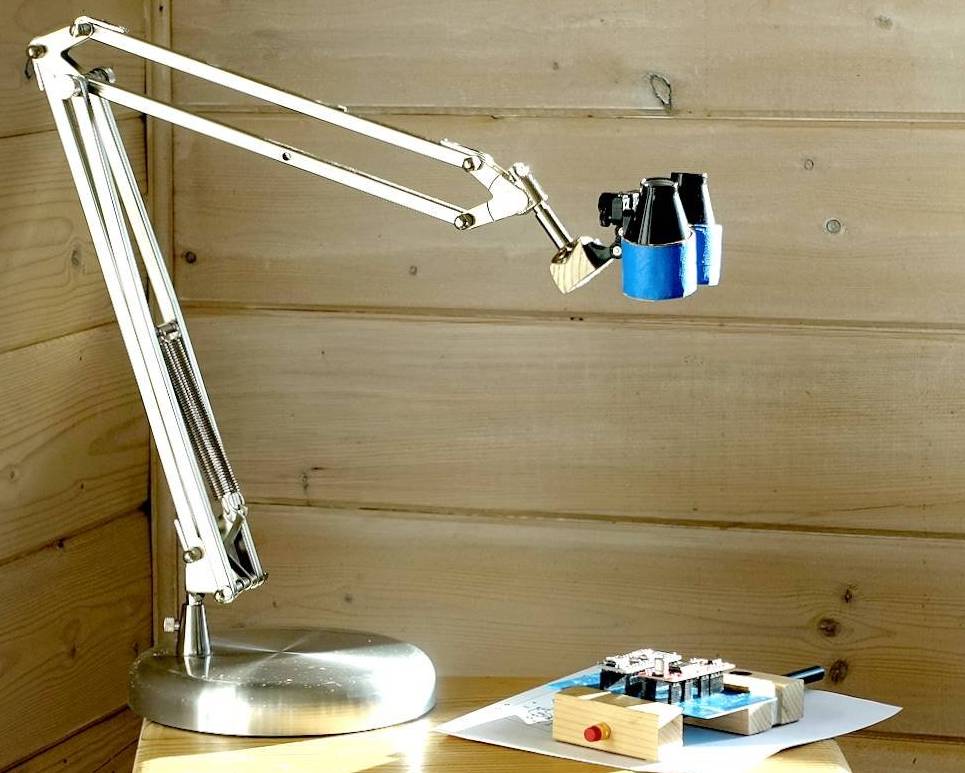 The SolderScope is a high performance binocular stereo inspection microscope that is optimized for identifying, placing and soldering SMT parts. It is also ideal for troubleshooting and repair. You can easily build one for about $50.


Here's how:
Get an inexpensive pair of dental magnifying loupes.
Enhance the optics with lenses from ordinary reading glasses.
Mount the loupes on a desk lamp stand.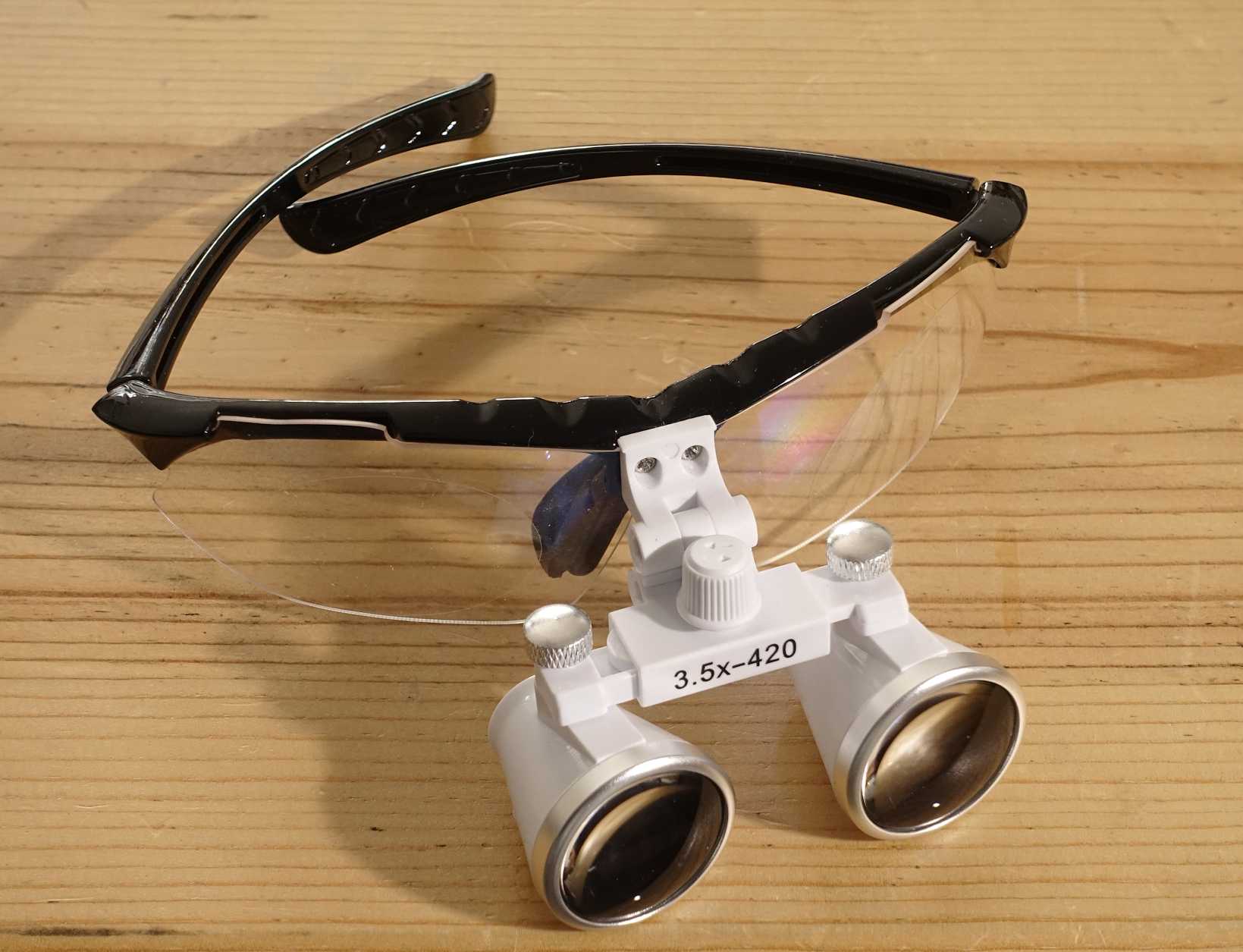 Dental student grade Galilean magnifying loupes are available for about $30 (2018). Search the Internet marketing sites for 3.5X magnification and 420mm working distance. Loupes marked "3.5X-420" and "3.5X-R" have been tried successfully.
Reading lenses optimize the SolderScope working distance to about 8 inches. Get +1.5 to +3 diopter plastic reading glasses, +2 is ideal. Higher diopter numbers shorten working distance and increase magnification. Lower diopter numbers have a larger field of view and may be easier to aim. Large lenses are preferred so full-sized disks can be cut out. Dollar store reading glasses are OK, get some if you can. More expensive glasses should be better quality.

Locate the reading lens optical axis by shining a flashlight toward it. Move the light around to find where reflections from the front and back optical surfaces are concentric. Mark the spot with a dot of painter's tape. Good tape is easy to remove without leaving adhesive residue.

A paper pattern centered and taped on the front will define the circle to be cut out. The diameter should be the same as the large end of the loupes. Tape both sides of the lens to ensure that it won't get scratched.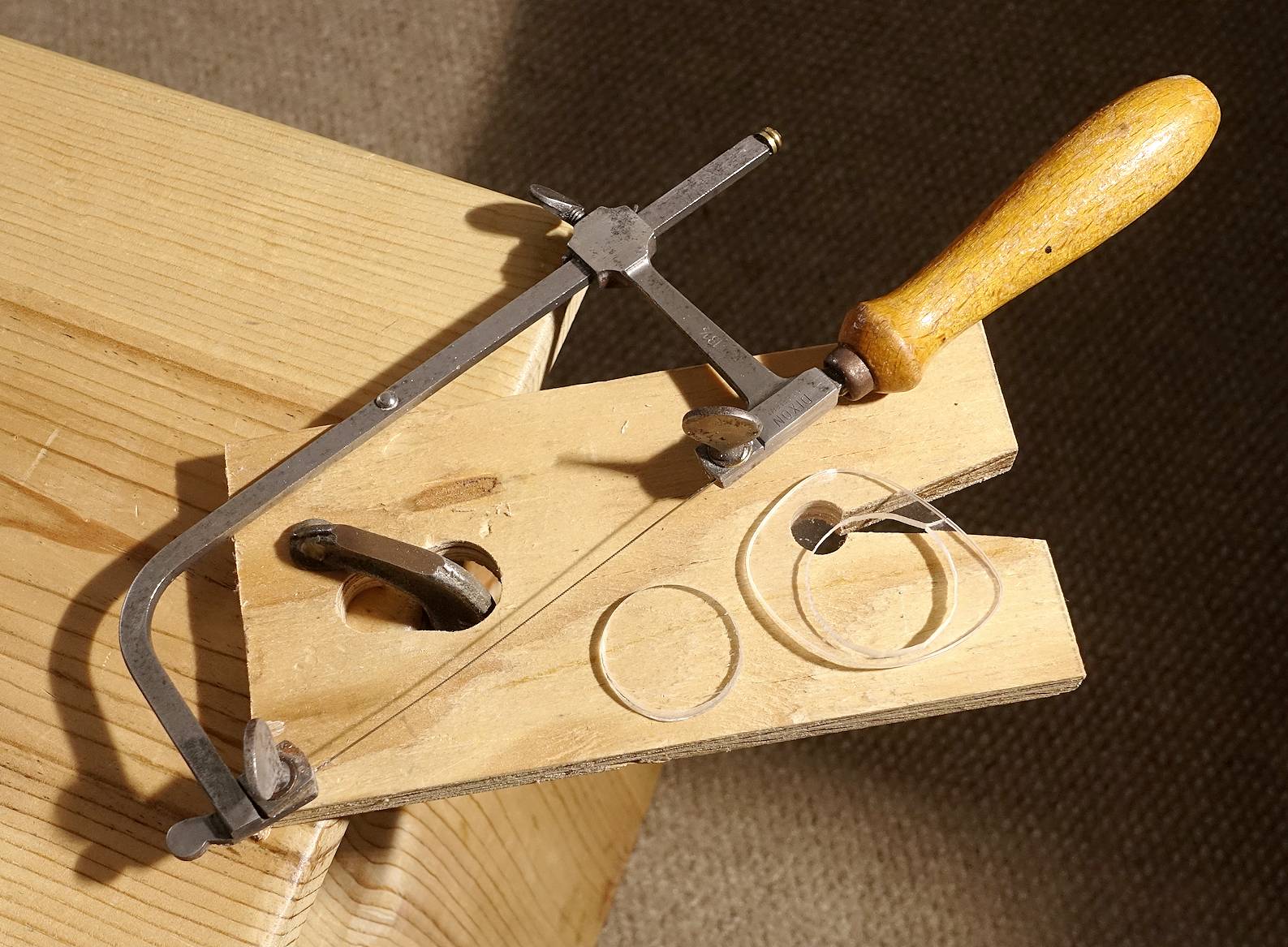 A jewelers saw will cut carbonate plastic accurately along the curve. Install the blade to cut on the pull stroke. The blade should have enough tension to "ping" when plucked like a guitar string. With the lens over the bench pin V-notch, guide the saw along the pattern line. Cut on the down stroke. Don't force it. Rough edges can be smoothed with sandpaper to make nice round lenses. Two lens disks are needed.

Mounting tubes for the lenses can be made of corrugated cardboard. Cut a strip about 1-1/8 inch wide, long enough for the circumference plus an overlap. Use a sharp knife to make a slot for the lens thickness near the lower edge. Cut the slot through the top layer of paper and the corrugation. Leave the bottom layer of paper intact. Remove ½ inch of the inner paper and corrugation at the upper edge. This will form a ridge for proper alignment and uniform spacing.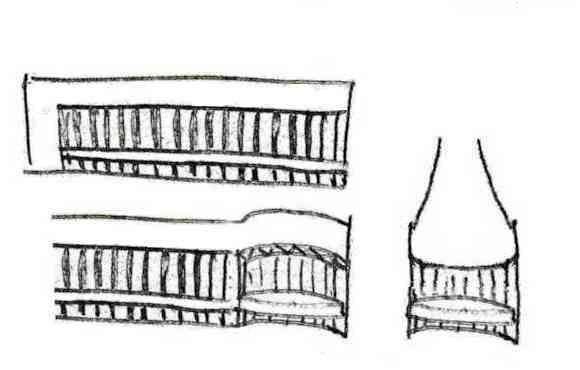 Wrap the cardboard strip around the lens to make a tube. Trim for exact fit with a flap to strengthen the seam. Tape it together so it will securely slip over the loupe's objective lens. Make two of these.
Detach the loupe's original safety glasses or eyeglass clip by removing two small screws. Remove the wiring and lamp assembly of an articulated desk lamp. Replace the reflector with the SolderScope loupes. An adapter can be made of wood or metal. A few minutes aiming the loupes the first time will be rewarded with comfortable 3-D stereo viewing.

This photo of a Raduino clone was taken with a Sony RX100 camera held up to a SolderScope eyepiece. All components including the tiny Si5351 were placed and hand soldered under the SolderScope. The wide field really helps when maneuvering around a circuit board.

This simple post-and-boom mount made of wood scraps works fine at little or no cost. 308mm (+3.25 diopter) coated glass auxilary lenses from Surplus Shed are mounted in rolled paper tubes. A hiker's LED headlight provides convenient battery-powered illumination. The heavy bolt is a counter weight.
See nd6t.com/test/SMT.htm for techniques and tools used by Don Cantrell, ND6T. Don describes his SolderScope and compares it to other magnification aids.
The SolderScope has enough magnification to read fine print on tiny surface mount parts. Field of view is exceptional. Working distance, excellent. Eyepieces are at workbench height and you can keep your eyeglasses on, there is plenty of eye relief distance.
Compare the view to what you see through a commercial scope. You'll be amazed.
Materials and Tools:
Dental loupes, 3.5X - 420mm. Search Amazon and eBay. About $30.
Plastic reading glasses, +1.5 to +3 diopters. $1-$15.
Blue painter's tape. 3M recommended.
Jewelers saw with blades. $12-$15. Amazon and eBay.
Bench pin. Clamp a V-notched piece of wood to a table.
Corrugated cardboard. Small corrugations preferred.
Articulated or goose-neck lamp. $5 - $7 at thrift stores.




The SolderScope was created by Tom Williams, K9AC and Don Cantrell, ND6T.
Thomas Williams, K9AC
Port Williams, WA USA
k9ac *a*t* qsl *d*o*t* net