From the Upper Peninsula of Michigan along the South Shore of Lake Superior ~ Station K 8 L O D
It's the largest of its kind in the U.P.



The 32nd Annual Hiawatha Amateur Radio Association
Ham Radio and Electronics Swap and Shop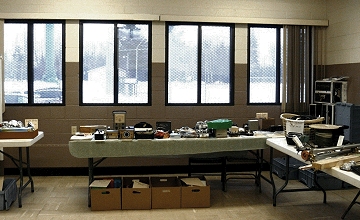 Our 32nd annual swap and shop is now history! And, it was another good one. The buzz on the repeaters and on HF radio after the event seemed to confirm that everyone had a really good time. Once again, the vendors had lots of great gear to sell. For those that like to tinker and repair equipment, there was no lack of parts to buy. The HARA tables were especially nice this year because of the generous donation of a couple of ham radio estates to our club. Our club table was loaded with parts as well as a number of vintage radios and accessories.

A browse around the arena revealed a lot of older vintage gear as well as newer solid state rigs. Plus, there was a lot of test equipment (ie-signal generators, scopes, frequency counters, various types of meters, etc). Another nice feature of this years swap is that there were a number of kits and circuit boards available for those that like to melt solder. We had representatives from the ARRL and QCWA looking for new members. And, our old friend, Stanley Strangle, K8NYT had his string of tables filled with new and used equipment as well as educational books.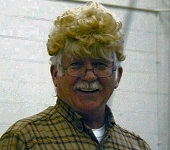 I'd like to thank all of the volunteers that helped make this years event possible: John Veiht (N8RSE-Chairman of the Swap Committee); Greg Hansen, KI8AF, in charge of admissions; Don Ohman, KC8PYD, managing the kitchen; Pat Kohl, KB8PEN and Pat Anderson, AB8RE for working the door prize table; all the volunteers that worked the club table; and finally all those that showed up for setup and cleanup. Please accept my apologies if I forgot anyone.

Please check the links listed below for the many fine national and international sponsors of this year's event. Check into their web sites and if you buy something from them, let them know you learned about their company at the Hiawatha Amateur Radio Assn's annual Swap and Shop.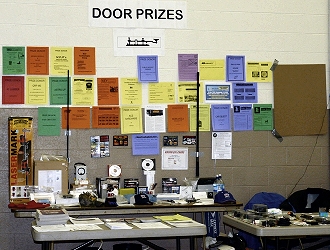 Also, many thanks are in order for our local sponsors:

Ace Hardware - Harvey
Astro UP - Rock, MI
Jim Belles - Marquette
Bonanza - Marquette
Car Quest - Marquette
41 Lumber - Marquette
Loan Wolfe Club - Crystal Falls
Midway Rentals - Negaunee
Public Service Garage - Marquette
Stanley Strangle - Bruce Crossing
Thills Fish House - Marquette, On the Waterfront

Please join us again next year for our 33rd annual Hiawatha Amateur Radio Assn Swap and Shop, the first Saturday in February.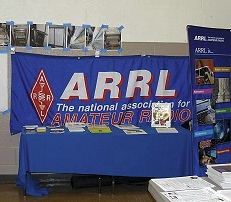 Bill Beitel N8NRG
Hara Swap and Shop Committee

Amateur Accessories
Transel Technologies (Online Ham Radio Supply Store)
Buckmaster (Callsign Database)
Call Sign Wear (Embroidered Clothing and Hats)
www.amateuraccessories.com
www.transeltech.com
www.hamcall.net
www.callsignwear.com


Chameleon Antennas (Mobile, Portable and Base Antennas)
Cheap Ham (Ham Radio and Electronics)
Code Quick (Fastest Way to Master Morse Code)
Elecraft (High Quality Kits)
Far Circuits (Circuit Boards for Many Projects)
Fox Delta (Amateur Radio Projects and Kits)
Gifts 4 Hams (Many Fine Gifts for Hams)
www.chameleonantenna.com
www.cheapham.com
www.cq2k.com
www.elecraft.com
www.farcircuits.net
www.foxdelta.com
www.gifts4hams.com


Ham Plaques (Quality Carved Wooden Plaques)
www.hamplaques.com


Hot Press Ham Hats and T-Shirts (Embroidered Hats and Clothing)
www.hotpresstshirts.com



Intelligent Software Solutions (Construction Projects and Ham Kits)
KB3IFH Qsl Cards (Color QSL Cards)
www.ham-kits.com
www.kb3ifh.homestead.com


LZ3HI Qsl Cards (Color QSL Cards)
www.lz3hi.com


Key Contact Cleaner (Keeps your key working perfectly!)
Micro Log by WA0H (Amateur Radio Logging Software)
Nifty Ham Accessories (Quick Programing Guides for many rigs)
Night Fire Electronics (Inexpensive Electronic Kits)
N3FJP's Amateur Radio Software (Amateur Radio Logging Software)
QRPme (Great QRP Kits)
www.aa4f.com
www.wa0h.com
www.niftyaccessories.com
www.vakits.com
www.n3fjp.com
www.qrpme.com



TxRx Systems Inc.
Bird-Technologies (High Quality Test Equipment)
Water Proof Log Books (All weather logbooks and journals)
www.txrx.com
www.bird-technologies.com
www.waterprooflogbooks.com