From the Upper Peninsula of Michigan along the South Shore of Lake Superior ~ Station K 8 L O D

Past Swap and Shop Events
This is the one, the one you've been definitely waiting for, its bigger and better than last years, the largest of it's kind in the U.P., the annual
Hiawatha Amateur Radio Association Swap and Shop

If you didn't make the 2007 Swap and Shop here is a little of what you missed. Just like the previous events, every table, forty of them, sold out well in advance with a waiting list of potential sellers wanting tables. There was a couple of commerical vendors there, plus we had over 50 door prizes with several of them being worth over $100 each. Sorry you missed it, so:

DON'T MISS THE YEAR 2008 EVENT. Plans are in the works to make it bigger and better than last year. The Hiawatha Amateur Radio Association prides itself on making this Swap and Shop the best in the U.P. Each year we attempt to out do the previous year and this year is no exception. Mark your calendar now and we'll see you there.

This year's event as usual will take place at the Negaunee Township Hall, midway between Negaunee and Marquette on highway M-35. From the intersection of highways U.S. 41 and M-35, go south on M-35 approximately one (1) mile and you'll be there. For the folks coming from the south and on M-35, just keep on a comin', you won't miss the place. (See map below)

The talk in frequency will be the 147.27+ repeater with a 100 Hz PL Tone, using the K8LOD callsign.

Doors will open at 9:00am and the event is scheduled to end at 2:00pm. Admission is only $4.00. There will be plenty of door prizes and as always the raffle drawing (need not be present to win any of the raffle prizes). Raffle tickets are $1.00 a piece or 6 for $5.00, so bring an extra five spot along. Many table have already been sold and is usually a sell out, so if you want a table give Bob, N8PKN at 906 225-6773 a call. Bob can also be reached via email at [email protected]. Tables are $6.00. There's no need to bring a lunch or go out to eat as there will be plenty of food, treats, coffee and sodas available at the refreshment stand. Lots of ham gear on the club table this year, hope to see you there.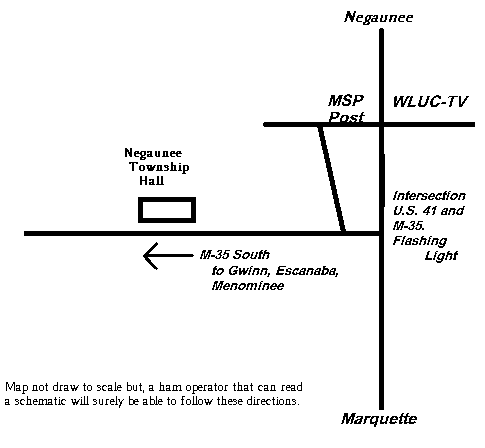 Swap and Shop is now history, and it was a great success! We had lots of nice door prizes donated by companies and individuals from around the world. Following is a list of prize donors along with their web page addresses, or in the case of local donors, their location in our community. Please check into the web pages to see what great products these companies have to offer. If possible, give them your business and let them know that you heard about their company at the Hiawatha Amateur Radio Association Swap & Shop.

ARRL (ARRL Books)
Cableorganizer (Cable, Tools, Enclosures)
Cliff's Custom Cutouts (Hand Carved Oak Call Signs)
Cheap Ham (Ham Radio Equipment)
Cheap Qsl's (Color QSL Cards)
Coax Adapters (Connectors, Coax, etc.)
DCI Digital Communications (Filters, Duplexers, Amps, etc.)
Far Circuits (Project Circuit Boards)
Grove Enterprises, Inc. (Monitoring Times, Books, etc.)
Ham Test On Line (On-line Stucy Courses)
Hot Press T-Shirts (Embroidered Call Sign Hats)
Intuitive Circuits LLC (Video DTMF, GPS Logging)
Intelligent Software Solutions (Projects & Ham Kits)
International Broadcasting Services, Ltd. (Shortwave Listening Books)
LQV Engraving (ID Badges) Contact via email W0LQV
Maha Energy Corp. (Battery Chargers)
Nifty Ham Accessories (Quick Monitoring Guides)
N3FLP's Amateur Radio Software (Ham Radio Logging Software)
Radio Daze (Vintage Radio Parts, Kits, etc.)
Radio Oasis LLC (Alinco, Alpha Delta, Feed Line)
SkySweep (CW, RTTY, PSK31 Software)
QSL's by W4PHY (QSL Cards)
Vibroplex Company Inc. (CW Keys & Bugs



Door prizes include a 2-year subscription to:


LOCAL DONATIONS
American of Marquette 2873 US41 West Marquette
Anderson Communications 1009 W. Bluff, Marquette
Astro U.P. Rock, MI
Bonanza Restaurant 2382 US-41 West, Marquette
Car Quest of Marquette 211 S. Fifth St., Marquette
Chocolay Ace Hardware 2250 US 41 South, Marquette
Jim Delongchamp (WB8IEH) Ishpeming
Fraco, Inc. 200 Cherry Creek Rd, Marquette
Midway Rentals Midway Industrial Park, Negaunee
Norandex/Reynolds 908 W. Baraga Ave, Marquette
Northern Michigan Bank & Trust 1502 W. Washington, Marquette
Radio Shack of Marquette Westwood Plaza Mall, Marquette
Bob Serfas (N8PKN) Marquette
Stanley Strangle (K8NYT) Bruce Crossing
George Thurned (W8FWG) Copper Country
UBC-United Building Center 3330 W. US 41 Hwy, Marquette
Rod Wallberg (KB8DNS) Ishpeming
Wittock Supply 363 US 41 East, Negaunee

Thanks to all that donated door prizes to our swap and shop! If I missed anyone that donated a gift, please accept my apologies.

Bill N8NRG
HARA Hamfest Committee