From the Upper Peninsula of Michigan along the South Shore of Lake Superior ~ Station K 8 L O D

NWS/ARRL SPECIAL EVENT
This was the second year that local hams participated in this event operating from the NWS. Locally it was quite nice both weather wise and propagation wise for this special event. The station, actually located at the NWS office consists of a hf rig, two vhf rigs, and vhf packet station. Many HARA club members, local hams, and hams across Michigan's Upper Peninsula are heavily involved in Storm Spotter activities so its a real assist to have such a nice station right on site of the NWS here in Marquette. QSL information for this NWS/ARRL Special Event are as follows:

NWS Station K8LOD
ATTN: Jack Pellet
112 Airpark Drive
Negaunee, MI 49866

Starting with the Dec. 2001 event, requests for QSLs should go to:
NWS Station WX8MQT
ATTN: Robin Turner
112 Airpark Drive
Negaunee, MI 49866

Here are the statistics for the NWS(K8LOD), Marquette Special Event Station for 2000.
Band...................QSO's
80 Meter Phone.......31
40 Meter Phone.......39
40 Meter CW...........5
20 Meter Phone......117
15 Meter Phone........3
10 Meter Phone........2
2 Meter Phone.......41

Total contacts: 238 QSO's (221 after removal of duplicates)
Number of NWS offices contacted: 37
Number of states with QSO's: 37

HARA radio operators during the special event were Bill KC8EWD, Ryan N8RY, Mike KE8IL, Bruce WB8NJP, Paul KB8VEP, Rod KB8DNS, Paul N8XTB, Bruce KB8RJV, Gary KI8DJ, Greg KI8AF, Dave KC8NCI, Bruce KG8YT, and Jack, KC8HYB.
See event 2000 for a national summary of the special event.

2000 Special Event
Bill, KC8EWD and Paul, N8XTB operating from the NWS. Monitor in the foreground is
monitoring Doppler Radar while the smaller monitor directly behind is for packet.
That is not a painted outdoor mural to the left of the operators but, a view out
the window and the snow that was presently on the ground.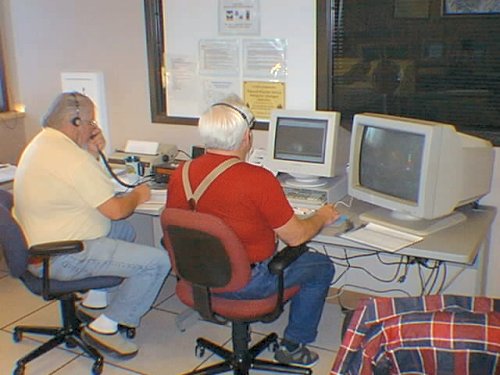 N8XTB and KC8EWD still at it.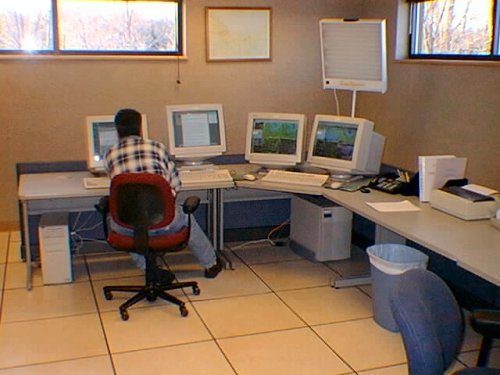 A view of some of the NWS equipment directly behind the operators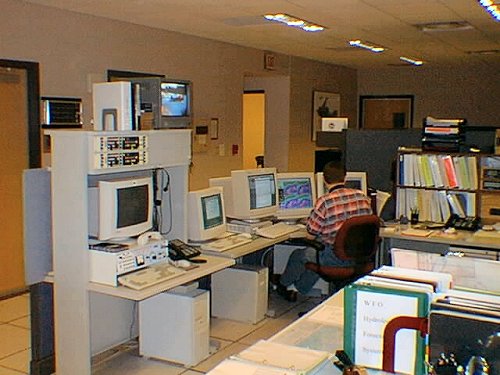 Another view of more NWS equipment located adjacent to the ham position



Meteorologist/ham operator Jack, KC8HYB showing Nicholle U'ren, daughter of KC8NCI
around the NWS operating positions. Another local meteorologist in the background



Mike KE8IL, Dave KC8NCI with his daughter Nicholle



Paul KB8VEP, Bruce KG8YT working a little CW



Paul KB8VEP, Bruce KG8YT, Ryan N8RY, Bill KC8EWD, John WB8RFB from Iron Mountain, Mi.