From the Upper Peninsula of Michigan along the South Shore of Lake Superior ~ Station K 8 L O D

FOX HUNTS

Here Fox....Here Fox...come out wherever you are...
FOX HUNT '99
by Bruce, KG8YT

When springtime comes, with evenings long, It hits us like a pox:
A stirring in our blood calls out, It's time to hunt the fox.

And so, this year, our teams came forth, Each answering the call.
With beams held high and ht's charged, The hunters gave their all.

Their blood was up, their spirits high, But sometimes, what a pity,
Their fateful efforts went astray. The picture wasn't pretty.

"Condor" Pete sought out the fox; With foot to floor he rode.
Though Pete's performance wasn't hot, His Buick almost glowed.

Bob Serfas came to hunt one night, Hopes high with brand new beam.
The trail turned quickly cold, alas, And Bob left, breathing steam.

Paul Kaarre hunted right at home when we convened in Gwinn.
He couldn't find the gravel pit; We had to talk him in.

Bruce Bureau joined with "no-H" Jon, Who brought his home-made gear.
Jon' specialty is finding fox; Bruce, it's drinking beer.

Rich Schwenke loves to hunt the fox; He also hates to lose.
The nearby air turned blue the night that Bill sent Morse code clues.

Though Bill and Pattie tried real hard, The fox was not in danger.
The only talent on their team was that of their dog Ranger.

With Ryan's partner at the wheel, 'Twas hard to take a reading.
Though Paul drove slowly now and then, He generally was speeding.

Though Bruce is licensed and Pat is not, All heard both voices clearly,
The night they left the microphone on. No swear words quite, but nearly.

Big Gary brought his red-haired son, to help him play the hound.
But Dad ignored his son's advice; The fox was never found.


Ralph Watters joined with Rich and crew, But their opinions crossed.
When Ralph ditched Rich and brought his wife, The two of them got lost.

The season now has reached its end; The fox no longer hides.
But hunters fondly recollect The frantic evening rides.

The brazen foxs' taunting calls, The signals strong and true,
And boastful talk and winning smiles, And quaffing victors' brew.


The above poem "Fox Hunt '99" was penned by our very own KG8YT, parttime poet, foxhunter, and QRPer. The exploits of our member's foxhunts are no doubt typical of most groups that pursue that wiley character but, we are fortunate to have someone to write about it with such eloquence.

A few successful fox hunters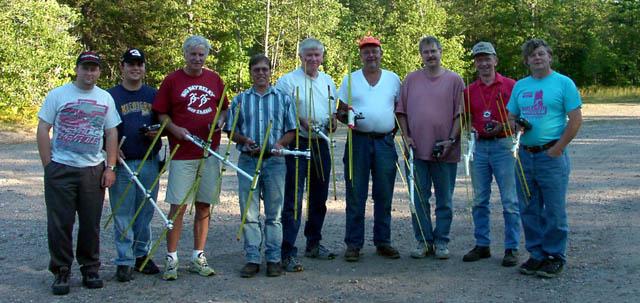 Now here's a foxy crew!
Paul KB8VEP, Ryan N8RY, Don KC8PYD, Bruce KC8LKY, Bruce KG8YT
Rich N8GBA, Jon KC8EEE, Ralph N8HXG, Rod KB8DNS

Home