Canadian call - VE7IB
My ex-calls include:
DL5AO, FØKV, K7HTZ, OE7ZIT, ON8VR, PA9HQ, PP6ZAA, PR8ZPJ, PY8ZPJ, K7HTZ/LX/P, VE7RCW, PR8ZPJ/PT9, etc.
My favorite activities include "weak signal" work on VHF/UHF frequencies. I like to build a lot of my equipment and antennas. Also, I am an avid contester.
There are a number of topics that I talk about. Click on one that might interest you:

Pacific Northwest VHF Society
Distance Scoreboard for PNWVHFS Members
Alaska VHF-Up Group
My Antenna Farm
DX on 6-Meters
Moonbounce
June 2007 Contest Expedition to Prince of Wales Island, Alaska
GS35B Amplifier for 6-Meters
Tall Towers
---
PACIFIC NORTHWEST VHF SOCIETY

I'm charter member No. C033 of our new organization begun in September, 2001 at the VHF Conference in Tacoma, Washington. We're off to a healthy start with members in Washington, Oregon, Idaho and British Columbia. Check out the Society's web page.


---
DISTANCE SCOREBOARD FOR PNWVHFS MEMBERS
I moderate an unofficial board for keeping track of VHF and up DX "records" of Society members. The Distance Scoreboard covers all amateur frequencies from 50 megahertz to light and is only for contacts that are made after January 1, 2003. The Distance Scoreboard can be found here.
---
ALASKA VHF-UP GROUP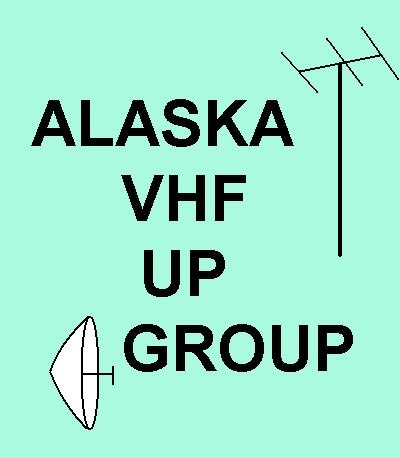 I'm charter member No. 016. The group was established to promote weak signal VHF work in the State of Alaska and is an ARRL affiliated club. It is not necessary to be a resident of Alaska to be a member. I am a member of the Board of Directors as well as Awards Chairman
---
Presently, I have only one antenna mounted on the tower. It's an M-Squared 6M9KHW at about 75 feet above ground. Eric, KB7DQH built an elevation mechanism for it. So, now I can tilt the antenna up to follow the moon as it moves across the sky. Here are some photos.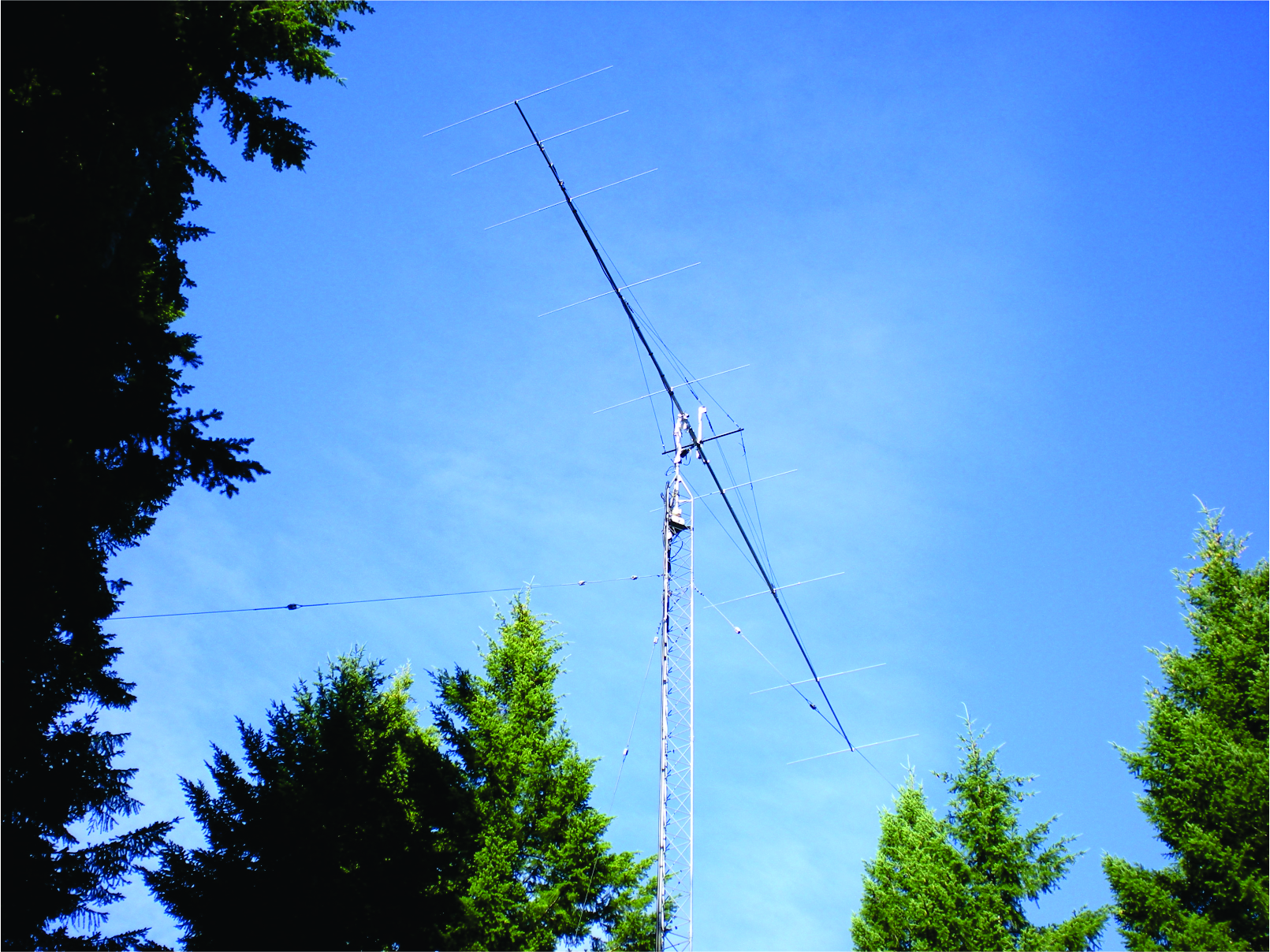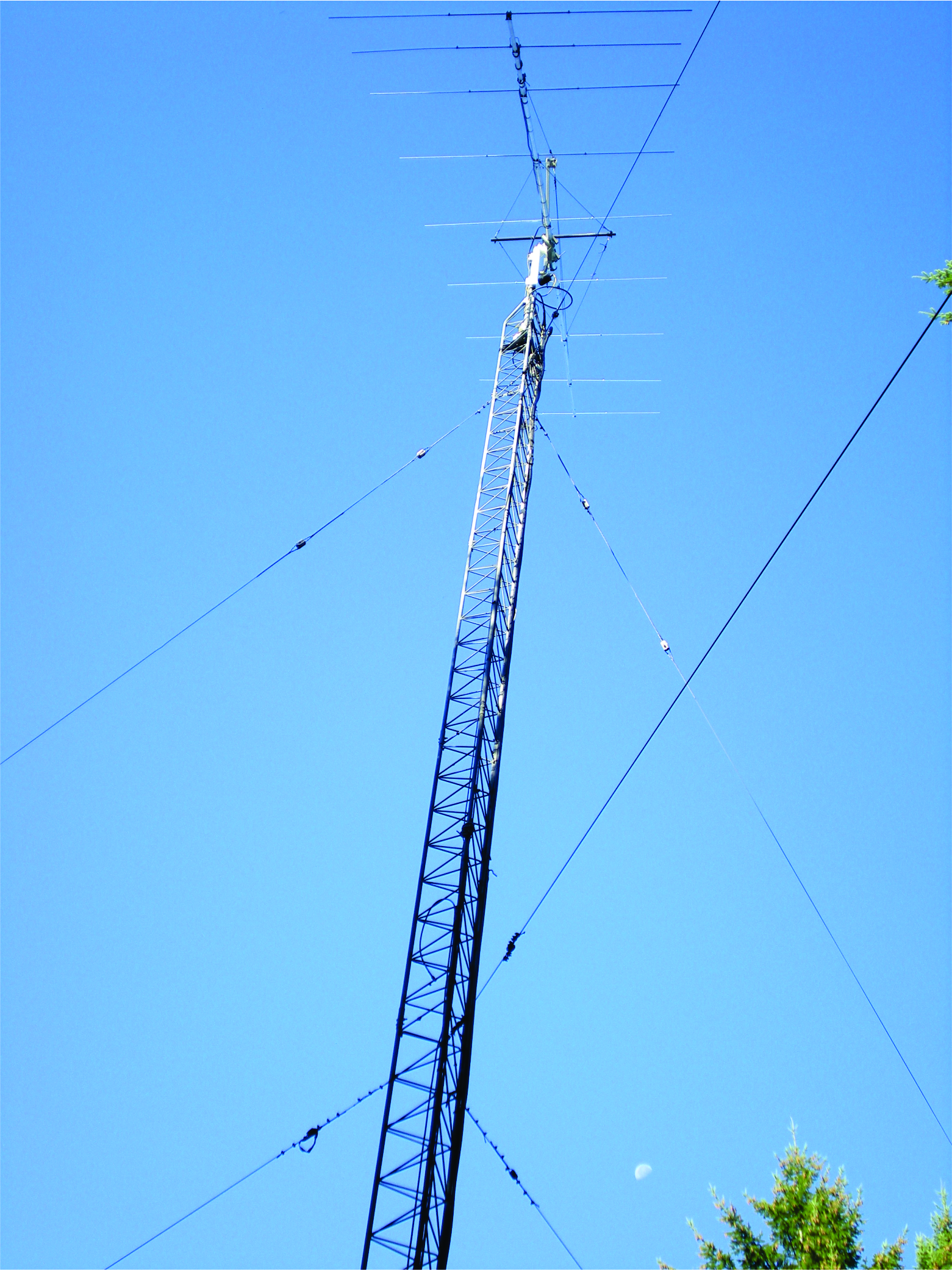 ---
In March of 2002, I received my
WAJA certificate with 50 MHz endorsement
from the JARL for working and confirming all 47 Japanese prefectures. I started collecting QSLs for the award beginning with the July 2, 1995 sporadic-E opening when I had my first-ever QSO with a JA (It was JH6WDG/6). Here is my list of QSOs that I submitted to the JARL to qualify for the award. Several stations in the U.S. have received the award with 50 MHz endorsement, but I am the only one since 1989, when the JARL began keeping computerized records. (Three KL7 stations received the award in 1990, but they are in another country. ;-))

I've recently earned two other major awards from the JARL. They are the JCC 200 Award for working and confirming QSOs with 200 Japanese cites and the JCG 100 Award for working and confirming QSOs with 100 Japanese Guns. Both of these awards are endorsed for 50 MHz.

On April 16, 2013, I received 6m WAZ number 114. June 28, 2013, I received 6m DXCC number 1,257. As of April, 2019, I have worked 120 DXCC entities and 28 CQ zones on six meters. 98 of the entities that I've worked were via terrestrial modes and 42 were worked via EME. I have been actively using moonbounce to make DX contacts. Until recently, the antenna was a single 8-element yagi, but I now have a 6M9KHW which gives a bit more gain - that, plus I can elevate it to follow the moon for EME work. Over the last few years, my country count has increased quite a bit due to some nice long-distance sporadic-E propagation. The Solar Cycle 24 peak did not do much for us. But, thanks to sporadic-E links, we were able to connect with some F2 in the Fall of 2011 to work some stations in the Pacific and Eastern Australia.
---
Several years ago, I decided to make use of make use of 50 MHz moonbounce (EME) to get my last needed continent, Africa, for 6m WAC. On 24 February, 2007, I had my first 50 MHz EME contact with Matteo, IW5DHN in JN53. Since then, I have worked more stations via EME on 50 MHz. My rig is a IC-7800 driving a homebrew amplifier at about 1500 watts output. My antenna is now a single M-Squared 6M9KHW at approximately 24 meters above the ground. I can now elevate the antenna to about 62 degrees from the horizontal. I have been using K1JT's WSJT JT65 mode for all 6m EME contacts. So far, I've had QSOs with the following stations via lunar reflection on the 6-meter band:

IW5DHN (My first 6m EME QSO - Thanks, Matteo!)
W7GJ
K1SG
G5WQ
JR6EXN
N5BLZ
K6MYC
GD0TEP
G4FUF
W1JJ
PE1BTX
MM0AMW
OY3JE
LY2BAW
AJ7LL
CT1HZE
OH2BC
OK1RD
K2ZD
OH6MIK
SM7FJE
G4IGO
S57RR
ON4GG
ES6RQ
LA8AJA
EX6EME (UN8GC 6m EME DXpedition to Kyrgyzstan - Zone 17))
3D2LR (W7GJ 6m EME DXpedition to Fiji)
K7XQ
G3WOS
V55EME (6m EME DXpedition to Namibia - My 1st Africa on 6m)
G8BCG
5W0GJ (W7GJ 6m EME DXpedition to Tonga)
VE3KH
OK1KIR (Cool! I worked OK1KIR on 6m EME)
E6M (W7GJ 6m EME DXpediton to Niue)
GW4WND
OA4TT
W6BBS
OZ1DJJ
TX5K (W7GJ 6m EME on Clipperton I. DXpedition)
WA4NJP
VK8AW (Yes, Zone 29)
K4N (Grid Expedition to EL84 - 1st EME operation from a boat)
N3XX
PC5C
J45EME (6m EME DXpedition to Rhodes, Dodecanese Is.-SV5)
W7JW
UT7QF
SK0TM
HA7TM
ZS6NK (Thanks, Paul!)
KH8/W7GJ (6m DXpediton to American Samoa)
EA8DBM
K5N (Grid Expedition to DM71)
KG7H
YO2BCT
S59A
W1AW/7(in Idaho)
K8WW
W8PAT
SP3RNZ
ER5WU
W5ADD
W3UUM
W9JN
UR0MC
SM5AQD
F6BKI
OH7KM
OZ4VV
W6SR
W6XU
C21GJ (W7GJ 6m EME DXpedition to Nauru)
ZA5V (6m EME Expedition to Albania)
VP6D (Ducie I. DXpedition 6m EME activation)
VP8WOS (G3WOS EME activation from Falklands)
T77C (6m EME Expedition to San Marino)
CP1GJ (W7GJ 6m EME DXpedition to Bolivia)
GM3POI
LA7DFA
JA7QVI
SP4MPB
PA5Y
HB0/S59A (EME expedition to Liechtenstein)
K7KX
HB9Q
KJ9I
K9RX
JG1TSG

Since I have a radio for the 2-meter band, I decided to give that band a try on EME. I have a kilowatt on 144 MHz and a single yagi. So far, I've worked the following stations on 144 MHz:

UA4AQL
DL8GP
W5UN
UA9FAD
DK5EW
WQ5S
IK1UWL
K6MYC
PA3CMC
DK3WG
DK3EE
OZ1LPR
OM3BC
KB8RQ
S52LM
K5QE
K1JT
OH7PI
RU1AA
DK8ZJ
PE1L
I2RV
RK3FG
EB5GP


KL0RG and I took part in the 2007 ARRL June VHF QSO Party. We rented a cabin on Prince of Wales Island, near the town of Thorne Bay. It was a memorable event. My account of it is here. Other versions of the account were published in the CQ-VHF summer 2007 edition and UKSMG Six News 92 (2007) edition. I made a presentation about our trip at the 2007 Pacific Northwest VHF Society Conference in Bend, Oregon. Here is the PowerPoint file.


The GS35B is rated to 1000 MHz and its anode dissipation rating is 1500 watts. It is easy to build a grounded grid amplifier using this tube since it can be mounted directly to the chassis with clips. I have taken some photos of my progress building this amplifier. I have nine photos for you to look at:
1. Bottom side, inside the cathode compartment
2. Top side, inside the anode compartment
3. Major parts collection before construction began
4. The main Boxes. The RF deck goes inside the cabinet on upper right
5. The front panel starting to take shape
6. The GS35B with anode radiator removed. It is held down with heavy duty clips made from angle aluminum.
AFTER CONSTRUCTION
7. The front of the amplifier. The big meters are from an old FM broadcast transmitter. The top meter measures 0-1.5A for plate current and the bottom one measures 0-500mA for grid current. The top knob on the right is for the loading capacitor, a 250 pf vacuum variable. The knob beneath it is for the plate tune capacitor, a 3-30 pf vacuum variable. The total dimensions of the RF deck are 11x11x11 inches (28x28x28 cm). I mounted a flange for air input on the back to pipe air from a remote blower to keep the noise down at the operating position.
8. A view of the top. To vent the hot air from the anode compartment, I am using a chimney made of sheet teflon (ptfe). A flange of the same diameter as the anode was brazed onto the anode compartment lid in order to attach the chimney to the lid. Some screening cloth was fitted over the top of the flange and secured with a large hose clamp.
9. A view of the back. The air is fed into the cathode compartment via a shielded box and a plastic flange fashioned from a 4-inch ABS toilet flange. The flange was inexpensive and a good fit for 4-inch dryer hose used to transport air to the amplifier. The flexible hose is going to be used as a union between the amplifier and the ABS pipe going to an adjacent room where the blower will be. The blower rating will be 150 cubic feet per minute.

For those who are considering a similar amplifier, I recommend looking at the QRO pages on Paul, ND2X's web site. I particularly recommend the article written by Bill, K8CU. Another wealth of information can be found on Rich, AG6K's web page.
---
I don't know how many people I've told over the years that I have a photo of me near the top of KTUL-8's tower near Tulsa, Oklahoma. Well, I ran across it not long ago. The tower was built in 1965. It collapsed in the Christmas Weekend ice storm of 1987 and was rebuilt to the same height in 1988. The photo was taken by Dave, KK5I (now SK). We went up the tower in the 2-man elevator. I got out and clipped on with my climbing belt while Dave stayed in the elevator and took a snapshot of me, trying to look brave. As I recall, the total height of the tower to the top of the antennas is 1906 feet or 581 meters. I am standing on the top platform which is at a height of about 1750 feet. Note what looks like moss directly under my hand. It isn't moss. It is a large grove of oak trees. The guy cables from the top level come down almost vertically and run alongside the tower for quite a long distance downward until, finally, they curve outward toward the guy anchors below. The engineer at the transmitter told us that, as of that date (about 1984), 17 parachutists had climbed the ladder to ascend to the top level and jump successfully to the ground. Also, none of them had been apprehended for doing this dangerous deed. Apparently, get-away vehicles were always nearby! Of course, we had to sign our lives away for legal reasons to get permission to go up the tower to install a temporary repeater. Be advised that I no longer look like this. My hair is silver, and a lot thinner and I'm not quite as skinny. Take a look.
---
---

,
Paul Kiesel

MY THANKS TO KA9FOX FOR HOSTING MY PAGE!