K2PF
Ralph Fariello
23 Old Village Road
Hillsborough, NJ 08844-4008
Somerset County
k2pf at arrl.net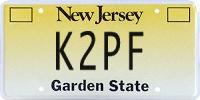 Welcome to my home page. My name is Ralph and I am located in Hillsborough, New Jersey. Just a short distance north of Princeton, home of the well known university. In relation to New York City I am about 60 KM west. I was first licensed in 1959 as WV2EJZ. After I passed my General test I became WA2EJZ. In 1978 I received my current call.
I am involved with various aspects of ham radio and enjoy chasing DX the most. I have over 300 countries confirmed using only a vertical and 100 watts. I also enjoy chasing US counties on CW. To date, I have about 2800 of the needed 3076 confirmed.
I am QSL manager for several stations. If you would like a card, please send your card to me with an SASE or SAE and a dollar or IRC.
QSL Via Direct or LoTW. Stations in red are ok LoTW.
The stations I manage are:
3W0A, 3W100HCM, 3W7A, 3X1Z, 4J9NM, 4K5D, 4O3AA, 4O/J28OO, 5B4/S53R, 5B4/T97M, 5N0RMJ, 5N1/W3IVP, 8P9GE, 9K2/T97M, 9K2GS (ONLY 1997 CQWW CW TEST), AP2ARS, E7/N4EXA, E70A, E72AA, E73BB, E73M, E73MMM, E74A, E74DX, EO12J, EO59JM, EO60JM, EO61JM, EO62JM, EO63JM, EO64JM, EO65JM, FG/T97M, FM/K2PF, FS/KM3T, H44GC, H44KA, J28AA, J28OO, KH6ND, KH5/KH6ND, KH6YY, KH7X, KH9/WA2YUN, KP2/KH6ND, PJ7/KM3T, PP5/KH6ND, T9A, T93M, T94CT, T94DD, T94DJ, T94OM, T95A, T97M, T99MT, TT8KR, UU5A, UU5J, VE7/T95A, VY2/KH6ND, XV0SU, XV0SU/MM, XV100HCM, XX9TRF, YI/S53R, YI9R, ZD7KA