< Back - Forward >
THE SECRET ARM
Every big Team has a very high-Power linear amplifier..; in the photo you can see our tube (FTL3-2) which "can" give us about 8KW (8000 Watt) P.E.P. (See on my HOMEBREW pages mores about it)
of course the amplifier is Home-Made but it's outside our shack; in the photo you can see it with Cesare (IK7XNF) and Antonio (IK7YTX).

Let's see into the amplifier, where's this big tube......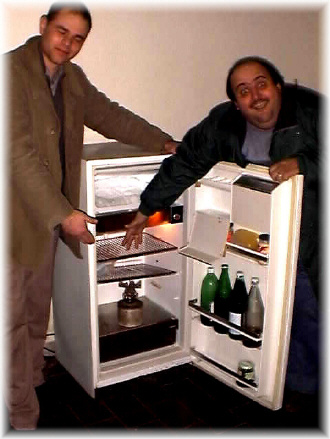 Oooooohhh, Yes. it's only a Frigo. No amplifier.
73 de iz7ath Talino