General - Relays Box - Control Box
ANTENNA SWITCH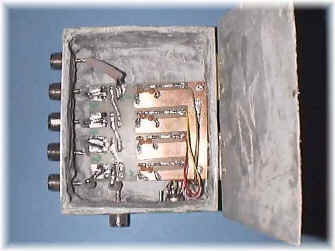 An antenna switch is a very useful accessory because you can use only one coax-cable for your antennas instead of more.
I decided to build one in the same time a decided to build my quad;
you know it's better to use loop fed by itself and the only way to do that is to use 3 separate coaxial cable for each band or a relays-antenna switch.
I built two of its: one to me the other to Mario (ik7zcq) using 10A relays: it's ok for 1 kw.
Last month I built an other one, to switch 5 antennas;
You need a Relays-box and a control-box; they are connected through 5 cables.