Small Multiband "IEK Antenna"
Piccola "Antenna IEK" Multibanda
by Emilio S. Campus, is0iek
This multiband, small (2% wavelength), but very efficient, IEK Antenna can be achieved simply switching a tapped coil, and no capacitors. The comparative advantages of such a small antenna are of course more effective in the lower HF bands, where conventional antennas are much bigger.
Questa Antenna IEK, piccola (2% l), ma ad alta efficienza, multibanda, può realizzarsi semplicemente mediante la commutazione di una bobina con delle prese, senza condensatori. Il vantaggio relativo dell'impiego di un'antenna di così piccole dimensioni sono più sensibili nelle bande basse HF, ove le antenne convenzionali necessitano di spazi assai maggiori.
<![if !vml]>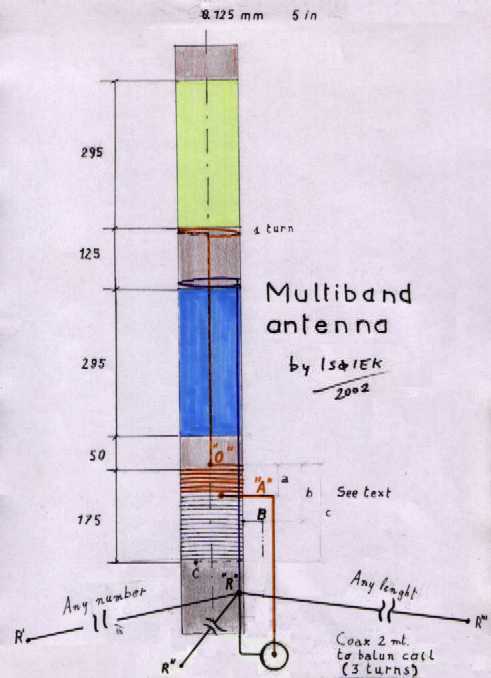 <![endif]>
Please note that this antenna is not an "EH Antenna" because it is circuitally different.
Prego notare che questa antenna non può definirsi "EH Antenna" in quanto ne differisce circuitalmente.
Construction details – particolari costruttivi :
Red PVC pipe support

Æ

5''

-

 

Supporto in tubo di pvc rosso

Æ

125 mm. ;
Aluminum foil cylinders, five layers at least

 

- Cilindri in pellicola di alluminio (per lo spessore di circa cinque giri) ;

Coated copper wire windings No. 12

(low voltage type branch wire, as for buildings etc.)

- avvolgimento in filo di rame rivestito (del tipo per impianti elettrici) sez. 4 mmq. ;

Cylinders connections: coated copper wire No. 16

– Connessioni ai cilindri : filo di rame rivestito sez. 1,5 mmq. ;

Coil winding on the same support, same diameter of the cylinders

–

Avvolgimento sul medesimo supporto, stesso diametro dei cilindri

Coil starting ("O" point) 2'' from the lower cylinder's edge

–

Inizio dell'avvolgimento (punto "O") a 50 mm dall'estremità del cilindro inferiore

Total coil turns : 39,75 , no spacing

- Lunghezza totale dell'avvolgimento : 39,75 spire serrate ;

Also the antenna has some kind of "counterpoise" (the big Marconi's thought !) at its base, three (or any number of) random length wires (some 30') connected to the "cold" end ("R" point - see picture) and spread to the attic floor

(summer 2005)

- L'antenna ha altresì una qualche sorta di "contrappeso" (la grande trovata Marconiana !) alla base, tre (o qualunque numero di) fili di lunghezza casuale (circa 10 m.), connessi all'estremo "freddo" (punto "R" -

 

vedi figura) e sparsi sulla terrazza

(estate 2005)

.

A so-called

Collins balun

, made of some turns

(three to five – seven, more are better)

of coax wound in the air on a diameter of a tenth of inches, and placed just a 5 to10 ft. under the antenna

- Avvolgere in aria, uno o due metri sotto l'antenna, un cosiddetto Collins balun ; questo è costituito da un loop formato da alcune

(da tre a cinque – sette, più sono meglio è)

spire di cavo coassiale per un diametro di una ventina di centimetri

Coil tapping for the various bands, as follows

- Prese per le varie gamme, secondo la tabella seguente :
| | | |
| --- | --- | --- |
| MHz | Number of turns (from "O" pint)       -  N. spire (e frazioni,  a partire dal punto "O") | Note |
| 1,8 | About  - Circa 60 ? | Not tested yet - Da provare |
| 3,5 | 26,75 | |
| 3,6 | 25,75 | |
| 3,7 | | |
| 3,8 | 22,75 | |
| 5,0 | 16,66 | |
| 7,05 | 11,88 | |
| 10,1 | 6,75 | |
| 14 | 5,94 | |
| 18 | 5,94 | Not tested yet - Da provare |
| 21 | 2,75 | |
| 24 | 1,9 | |
| 28 | 0,13 | |
The IEK Antenna, more in depth  -   Approfondimenti sull' Antenna IEK
The purpose of this document are reflections, research, project and construction ; beyond practical suggestions on antenna construction, it is intended to stimulate a more deep look at the theoretical fundaments, open to contributions. 
Il fine di queste note è al tempo stesso di riflessione, ricerca e progettuale-costruttivo ; difatti oltre a suggerimenti di natura pratica sulla realizzazione di una efficiente antenna multibanda di ridotte dimensioni (dell'ordine del 2% rispetto alla lunghezza d'onda) multibanda in grado di operare nel campo delle HF a partire da 1,8 (almeno idealmente) a 30 MHz, il che costituisce gli aspetti progettuale e costruttivo, intende anche approfondirne i fondamenti teorici ; collocandosi nel tempo stesso in progress, in itinere, ricercando cioè per via teorica e/o sperimentale (soprattutto !) quelle soluzioni che possano rappresentare (o almeno si spera) dei perfezionamenti ; infine, esso è aperto al contributo teorico ed alla riflessione speculativa (sebbene originante dall'esperienza e mai totalmente avulsa da essa) sulla natura stessa dei fenomeni che vi sono implicati, e sulle modalità in cui essi si manifestano e possono essere verificati. Speculazione affascinante, e già di per sé appagante.
 Summary - Sommario :
 - Two distinct problems in one - Due problemi distinti, ma complementari :
<![if !supportLists]>a) <![endif]>Field phase matching, developing the radiation (i.e. radiate and receive waves by the antenna), and …  -  Fasatura dei campi, dispiegando l'irradiazione (cioè generare e ricevere le onde elettromagnetiche mediante l'antenna), e …
<![if !supportLists]>b) <![endif]>Z=R+jX matching at the antenna's feeding point (i.e. operate the line properly)  -  adattamento dell'impedenza Z=R+jX (cioè adattare bene la terminazione della linea)
- Some theory - Alcune premesse teoriche
- More theory on the IEK Antenna and other small antennas - Ulteriori considerazioni teoriche sull' Antenna IEK ed altre corte
- Concepts on the IEK Antenna tuning – Considerazioni sulla messa a punto dell' Antenna IEK
- Further hypotheses, problems and developments - Ulteriori ipotesi, problemi e sviluppi
- Appendix A : some practical hints on construction - Appendice A : alcuni suggerimenti pratici costruttivi
- Appendix B :  test and final considerations -  Appendice B : alcuni suggerimenti per le prove, e considerazioni finali
- Appendix C : Some suggestions for a theoretical deepening on the IEK Antenna - Appendice C : Alcuni spunti di approfondimento teorico sul funzionamento dell' Antenna IEK
- Appendix D : IEK Antenna and Maxwell equations - Appendice D : Antenna IEK ed equazioni di Maxwell
NOTICE
The antenna concentrates large fields in a small space ;
for that reason, do not stay in its vicinity when transmitting !
ATTENZIONE
L'antenna concentra campi intensi in uno spazio ridotto ;
per tale motivo non sostare nelle vicinanze durante la trasmissione !
SOME SITES & BIBLIOGRAPHY ON SMALL EFFICIENT HF (10-160 mt.)ANTENNAS
ALCUNI SITI & BIBLIOGRAFIA SULLE ANTENNE HF (10-160 m.) PICCOLE MA AD ALTA EFFICIENZA
Stefano, IK5IIR (to whom I am personally grateful for encouragement and suggestions – al quale sono personalmente grato per i consigli e l'incoraggiamento)
http://associazioni.comune.fi.it/ari/antenne_eh/index.html
"Pasqualina", by Pat IS0FQK (inventor of some other versions, also many thanks for precious co-operation and tests – ideatore di ulteriori versioni, che ringrazio per la preziosa  collaborazione e le prove)
http://xoomer.virgilio.it/is0fqk/I_miei_hobby.html
EH DIPOLE ANTENNA, DOUBLE CONE ANTENNA, DISK CONE ANTENNA (SM5DCO)
http://www.qsl.net/sm5dco/cc-coil.html
W0KPH, Jack (many early versions, very  interesting – molte versioni iniziali, assai interessante)
THE EH DIPOLE ANTENNA, by Lloyd Butler VK5BR (a valid experimenter, with much more interesting articles – un validissimo sperimentatore, con molti altri articoli interessanti) 
http://www.qsl.net/vk5br/EHAntennaTheory.htm
EH ANTENNA SYSTEMS, by Ted Hart W5QJR (EH Antenna inventor – inventore dell'Antenna EH)
ARNO ELETTRONICA (by Marco and Julie – production and selling of EH Antennas - produzione e commercializzazione delle Antenne EH)
http://www.arnoelettronica.com/
ANTENNA EH 160 mt., by Talino IZ7ATH
http://www.qsl.net/iz7ath/web/02_brew/18_eh/index_ita.htm
ZIPPIRO the zipped antenna, by Nino IZ7DJR
http://www.qsl.net/iz7djr/ehc.htm
antenneX
Magnetic Loop Antennas for HF & Above, by Brian W2BRI
http://www.standpipe.com/w2bri/
The Cross Field Antenna
http://www.geocities.com/gw0tqm/magloop/magxfld.htm
TransMaxwellian Physics
http://www.geocities.com/bibhasde/radiocomm.html
EH-ANTENNA LINKS
http://web.telia.com/~u85910238/links_part_1.htm
EH antenna Yahoo group (in lingua inglese)
http://groups.yahoo.com/group/eh-antenna/join
Antenna EH di Remo, IM0JZJ su Radio Rivista 3/2003
EH in 20 metri, di W.Favaro I2BWK su Radio Rivista 7-8/2003
Ancora sulle EH, di W.Favaro I2BWK su Radio Rivista 6/2004 (also with some practical and original methods to measure the intensity of the fields – con alcuni originali suggerimenti pratici per la misura dell'intensità dei campi)
Misura della resistenza di radiazione di una EH-ANTENNA, di E. Sbarbati I4SBX su RadioKit Elettronica  12/2003
Parliamo delle EH – Esperienze pratiche di uso, di E. Sbarbati I4SBX su Radio Rivista 6/2004 (pag. 33)
Also, by E. Sbarbati I4SBX :
http://www.ari-bo.it/pdf/I4SBXs_EH-Antenna.PDF
http://www.ari-bo.it/pdf/Rr_EH_Ant.pdf
Experiments are still in progress ; as ever, in HAM radio ! For this reason, site is always under construction and updating.
Prove ancora in corso ; come sempre, del resto, nel mondo radioamatoriale ! Per tale motivo il sito è costantemente in fase di costruzione ed aggiornamento.
The author is also grateful to the Readers for any comments and/or criticism. – L'autore ringrazia inoltre i Lettori per ogni commento e/o critica.
In case of any doubt or missing parts, please feel free to e-mail the author.
Per eventuali dubbi o parti mancanti, prego inviarmi una e-mail.
 Jan 12, 2006
Previous ver. - Jul 03, 2002