---
The Pantelleria Multi/Multi Contest team was first founded by K7FL Dennis, WA7EQW Mark and IT9WPO Marco. Soon joined the group the technical champs ZS6NW Jan and IT9BLB Joe. The group grow up with the other fine operators from 4 countries and after one year of preparation the first effort (1998 CQWWDX SSB) was a success.
On 1999 with the addition of other world class operators and with few added gear and antennas we tried to achieve a bigger score with our field-day style setup.We are happy for our result: 20% more than in 1998 .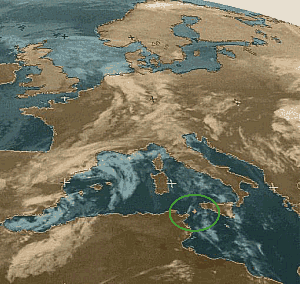 IH9 Pantelleria Island counts: "African Italy - Zone 33" for CQ Magazine's
contests and awards, I.T.U. Zone 37, I.O.T.A. refence AF-018, I.I.A. reference TP-01, W.A.I.P. province TP (Trapani). The island is splitted into two different WW-Locators: JM56 and JM66 and its coordinates are: lon. 11°56'35" E lat. 36°49'46"N
Pantelleria is located in the Sicily's Channel, between Sicily IT9 and Tunisia 3V8. The overall surface area is 83 Km sq with 51.5 Km of perimeter and about 7,500 inhabitants.Pantelleria is 102 km away from Trapani's harbor (Sicily) and 84 Km away from 3V8-land's coast.
The assigned HAM-prefix is "IH9" and, together with Lampedusa's islands group "IG9", it's a separate multiplier for the CQ's contests.
CLICK HERE IF YOU WANT TO SEE A VERY DETAILED MAP


Dennis Ashworth, K7FL: [email protected]
Marco Magnano, IT9WPO: [email protected]
Jan van Niekerk, ZS6NW: [email protected]
"Joe" (Giuseppe) La Parola, IT9BLB: [email protected]
Mark Ward, WA7EQW: [email protected]
"Pat" (Pasquale) Speranza, I8QLS: [email protected]
Martin Huml, OK1FUA/OL5Y: [email protected]
Hank Lonberg, KR7X: [email protected]
Piero Iovino, I8CZW/W1NA: [email protected]
Paolo Noschese, IK8ETA: [email protected]
Chris Burger, ZS6EZ: [email protected]
Pietro Marino, IT9ZGY:[email protected]
"Joe" (Giuseppe) Giunta, IT9VDQ:[email protected]
Dennis Ashworth, K7FL -Team Leader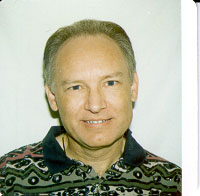 Dennis is 49 years old resides near Vancouver, Washington with his wife (Vivian) and two children
(April 23, Justin 21).. Licensed in 1965, Dennis has held call-signs WA7EQE, WB5AAJ, VK5EQE, and K7FL/R3D, R1A, KP4, KP2, ZL, KH6, VE, OZ, OH2, IT9, FS. He is active in many contests and prefers single operator S & P activities.
He has earned 5BDXCC, 5BWAS and 192/200 5BWAZ, all with wire antennas. His station is currently an Omni VI Plus transceiver and Alpha 91B amplifier.
Professionally, Dennis is a Director for a Fortune 500 company. Look at his web page at http://www.ashworth.org/K7FL

---
Marco Magnano IT9WPO - Team Doctor-Internal Communications Czar,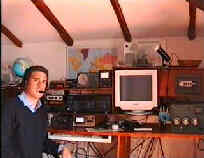 Marco is 39 years old, resident in Catania, Sicily, married to Chiara, no kids.
Licensed in 1975. Active in international contests during the eighties, often in multioperator. Many years in QRT, now again On the Air,
DXCC 245 countries, WPX, WAZ, on the way to 5Bands awards.
Professionally Marco is a doctor, vice chairman of the Radiology department of a large hospital and owner of two private diagnostic centers.
He is the author of this web page-
His webpage at: http://www.qsl.net/it9wpo
---
JAN Van Niekerk ZS6NW - Contest Operations Czar

http://www.primenet.com/~zs6nw/.
Jan is 40, and an electronic engineer. Married to Ilze, he lives in Phoenix, AZ.
He has one daughter, Inge, 4. CQWW (CW & RTTY) awards, WRTC 96 operator.
Favourite modes are CW and RTTY.


---
IT9BLB "Joe" LaParola - Logistics Czar - Czar of Pantelleria - External Communications Czar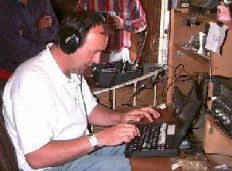 39 years old, lives in Palermo, Sicily, married to Maura (IW9BO) has two children (Eleonora 10 and Anna 4). Home-brewer, BCL and SWL since 1972, Giuseppe was licensed in 1979 as IW9AJZ and started a long period of hard V-U-SHF activity having a lot of experience in the most specialized ways: Meteor Scatter, Moonbounce, duct propagation on 10GHz contacts etc. and organized the first "big V-U-SHF contest team" ever in Sicily, winning all the most important contest of the italian calendar. In 1982 the first activity from IH9 Isl. leading a multioperator team active from 80 meters to 3 cm with the call IH9ONU . In 1984 received the IT9BLB call and continued the contest experience on HF too, obtaining at today several top results at world and EU level in the most important contests; he's still owner of the WPX All-time EU Record on 20 meters S.O.S.B. QRO won in the 1994's PHONE edition .
owner of several calls: IT84BLB, IO9BLB, I9BLB, IQ9W, IB9S, IT9S, IU9S, KF6FBC and operated IP9IARU in 1982 and IG9W (1990's Lampedusa Isl. expedition), from Malta with 9H3DC call and team leader of "ITALY-2" Team in San Francisco's 1996 WRTC using K6F.
He is active in many SSB contests, liking CW too, and prefers single operator and hard pile-up. 313wkd/299cfmd DXCC countries, president of the Palermo's club of A.R.I. and sysop of the local packetcluster node IT9BLB-6. Professionally, Joe is employed at the Sicily's Department of Tourism.

---
IT9VDQ, another Giuseppe or "Joe" is 42, he's married to Fiorella and has a doughter Giulia 8 years old. He lives in Palermo and works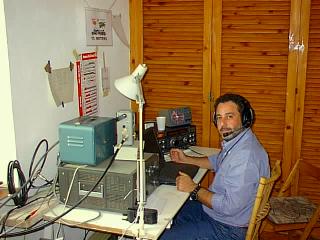 for an american chemical company the Pfizer International.
Ham radio since 1973 with call IW9AFS, became IT9VDQ in 1977, was the Sicilian VHF Manager and actually he's vice president of Sicilian amateur group of A.R.I.
He is very active in VHF, mostly in Meteor Scatter, with 52 DXCC countries worked; in HF he needs only A5 and P5. in CW and has 293
DXCC confirmed countries in SSB.
Very active in main CW contests, Giuseppe was 1th EU/3rd World the '91CQWW-CW on S.O.S.B.10mt. operating as IT9A.
Other calls:IT84VDQ, I90VDQ, IU9V, IT9A, IE9/IT9VDQ, IH9/IT9VDQ, 9H3FI and KF6FDB (WRTC '96 session too).
In the WRTC'96 operated K6F with IT9BLB.
---
Mark is 46 years old and has been licensed since age 13. Dennis, K7FL (then WA7EQE) was one of his very first contacts as a Novice. Mark lives near Portland with Jill and no harmonics are planned. He was actively involved in DX contesting in the late 70's and early 80's. Mark has 241 countries on SSB, mostly with 100 watts and a tri-bander only 10 meters high. He got his PhD in 1980 and is employed by the Veterans Administration as a Clinical Psychologist.
---
MARTIN HUML OK1FUA/OL5Y

Martin is 30 years old, resident in Praha, Czech Republic, maried to Adela, two children (George 2, Hana 6). He has elektrotechnical acquirement.
Licensed in 84 as OL1BLN (160m and VHF only). Active entirely in contests (OL1BLN/P, OK1FUA/P, OK5TOP, OL1A, OL2M, 4U0ITU, now OL5Y). He has worked over 110 thousands QSOs. One of founders Czech Contest Club. He heads Contesting column in czech HAM radio magazine (AMA Magazin). In contests he has many first places in OK and several good places in EU. He prefers SO,CW and SSB. He designes and produces various help-devices for operating in contests.
Professionally, Martin is part-owner and director of four small companies - education, training and personnel agency, software maker, computer services and advertising agency.

---
HANK LONBERG KR7X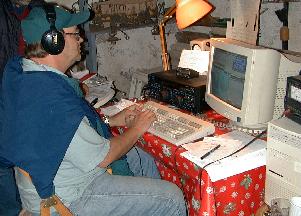 Hank is 52 years old and lives in Beaverton, Oregon near Portland. Married to Karen, two sons; Sam, a chemistry major at the University of Oregon and Bret, a junior at Beaverton High School.
Ham for 4 years and 3 years as an Extra class operator. Hank actively pursues DX and loves to contest. He has operated in every CQWW since I have been licensed and works both SSB and CW. He has almost reached my DXCC with 100 watts and hidden wire antennas in his house's attic. He has operatated CQWW in M/S efforts at K9JF/7's station and in a M/M effort at K7FR's station. Hank is a project manager for a consulting engineering firm and they engineer and design heavy industrial plants. He has a bachelors degree in Civil Engineering and a masters degree in Business Administration. He is a licensed professional structural engineer in 12 states and Canadian provences. He also engineers and designs amateur radio tower installations in his spare time.

---
PASQUALE "PAT" SPERANZA I8QLS Pat is 38 years old, resident in Naples, married to Angela, has two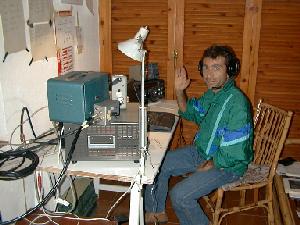 children.Licensed in 1978, at age of 17, he is home-brewer especially of
HF beams and enjoys dxing and contesting if there is something new to test.HF activity : he has 325 countries (only phone)
and don't need QSL or awards; activated many italian islands ; the best memory was a solitaryDX expedition in the Republic
of Benin (Africa TY2LS, 1991, 8000 qso).Sysop of the local DX packet cluster (I8CZW-6).Last contest activity : (CQWW-phone) 1° world assisted 20 mt '96 (all timerecord) , 5° world assisted all bands '95 , 3° world assisted all bands
'94 ,1° EU 10 mt '93 , ARI int. contest 1° '94 , EU sprint 1° '95 , ARRL 2° world assisted '95.Professionaly : Pat is an electronic engineer ,specialized in telecom. ; at present he is employed in a big company of electrified transortations.Salient points : he is a nosmoker, plays tennis and soccer, and ... climbs towers !

---
W1NA Pier Luigi Iovino, age 53 married with Francesca ,one daughter Alessandra (age 18) is a geotechnical engineer and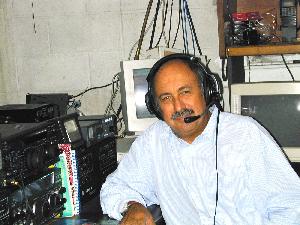 manages the construction division of the largest drilling company in the world. He was first licensed in Italy in 1964 with the call I1CZW. 3He enjoys low band dxing and contesting. He started contesting at the end of the 60s mainly in the arrl ssb (due to his geographical location) he managed to get up to the second world in the multisingle category.In the 70' s and 80's he joined I5NPH and I0MGM multi single team achieving first place in cqww and ARRL phone. In the 90's back to the USA he was part of K1VR, W1KM, W1FJ phone contest teams. In 1993 he was part of EA9UK operation in CQWW phone 1st world and still Africa best score.
He operated from 4S7, TL, G, VP2M, VP2E, PJ, FS, F, KH6, HK, 4X, 5H.
---
IK8ETA Paolo Noschese
Paolo ( IK8ETA) is 37 years old, resident in Salerno (Italy) with his wife and the daughter.
Professionally he is an electronic engineer employed in a big italian company with interests in space telecom in the whole world (recently he has worked on Space Shuttle antennas). He frequently goes to California and Florida.
He is active in many contests and has thousands QSO's.
Recent significant contest activity was the participation in the '98 WPX in the N6RO team from S. Francisco, and the WW / WPX of this years from home QTH or as operator of IR8A team.

---