IT9WPO Island of Sicily

IT9WPO HOME PAGE

Island of Sicily Amateur Radio Station
Contest - DX - VHF - Satellite - EME

---
Marco Magnano

via Pirandello 9
95027 San Gregorio(CT)
---

You are visitor number
since 06/06/97
---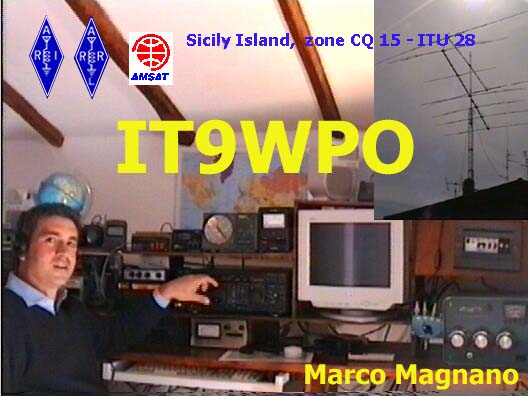 IT9WPO's QSL card
Thank you for visiting my site.
I am IT9WPO, I am 37 years old and I first got my HAM licence on 1976. After many years of QRT I am back again on the air.
ON NEXT UPDATEs YOU'LL FIND MORE PICTURES AND OTHER NEAT STUFF
PERSONAL INFO
I am a doctor, this job keeps me busy for about 9/10 hours a day, so I haven't too much time left for hamming.
My second job is being the husband of Chiara, a terrible non ham girl who asks herself too often what the hell I do all the night long with those strange radios listening to unreadable funny noises.
No kids yet.
OTHER HOBBIES
Sailing, skiing, travelling, riding motorcycle, would like to learn golf.
HAM INFO
HF Equipment
YAESU FT1000MP - ICOM IC706
DSP Timewave 599 - AMPL Heathkit SB220
ANTENNAS HF KLM KT34XA 6 el - 2EL wide spaced 40 meters
GP and dipoles 80/160
VHF AND SATELLITE Equipment
ICOM IC820H- Solid state AMPL - Gaasfet preamp.
VHF ANT. TONNA 17 el.- Shark 20 el.
SAT ANT. Hy GAIN OSCAR LINK
AWARDS AND DXCC SITUATION
DXCC 270 countries contacted
WPX-WAC
Working on WAS, 5BWAS and 5BDXCC

---
CLICK HERE TO WIEW THE PHOTO ALBUM
---
MEMBER OF: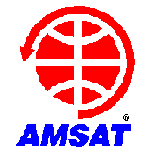 AND SUBSCRIBER TO

---
COMMENTS?INFO REQUEST? SUGGESTIONS? SKEDS ? JUST FOR CHAT?
GIVE A CALL!
DX:

[email protected]


SAT:

[email protected]


BUSINESS:

[email protected]


last review: April 1998