IC8POF's Fan Noise Reducer for any RF amplifier.
but not only .


Idea&Construction: many years ago \ writting ott'06, gen'07.
This project works with fans running on 220vac,

Almost all RF Amplifiers have fans, few are quite, some are noisy , some other are VERY noisy .
Specially when doing lot of swl.ing with the PA in standby.
The solution is very simple : to add a VAC dimmer and a little timer.
The only requirement is that the dimmer must have an external insulated potentiometer.


The PTT input is High in RX and Low in TX.

and can be mounted on a little perf-board .



With the dimmer's potis we choose what the minimum speed will have the fan during RX time and the timer will be set to a delay
of +-1 minute during which tha fan runs at maximum speed and then returns to low speed during RX mode.

The minimum speed is to be monitorized with a digital thermometer to be sure that the temperature stays on low values
even at low fan speeds.

Using a double pole relay, one switch will short the potentiometer contacts for the maximum speed and the second part
of the relay will switch on an indicating led. That is all.
I have tried various dimmer and ended the search with a german model sold by www.conrad.de, its catalog nr. is 130004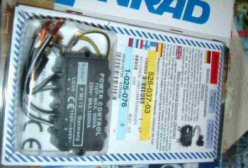 here are some pics showing how i did mount the dimmer into the Commander chassis.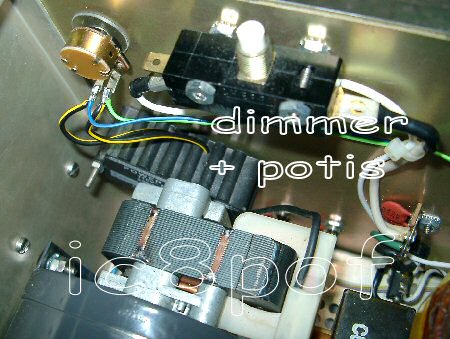 discover the fan wires and insert the dimmer on one of them and the game is ready.

v1.0 - mar2007, dic2011