My wish to activate San Andrés was already some years old but we weren't able to find any travel agencies in Germany, which still had those trips in their programme. Our goal seemed to vanish until we met Bruni Kohlsdorf, a German Lady, who lives in Bogotá. We met her in March 2001 at the "ITB" (International Tourism Fair Berlin) and she had the solution for us. Bruni runs a travel agency in Bogota and she immediately fired up to help us with the flights and the hotel in San Andrés. Short after she returned to Colombia we got an email with all the needed information and we got into the "hot phase" of our preparations.

My friend Mario, HK3WGQ, did not hestitate to apply for a HKØ guest license. With the help of the "Liga Colombiana de Radioaficionados" it was not too difficult. The only difficulty was the mail. I sent the needed documents several times between May and October, but they all disappeared in the "blue".

Maria Teresa Rodriguez, the Secretary of the LCRA, was very helpful.
I sent the license application, the Spanish translation of my German license, copies of my license and passport and the equipment list by email but they needed two original passport size photographs.
Marios emails got more and more urgent so I sent the two pictures by "Messenger". Not even cheap - 70 US $ !!! One day before we left Berlin my redeeming angel Maria Teresa sent the long awaited email - I was HKØGU !!! Oomph !
We arrived in Bogotá November 8 where we spent four days. We met my friend Mario several times and visited Maria Teresa.
During those four days we took a sightseeing tour and were robbed on open road the last morning before we left. We lost about 300 US $ and missed our plane to San Andrés at 10:00h. So we took the next one at 14:00h. We were happy, that the guys did not hurt us anyway.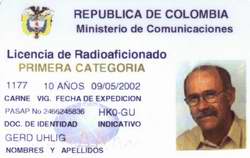 The "Cocoplum Beach Hotel" on San Andrés Island proved to be a hit. Okay - I already had better antenna conditions before, but the hotel is located at the beach and the owner Luz Milena Diaz has a big heart for their guests - hams included.
The guys of 5KØZ, who stayed at the same hotel a few months later, will surely agree.
The neighbour allowed them to erect their antennas on his property.
I erected my antenna, a HF9VX Butternut ground plane, only about 8 meters from the shore on the other side of the Hotel.
I was QRV mostly on CW and RTTY - like I always do.
Finally I had 11.110 QSOs in my log.


We made a second trip in spring 2002 because my wife had to change her job suddenly and had to take her vacation. There was not enough time for any license application for another Caribbean island. Because my Colombian license is valid for 10 years I didn't have to think twice and my XYL agreed. We stayed again at "Cocoplum Beach Hotel".
During Easter we visited the neighbour island Providencia.
The side trip to Providencia Island was successful too. Our Hotel "Deep Blue" was located on the East coast of that mountainous island on the slope of a high hill and an excellent DX spot with a free "shot" from Europe via the USA to Japan.
The only problem was that there is not enough space for wire antennas because of the thick wood on the slope, but sufficient for my Butternut ground plane.
Roberto, EA4DX, who was QRV from the same Hotel August 2002 found enough space for his three element junior beam.
Providencia Island, IOTA NA-049, is more rare in IOTA hunter bosoms as San Andrés, because it was activated more seldom. I realize this already after a few minutes. Huge pile ups from the first minutes until we leave the island the fourth day with 3680 QSOs in my log book.
In the early morning hours I had good openings on 20m into all directions. USA, Japan and Europe were heard with S9 signals. Because we were very busy during the days with snorkeling or sightseeing and the lower bands were opening around 03:00z (21:00 local time) I hade not much time to sleep. I think, I did not sleep much more than 10 hours within those four days. The last night was really hard! I had to struggle against my drowsiness.
Sometimes I fell into sleep - I only hope that I don't have too many mistakes in my log !!!
We were so positively surprised of the beauty and tranquility of Providencia Island that we decided, to come here again.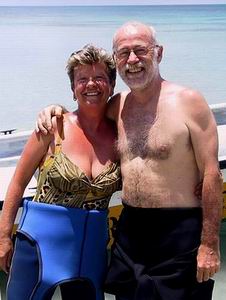 Our third trip to HKØ land on occasion of our Silver Wedding took place in March/April 2004.
I was QRV from Isla Palma (SA-078) as HKØGU/1 March 15 until March 18 with 3.877 QSOs and from Providencia Island (NA-049) as HKØGU March 19 until April 5 with 11.237 QSOs in my logs.
On our way to the islands we met Pedro, HK3JJH, and his XYL Cecilia in their flat in Bogotá. Pedro is probably one of the most active Colombian hams and everybody knows him for his DXpeditions to Malpelo and many rare IOTA groups in the Caribbean or Pacific area.
Pedro and I decided to do an IOTA expedition together once in a while when we return to HK land again.
After our four-days-trip to Isla Palma we had to stay for a day in Cartagena in the north of Colombia and met Pedro, HK1X (ex HK1HHX). He is a wellknown DXer and contester as well and will be on the air next time with new antenna and sophisticated equipment. He invited me to take part in any important contest from his "shack" during one of our next trips.
The next day we met our good old friend Abel, HKØVGJ, during a short transit stop at San Andrés Airport. We hope that he has recovered from the health problems he had.
The same evening (March 19) started my main DXpedition to Providencia Island. I was mostly QRV during the nights. The conditions were fair for this time of the sun cycle.
The antenna worked fine even on 80m, though it is a little short for that band.
I have more than 900 QSOs on 80m in my log.
The breakdown is listed below in the statistics.
We celebrated our 25th wedding anniversary with friends in the "Deep Blue" with a delicious meal and a good bottle of wine (and with some QSOs too).

In November 2006 we made our fourth DXpedition to celebrate my 60th birthday.
This time we went to another semi rare IOTA group, SA-040, for five days.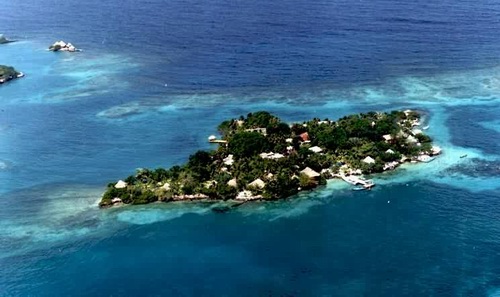 On our way to Isla del Pirata we met Pedro, HK3JJH, in Bogotá for the second time.
Isla Pirata is a very tiny private islet of about 21.000 square feet size.
The staff was very friendly and helpful.
My log shows 3.587 QSOs.
After those relatively tranquil and relaxing five days we stopped again in Cartagena, where we met Pedro, HK1X, and his XYL ... again.
The next morning we took the plane to San Andrés, where Abel, HKØVGJ, and his XYL Edilma already waited for us at the airport.
After a few hours we left them and took our island hopper to Providencia Island.
We had beautiful weather.
It was already getting dark when I erected my HF9V with Betito's help and I didn't have to call long to cause the first pileup.
In the early afternoon of the second day my XYL and I erected the 160-m-aerial, a 12m-"fishing rod"-pole for an "Inverted L" when the weather changed from one minute to another.
We had huge storms and a lot of rain with just a few short sunny periods until we left December 2. The 160-m-antenna did not survive the first ten minutes. It went down into the wood and we weren't able to get it up again until the storm calmed down a bit the fourth day.
From Providencia Island I worked for the first time on 160m and made 1468 QSOs, most of them of course with US stations.
I was really surprised that condx were so good on the low bands that I was able to set a new personal record with 18.597 QSOs for the whole DXpedition. And I made 4268 QSOs in CQWW CW. I never reached such a number of QSOs in any contest before with my minimalistic rig.

We will be back in HKØ land in November on our 5th trip to San Andrés Island with a 4 days sidetrip to Isla Pirata (SA-040).