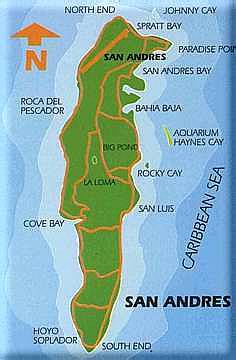 Our first vacation trip to San Andrés Island took place in November 2001. First I thought, that it should be very hard to get a guest license for these Colombian islands, because nobody can say that the islands are overcrowded with hams. But I was surprised how easy it was.

On our way to San Andrés we stayed four days in Bogotá and visited my friend Mario, HK3WGQ, whom I know from countless contest QSOs during the past years. He had helped me very much with my guest license.
Then we left, heading San Andrés.

San Andrés is a rather small island, about 8 miles long and 2 miles wide. It takes only about an hour to surround the island by bus.
The highest elevation is about 60 yards.
We arrived there in pouring rain. Streets and places seemed to transform into rivers and lakes. At the airport we "embarked" a Taxi to the "Cocoplum", a small familar hotel at the beach in San Luis, a few miles south of the Capitol City San Andrés and away from the big tourist fortresses on the north edge of the island.
I erected and adjusted my Butternut HF9V in the still pouring rain.
Unfortunately the rain continued the next two weeks with very few periods of sunshine. Okay, I had a nice alibi to play a little more with my radio as I usually do but after a while I wished the rain would stop because we wanted to see more of the island than our hotel. And it was really no fun to come back from every walk like wet cats.
There are some places of interest like Johnny Cay, El acuario, Hoyo Soplador, Morgan's cave, the Baptist Church of La Loma, the Lagoon, nice beaches and beautiful coral reefs (and for the Ladies: not to forget - lots of good shopping opportunities. San Andrés is a free trade zone).
On our first HKØ-DXpedition I made 11.110 QSOs.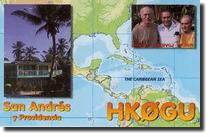 In April 2002 my XYL Erika had to change her job rather suddenly and take her vacation in March so "we" decided to go back to San Andrés again. Because I would not get a guest license for any other island quick enough (my HKØGU license is valid for 10 years) and we wanted to go back to San Andrés in better weather conditions it was not too hard to get "permission" from my wife for another DXpedition to HKØ land. And we had luck. The weather was beautiful all three weeks long.
We stayed again at the hotel "Cocoplum" and had the same room with ocean view.
Normally there are not more than 10 to 20 guests but than came Easter and the Hotel was fully booked. A good opportunity to make a four-days-sidetrip to Providencia Island.

Click here to read our travel report about San Andrés. There are also more pictures.