HamScope
Amateur Radio Digital Communications Interface
Version 1.56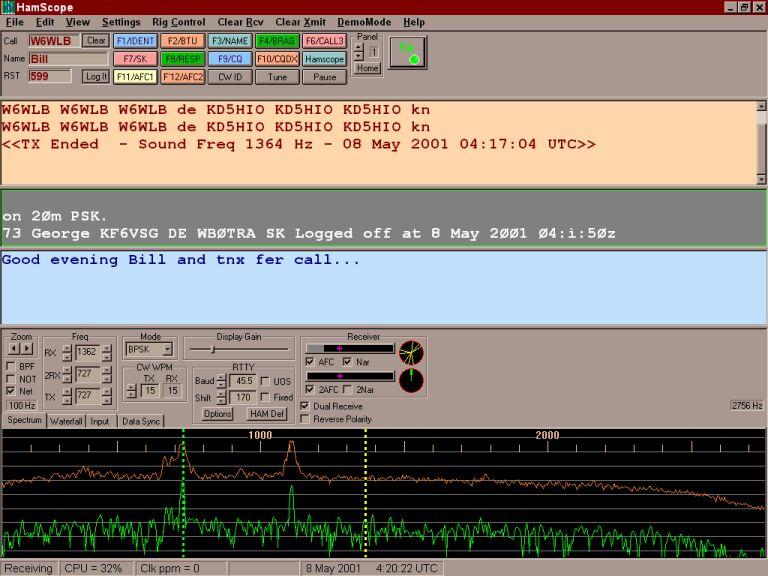 HamScope is a multi-mode communications interface for amateur radio that supports:
PSK31 (BPSK and QPSK, see PSK31 Home Page )
RTTY (HamScope uses Makoto Mori's MMTTY Engine)
ASCII (both 7 bit and 8 bit protocols using MMTTY)
MFSK16 (see MFSK16 Home Page )
PACKET (HamScope uses George Rossopoulos' AGWPE Engine)

CW
Hamscope also offers an advanced user interface with a multitude of features to provide optimal control and
convenience during operation:
a wide, multifunction panoramic display
a radio control interface for several ICOM, TenTec, Kenwood, and Yaesu transceivers
42 user-programmable macro buttons
user definable function key mappings
HamScope has added data links to several logging and/or radio control programs:

HamScope also supplies a DDE server for users who wish to connect to the program

HamScope is designed to run under Windows 98 and NT, and requires a 133 MHz Pentium-class or better machine. 16 bit SVGA color (or greater) is necessary for the panoramic waterfall display to function correctly. Users have reported that HamScope generally works fine on Windows 95, ME, XP, 2000, and perhaps others. I will not promise this, as I cannot test it across all systems of interest. If you run Win 95, you will likely have to install Microsoft patches (Year 2000 fix and the OLE patch, as a minimum), to get it to work. Please visit the AXCEL216 web page for more info on Win 95 and OLE patches.
Windows XP and Newer:
HamScope seems to work on Windows XP at some reasonable level, although it is not tested or supported on XP. There may be remaining issues with saving window size settings and some users report occasional problems with communications with the MMTTY RTTY engine. Support for Windows Vista and newer variants is not planned at this time.
Program Installation
The program consists of a single executable file "HamScope.exe." This file can be placed anywhere, but it is probably best to create a new folder (directory) for it ( C:\HamScope\ for example). If online help is desired, the files "HamScope.hlp" and "HamScope.cnt" should also be in the same directory. Simply unzip the HamScopev156.zip file in your chosen directory to perform the default installation, or run the self-extracting HamScopev156.exe file. If you wish to use RTTY and ASCII modes in HamScope, you must also download JE3HHT's MMTTY RTTY Engine , and copy the mmtty.exe file to the HamScope folder you created. Also, to use either HF or VHF PACKET, you must download and configure SV2AGW's AGWPE Engine in the HamScope install folder. Please see the Sound Card Packet Site, by Ralph Milnes KC2RLM, for more info on packet operation using AGWPE and HamScope.

Once the program has been run once, it creates a "HamScope.ini" file in the Windows directory (usually C:\Windows). MMTTY also creates a couple of files to store its settings, if you use RTTY. Likewise, AGWPE creates files to store its settings and configuration parameters. These files store the current user program settings each time the program exits. Windows will also create a few other files if Help is used.
Download HamScope
Download English help files (HamScope v1.5 zip file archive)

Download Spanish help files (HamScope v1.4 zip file archive). Thank you Antonio EA1MV for your translation.

Download Italian help files (HamScope v1.4 zip file archive). Thank you Edoardo I5PAC and Antonio EA1MV for this translation.

Download HamScope v1.56 binary (zip file archive)

Download HamScope v1.55 binary (zip file archive)

Download the MMTTY RTTY Engine (required if you use RTTY in HamScope)

HamScope Technical Specifications for older versions of HamScope
HamScope Support Group on Yahoo Groups
Hamscope Home Page on Yahoo Groups
Subscribe to HamScope Group via Yahoo
Unsubscribe to HamScope Group via Yahoo
Email Owner of HamScope Group on Yahoo Groups
HamScope Mirror Site (Thanks to West Mountain Radio for hosting the HamScope mirror site!)
Download English help files (HamScope v1.54 zip file archive)

Download Spanish help files (HamScope v1.4 zip file archive). Thank you Antonio EA1MV for your translation.

Download Italian help files (HamScope v1.4 zip file archive). Thank you Edoardo I5PAC and Antonio EA1MV for this translation.

Download HamScope (zip file archive)

HamScope Technical Specifications for older versions of HamScope
Other Digital Links
HamScope Revision History
v1.56 (3/20/07) Update of version 1.55 functionality (primarily bug fixes)
fixed bug with MTTY engine hanging program
eliminated HamScope.ini file in system directory. Moved all configuration data to the registry under HKEY_CURRENT_USER\Software\ to support some use of the program under Windows XP.
fixed several more bugs and further refined the general program operation
v1.55 (3/28/05) Minor update of version 1.54 functionality (primarily bug fixes)
fixed some bugs in function key operation
repaired problems in packet operation on faster computers
fixed several more bugs and further refined the general program operation
v1.54 (1/2/04) Minor update of version 1.53 functionality (primarily bug fixes)
fixed crashes in Windows ME
fixed several more bugs and further refined the general program operation
v1.53 (10/18/03) Minor update of version 1.52 functionality (primarily bug fixes)
fixed bug in bandpass and notch filters
fixed distortion in waterfall display on some systems
fixed issue in fft algorithms that caused crashes on some systems
added MODE field and support for DXBase 2004
default waterfall display to low-contrast (linear colormap index)
moved high-contrast (non-linear colormap index) selection option to General Settings window
fixed several more bugs and further refined the general program operation
v1.52 (9/30/03) Minor update of version 1.51 functionality (primarily bug fixes)
fixed occasional crashing problem when windows were resized
added generic ICOM radio control interface with hex base address entry
reworked waterfall display for higher resolution, changed default colormap
fixed bugs in DXBase logging interface, and in writing ADIF files
fixed bugs in TRX-Manager interface, and in LOGic 6 link
added callsign lookup feature with LOGic 6
fixed several more bugs and further refined the general program operation
v1.51 (7/02/02) Minor update of version 1.5 functionality
added log frequency feature in TRX-Manager link
new two-way DDE interface to RYLogit (using RYLogit ver 4.01 or later)

selection of single receive channel "hides" second receive window
modifications of receive window text colors also updates cursor colors

fixed several bugs and further refined the general program operation
v1.5 (4/20/02) Update of version 1.4 functionality
added data links to several additional logging/radio control programs
added PACKET mode using the AGWPE packet engine

refined waterfall/spectrum display quality
added support for custom waterfall colormaps
added additional radio control options for native HamScope radio control
provided more flexibility in configuring serial ports for various interfaces and radios
fixed several bugs, further refined the general program operation, removed extraneous and unused features
v1.4 (7/8/01) Major update of version 1.3 functionality
added dual receive
added HamScope DDE server
added bandpass and notch filters
added additional radio control options
added hard-keying using DTR for CW, direct FSK using the MMTTY engine
changed and added several display enhancements and macro features
updated storing program settings
many new features
fixed another set of bugs, including the RTTY buffer sync issue
v1.3 (3/18/01) Major update of version 1.21 functionality
added COM ports to provide a total of 8
removed suboptimal modes and features
added MMTTY RTTY engine
added support for multiple soundcards
increased waterfall resolution
updated AFC algorithms, added AFC bounds control
added RST edit control and macro
moved "Use LSB" to main window, renamed to "Reverse polarity"
added support for additional ICOM, TenTec, Kenwood, and Yaesu radios
added "Always on Top" button to general setup
fixed display sizing bug
fixed slash-0 bug
fixed a multitude of other bugs and oversights based on user observations
v1.21 (1/1/01) Original version