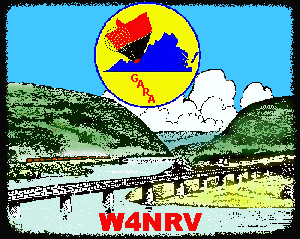 Giles Amateur Radio Association, Inc.
PO Box 555
Rich Creek, VA 24147-0555
Serving Giles County and 37
miles of the New River Valley
NEW!!! Area Repeater Lists
JOIN GARA!!! Download our application form
We support ARES/RACES and SKYWARN
The Giles Amateur Radio Association, Inc., was founded on 10 May 1992, an outgrowth of the Dismal Peak Repeater Society, Inc., which was incorporated on 9 February 1988. All hams are always welcome to visit this WebSite to find out more about amateur radio in our area.
The club helps to support the systems on Dismal Peak. 147.135 Mhz (+600), 100.0 Hz Subaudible Tone, belongs to Tom Mallory, N4AZJ. The repeater is located southwest of Pearisburg, Virginia. This repeater and others shown in the chart below are co-located in a site which belongs to the Dismal Peak Amateur Radio Society, Inc. DPARS members include W4VT, N4AZJ, KE4JYN, KQ4Q, KD4BNQ, and KD4QDM.
The GARA meets every third Monday at the Narrows Town Hall on Center Street at 7:00 p.m. Both ham radio operators and the general public are invited to attend. Please call or email a club officer for information on upcoming programs and activities.
Check this page often. We are constantly changing its appearance to make it better.
Dismal peak radio systems:
| | | |
| --- | --- | --- |
| N4AZJ | 147.135 -600 KHz | CTCSS 100.0 Hz |
| N4AZJ | 444.975 +5.0 MHz | CTCSS 103.5 Hz |
| KQ4Q | 224.860 -1.6 MHz | CTCSS 103.5 Hz |
| KE4JYN | 53.47 - 1.0 MHz | CTCSS 107.2 Hz |
Node
145.01
DPK
Node
144.93
DPK93
Mailbox
144.93
BNQBBS
D.A.R.E.N. Node
145.69
GILEVA
D.A.R.E.N. Mailbox
145.69
PBRGVA
The Dismal Peak site also contains a high speed
440 MHz message forwarding node.
<! begin amateur radio ring code>
Find out about Bluefield at the
online




Take your pick. Both work fine on this site.
This site was last updated November 27, 1999
Web Site Copyright © 1999 - Giles Amateur Radio Association, Inc. - All Rights Reserved

Visits since September 14, 1999:

FastCounter by LinkExchange