In the very early days of the 70's operation was from GM land. Here we have GM8BKE (with hair!) pictured with the late Tom GM3DXJ (standing) and Mike GM8HBU on Eaglesham moor south of Glasgow. The gear is wideband 10Ghz and no doubt we were pondering as to where we were in the band!
The summer months occasionally see decent days when one can operate /P on the microwave bands!
Portable Activities over the years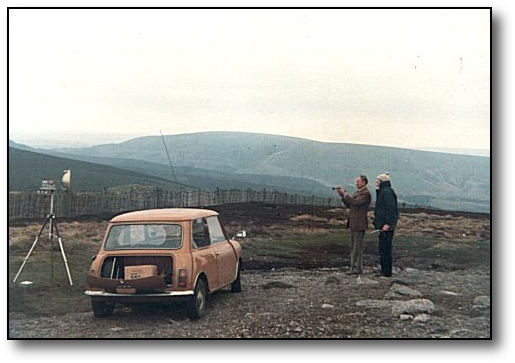 GM8BKE (in woolly hat) with the late GM3FYB at Cairn o' Mounth near Aberdeen, for our first 3cms 150km wideband contact.
GM3DXJ and GM3OXX setting up on 3cms at Luce Bay for super-refraction tests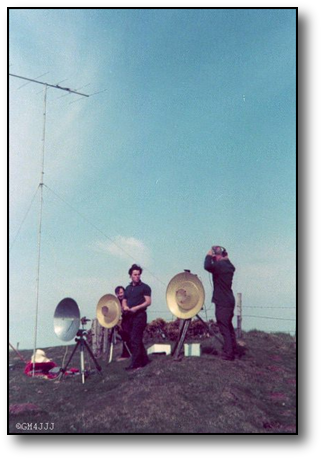 GM4JJJ (?), GM3OXX and GM3DXJ at a 3cms portable location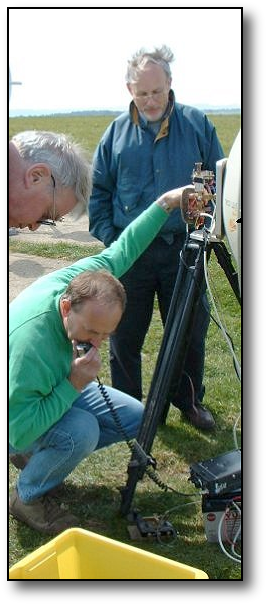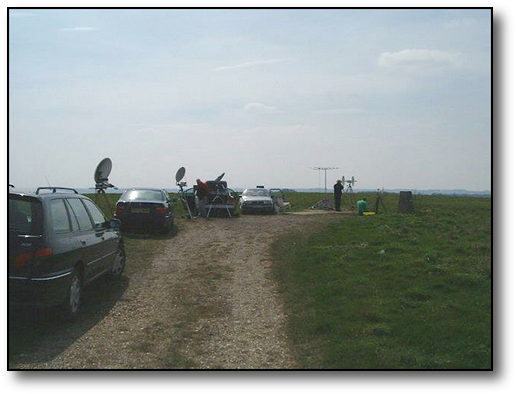 These photo's show the late G3PYB, G4LDR and myself operating from Walbury Hill in Hants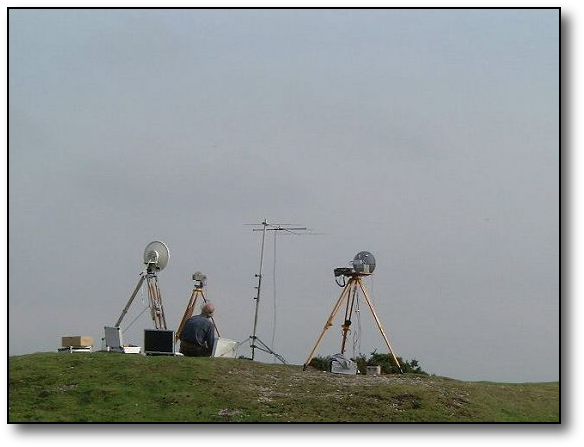 G8ACE and G8BKE operating from Hardys Monument in Dorset
Operation on 47 & 76GHz from Tog Hill near Bristol to G3FYX at home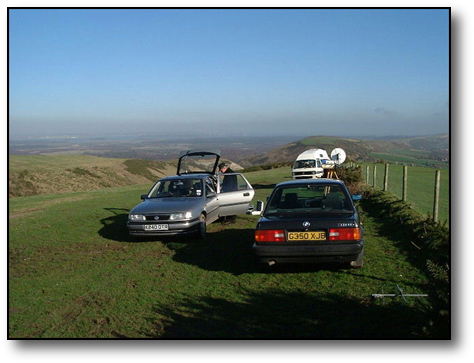 In a rather boggy field at the The Ridgeway in Dorset with G8ACE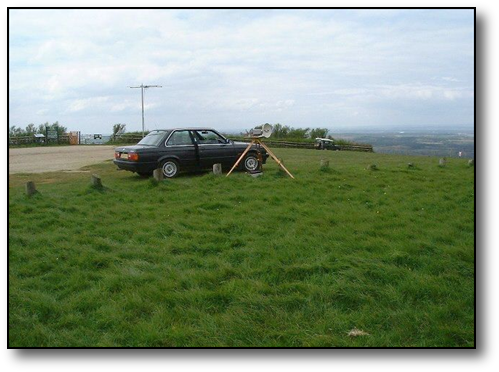 Povington Car Park in Dorset, being watched over by the ranger in his Land Rover.
More 10GHz portable operation in GM land near Kilsyth..
More recent shots here from Walbury during the mm contest in 2005:-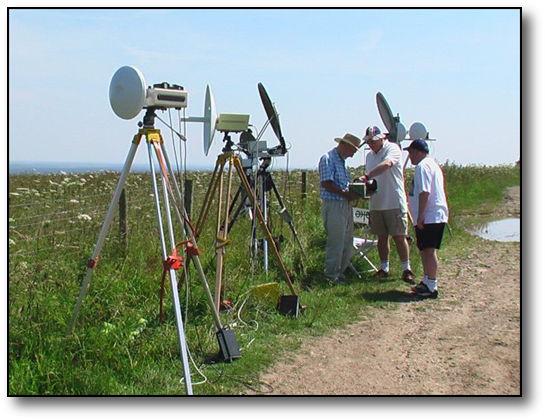 G8BKE and the late G3PYB discuss tactics, while the late Dave G0RRJ listens for the huge pile up of stations on 24GHz.....
".......but you left this part out " says Peter......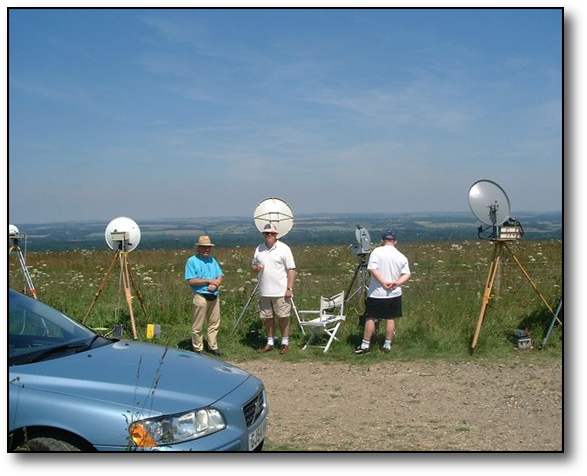 G8ACE, and silent keys G3PYB and G0RRJ ready for action............?
Talking strategy.......or a break for coffee?!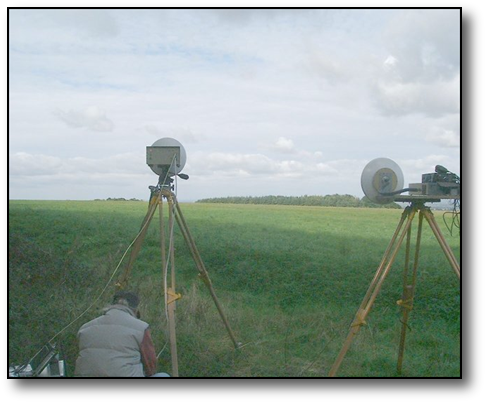 G8BKE and G8ACE operating from a cold Fore Down to Cleeve Common on 24 & 47Ghz in September 2005. Are those trees on the path?
G3FYX/P working G3PHO/P from Tog Hill
G8BKE and Mike G0JMI on 47GHz at Deadman's Hill in the New Forest looking for the Bell Hill beacon audible there.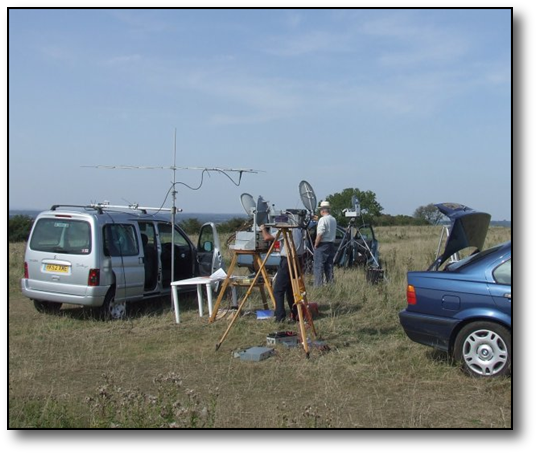 Portable for 24 & 47Ghz on Butser hill in September 2006 with G8VOI and G3PYB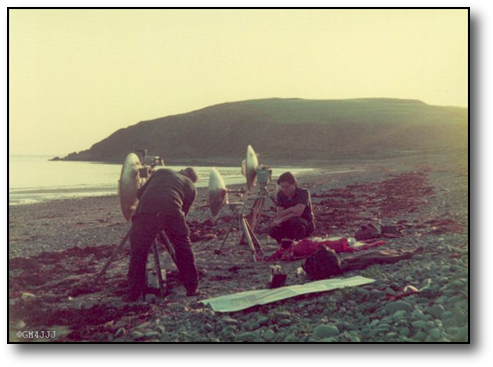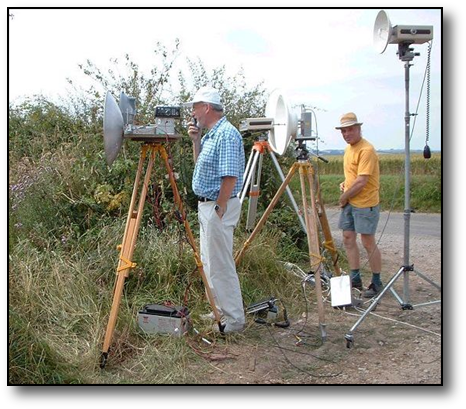 G8BKE & G8ACE Portable at the Walbury PMR site with 47 & 76GHz kit