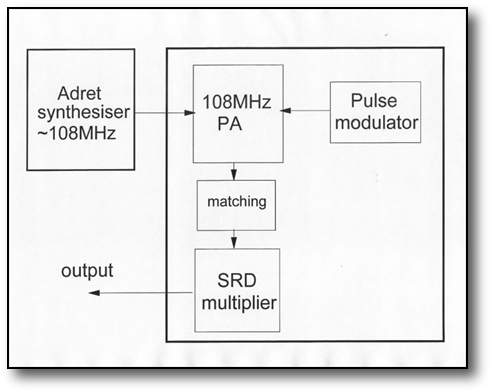 Versatile frequency markers for use up to 76GHz
This unit has proved an invaluable test aid both for producing test signals in each microwave band and also making available frequency accurate signals, with which to set up converter LO's. It uses a commercial frequency synthesiser (Adret) and a step recovery diode (SRD) driven in the 106 to 108MHz region to produce a comb output of frequencies up to at least 47GHz. The diagram on the right shows the arrangement
A highly accurate frequency source, the Adret 5104, tunes the range 90 to 120MHz in 1Hz steps and is used to drive an ex-PMR Pye Westminster PA stage (often obtainable from Garex) to about 1.5W output, in the region of 106-108MHz.. Other ex PMR "low band" PA's would no doubt be suitable or even one of the BGY type of PA modules often seen surplus. Frequencies other than those in the 106-108MHz range could be used; it just happened that the PA was centered on this frequency! However using a lower frequency will mean a higher order multiplication with a consequent increase in phase noise
Drive from the Adret is ~ +6dBm. This then drives an SRD multiplier in a very short piece of WG16. The diode in use is an ITT VSE43M, but no doubt other types could be used. Scrap "brick" PLO oscillators often available at rallies are useful sources for these. (A similar multiplier is shown in the RSGB Microwave Handbook Volume 3 pages 18.38 and 18.39).
To attain a good match to the diode a resistive pad is provided at the multiplier input, as well as capacitance matching via variable trimmers. In order to positively identify the signal the dc supply to the final PA transistor is pulsed on and off at a 1 second rate via a simple CMOS oscillator circuit and a power transistor.
The Adret shown left, which is often available on the surplus market, has an internal 5MHz OCXO as a standard and incorporates a vernier frequency trim on the rear. If a GPS disciplined 5MHz source is available a suitable 5MHz receiver such as a scanner can be used to zero beat the two sources together and thus "pull" the Adret on a true 5MHz frequency. Or of course a GPS disciplined 5MHz source can be used to drive a counter and the 5MHz within the Adret monitored and set via the counter. The Adret via its rear panel socket also has the capability of being driven by an external 5MHz standard source.
The unit is shown on the left is mounted in a standard die-cast box, which also doubles as a heatsink for the PA and the whole unit runs off 12-13V suppy.
The source with the Adret set to 108.3248MHz easily produces a test signal at 24048.1MHz with the source in the shack and the receiver some tens of meters away, using a 20dB horn. On the lower bands the signal is even better of course, e.g. with the Adret set to 106.2531MHz a very respectable signal at 3400.1MHz is produced.
On 47Ghz a signal has been heard at about <2 meters from the source and on 76Ghz a signal is detectable at 1/4 meter or less, but this is only identifiable as a "mush" due to the phase noise of the Adret being excessive.
Other synthesisers are no doubt usable too, (e.g Racal / Wavetek) although their phase noise spec. should be checked before trying to use them, especially at the high multiplication factors.
The phase noise of the Adret in a 1 Hz bandwidth is specified as:-
-102dB at 300Hz from carrier
-112dB at 1KHz from carrier
-120dB at 10kHz from carrier
-125dB at 100k Hz from carrier

Frequency stability is quoted as:-
2 parts in 10 -8 per day
A Schottky Diode frequency marker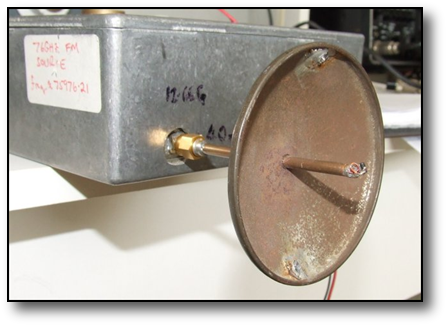 Also very useful for producing signals up to at least 76GHz is a piece of test gear attributable to G3PYB and G8ACE. Its a piece of 0.141semi rigid cable pushed thro' the base from an aerosol can (the rust is not mandatory!). On the end of the coaxial cable is soldered a cheap Schottky diode type HSMS -2850 mounted between inner and outer and in parallel with a dc return in the shape of 2 turns of 30 SWG wire. Driven with 12Ghz crystal controlled source at ~40mW a very big signal is produced in a 76G receiver at about 20meters away. Other high frequency diodes have been tried e.g. from old LNB's etc and also been found to work well.