| | |
| --- | --- |
| G3VGR | SAAR-HUNSRÜCK-STEIG Weiskirchen - Grimburgerhof |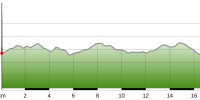 It was another grey, chilly morning as I made my way back through the town to rejoin the trail and I was back in the woods again for most of the day. I started on a narrow, secluded path in the Wahnbachtal. This area is a Naturschutzgebiet, so has been left completely wild. I crossed a bridge into some dense woods and it started to rain, however it didn't last too long. Then started a long ascent along a forestry road until turning onto a narrow path alongside another stream. This had been dammed in places as I passed 3 small ponds. This pleasant morning completed after exiting the forest near the village of Reidelbach into a field with many wild lupins. It started to rain again, so I made my lunch by a small chapel. After lunch, I found the trail ahead had been closed due to logging in the forest. No detour signs were apparent, but two foresters in a parked van at the closure point helped me to map a route to avoid the danger area. The first part of the detour was to walk along the main road for almost a kilometre towards Wadrill. This was quite dangerous as I had to keep jumping off the road to avoid being run down by oncoming traffic. Relief arrived when I reached a forestry road on the left and turned off the highway.
After another kilometer, I rejoined the SHS deep in the forest. Not only had it stopped raining, the sun had come out and it was very enjoyable trekking up the trail with shadows from the leaves on the trees creating intricate dancing shadows on the ground before my feet. After a long slog uphill on a forestry road, I crossed a main road and arrived at the Hochwaldalm, where I enjoyed the wide panoramic views across the Wadrilltal whilst partaking of a couple of hefeweizens. From the alm, the trail went in a large circle around the fenced meadow until I was almost back where I started. After one last look at the view over the valley, I turned into the woods and followed a muddy, narrow path for the last 3Km down a side valley of the Wadrill. At the bottom,I crossed the stream and walked up through woods to the impressive Burg Grimburg. I was their only visitor and enjoyed the solitude whilst exploring the ruins. The view from the top of the tower was superb. I could see far and wide in to the Wadrilltal. From the castle, it was a short walk downhill to the Gasthaus-Pension Grimburgerhof, my accommodation for the night. The Grimburgerhof was a homely place and most of the guests seemed to be on "Wandern ohne Gepäck" hiking tours.
| | |
| --- | --- |
| View of Weiskirchen across Kurpark | In the Wahnbachtal |
| In the Wahnbachtal | In the Wahnbachtal |
| In the Wahnbachtal | Fields at Reidelbach |
| The little chapel at Reidelbach | Access to the trail is closed |
| Fantastic light seen while making the detour | Back in the forest after the detour |
| Pond near Reidelbach | Enjoying a Hefeweizen at Hochwald Alm |
| Panorama from Hochwald Alm | Trail leading down side valley to Grimburger Hof |
| Burg Grimburg | View over Wadrilltal from Burg Grimburg's Tower |
---