| | | | | | |
| --- | --- | --- | --- | --- | --- |
| | | | | | |
| Stockport | Los Angeles | Toronto | Moscow | Tokyo | Sydney |

My name is Kevin Lloyd and live in the town of Stockport which is approximately 7 miles south of the City of Manchester in the North West of England, I gained my amateur radio 'Class B' licence in 1984 using the call sign G1EVP, my first rig was a Trio 9130 which only gave me FM but later upgraded to a Yaesu FT-290 which gave me the ability to work SSB with which I had many contacts both in the UK and Europe, in the coming years I worked in different modes of operation including Slow Scan and Fast Scan Television, then in 1988 I decided it was time to learn morse code, I eventually sat the morse examination at 12 wpm in 1989 and after the third attempt I gained my 'Class A' licence with the call sign G0JNH, I then bought a Yaesu Ft-707 from a friend and using a G5RV I was able to work much farther afield, my present HF transceiver is an Icom IC-706MKIIG and a Cobweb antenna which has given me even greater operating distances and the chance to work /M.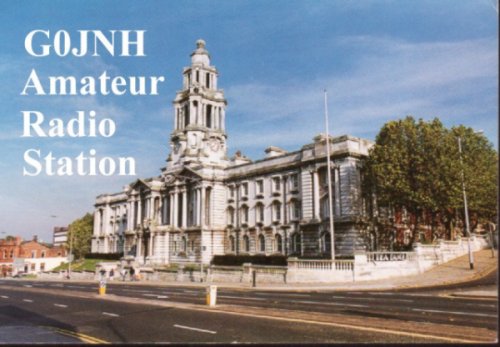 A copy of my QSL card showing Stockport Town Hall

To Stockport Radio Society pages ......
To R.S.G.B. pages ......
To the Halton ARC pages ......
To RAC pages ......
To the Links pages ......
Total hits to these pages