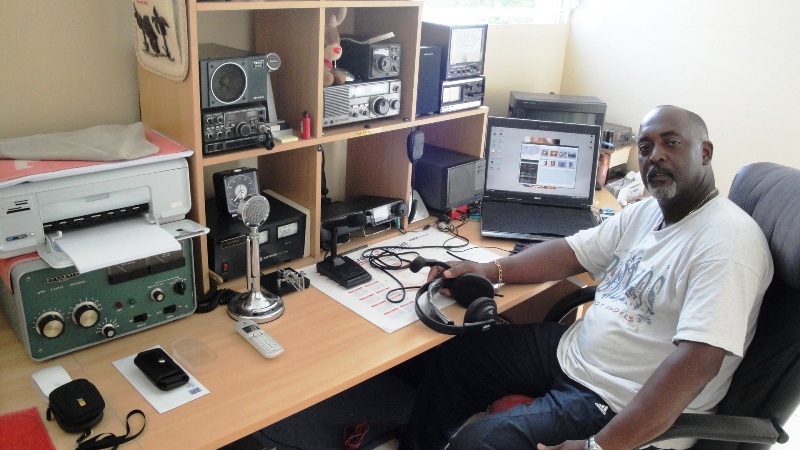 Hello everyone am passioned of Slow Scan Television, and I traffic in this moment with a rig blaster for SSTV.
I am using EASYPAL, MMSSTV,Mix Win, MMTTY, and LOGGER32. This new fashion of transmissions is enthralling and that enables me to approach all the other radio amateurs of the whole world. I have used these systems .
and I am interment satisfied with the Digitals modes TX/RX IC 7000 HF/ 50 MHZ
DESKTOP MICROPHONE SM-20
SILVER EAGLE MICROPHONE
HEADSET MICROPHONE HEIL PRO SET PLUS
A RIG BLASTER PLUG AND PLAY FOR DIGITAL MODES
AUTOMATIC TUNER ANTENNA AT 180
EXTERNAL SPEAKER SP-20
REICEIVER KENWOOD R-600
TX/RX 2M ALL MODE TRANSCEIVER KENWOOD TR 9000
MICROPHONE UNIDIRECTIONAL YD-844 A
SYSTEM BASE KENWOOD BO-9
EXTERNAL SPEAKER IC SP3
EXTERNAL POWER SUPPLY ASTRON RS-35M
HOME MADE AMPLIFIER FOR 6 METERS /2KW
I have a 2 computers, one of them is dedicated for Ham Radio is a COMPUTER ASUS A7V FOR ALL MODES DIGITAL
ASUS A7V the Hard Disk Drive of 200GB for the storage of the received and transmitted images,
And the second Mac Book Pro for my personal pleasure and job,
My antennas are F6GFL for 10,15,20 meters.
HB9CV 2 elements for 10 meters.
VERTICAL COMET CA 22A for 2 meters.
A 3 elements beam home made for 6 meters.
VERTICAL HF2V for 40, 80, meters.
Double Inverted Vee (home made)for 12/ 17 meters
A mobile antenna AH2B for expedition contacts.
KENWOOD THF 7 handle I am using too for the local 2 meters contacts.
Click on antenna images for full size view "will open in new window"
I am a professional fireman in a refinery, only with the French West Indies, SARA, fireman specialized out of Hydrocarbons,  service help with the people in perilous, formative medium with the gestures with the elementary gestures of survival. My hobbies is the radio naturally, Game of bowls, hunting and also tuning PC and car and the 4WD. 73 at all the stations and the pleasure of finding you on "the air" to see and exchange as beautiful images ones as the others.
- - - AMATEUR RADIO SOFTWARE USED - - -
EasyPal - For Digital SSTV
MMSSTV - For Analogue SSTV
MMTTY - For RTTY
MMVARI - For PSK
FLDIGI - For Digital Modes
Logger32 - General Logging Program - Also used to work RTTY and PSK .
N1MM - Contest Logging Program
IrfanView - For Picture viewing and manipulations
XnView - For Picture viewing manipulations
BV7 - For generating QSL Labels