1296 MHz Half Kilowatt Amplifier with a GI7b.

-- Look for technical preliminary info at the bottom of the page. --

The Russian microwave planar triode GI7b (data sheet) specified to operate up to 3000MHz and rated 300 W anode dissipation, was used to build a coaxial cavity amplifier for 1296 MHz. The plate cavity uses a 3/4 wl mode while the input circuit (at the cathode) uses a 1 wl mode line. With efficient cooling the amplifier can deliver 500 W RF in intermitent operation, or 250 W Key down.

Used at full power EME since Dec. 1996

The outside look:
The cavity and tube: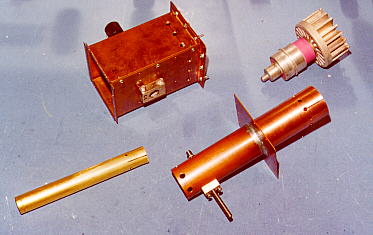 A very good reproduction of this design by DL4MEA "GI7b 1296MHz 500W-Amplifier"
Also working with this or similar design are: PA3CSG, JA9BOH, DL4MEA, S57RA, RW3BP.
A technical article is under preparation... please be patient. "Half Kilowatt GI7b Amplifier for 23cm"
In the mean time, as I received too many requests I could not reply promptly I decided to place here some drafts with cavity dimensions and also some contruction details you can look into (gif files, scale is 1:1 if printed at 300 dpi).
Cavity "draft with dimensions"
Construction "notes and tips"

Some Comments (and hope to place here a compilation of emails and infos)
The following considerations apply only to one single tube delivering more than 250W as we should expect no problems when running it below 200W if proper cooling is provided.
At 300W level we may have some detuning, but not too severe for CWcode operation.
At 350W to 400W may work not so well , depending on the construction.
Maximum 450W may be hard to keep tuned.
The input and output matching as well as overall performance can be achieved after some optimization procedures, But there is one subsisting problem a large thermal detune drift at the output when trying to get power outputs above 300W.
My prototype can work OK at 350 to 400W while at 450W I must pay a lot of attention.
If tuned correctly for 350W during a long period of transmission and let cool down during a few minutes in RX, when I start transmitting I have about 250W and in no more than 3 seconds of normal transmission it tunes in and I have the 350W, and thereafter it stays tuned.
The same for 400W but it may take 5seconds or so, and then it stays tuned.
At 450W (I don't use it normally above this power) it takes also about 5 seconds but I must pay attention to the CW keying to keep a stable rhythm (also useful, for other QSO reasons hi ) otherwise it may detune a bit.
Not all the reproductions worked well and some of them were just a disaster, although they were well constructed the same.
After some time, some experiments and with several contributions it was possible to identify the origin of the problem.
The problem is internal to the tube and lies in the non flat shape of the grid that moves toward the anode when its temperature rises, detuning the plate cavity to a lower frequency.
Why some reproductions worked reasonable while others don't ?
The success parameters are listed below.

Less grid current, as possible, and good neutralization.

The best possible thermal contact from grid to gridline.

Thick cooper gridline, NO finger stock, precision mechanical grid fit and silicon paste.

As much air flowing thought the gridline as possible.
Let me know your comments.
73 de CT1DMK.

( email from Sergey-RW3BP to Guenter-DL4MEA )
Hello Guenter,
it was my first test on 23cm EME. I use very small 1.65 dish for 3 and 6cm EME. First I had plans only to listen to some 23cm EME signals, but then decided to try to do PA using GI7B. Construction is close to CT1DMK design.
Photos on your web page also help me very much. I take main idea of design - 3/4 lambda anode resonator and 1/2 cathode. Then I use my own construction allowing me to do quick change of anode and cathode resonator length. I use pieces of aluminium tubes and hose clips from automobile hi.
I was surprized that after one week of work I had 300 W of CW power. Of course thermal stability is main problem. Now I need to correct anode resonator tuning during 2.5 min transmitting period. Anyway I had my first EME QSOs on 23cm hi. I plan to do some corrections in construction and to improve cooling. Now I use only two 90mm PC-type fans for anode and two 40mm PC-type fans for cathode line.
I get 300 W : 28 W input, 2000 V, 460mA.
Bandwidth of unloaded anode resonator is 900 kHz( -3dB ).
Tube is GI70BT.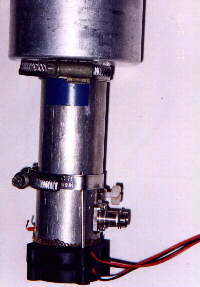 73 Sergei RW3BP

( Another style of a GI7b 23cm amplifier )
have a look at OK1KIR's GI7b power amp.
vy 73, Guenter DL4MEA

GI7b and GI7bt tubes may be available from Alex, UR4LL
( Disclaimer: This is for your information only, I have no affiliation of any kind with this, and accept no responsability. dmk. )

Any comments:

Luis Cupido