The team was welcomed by the CE DX GROUP at their arrival in Santiago and a little meeting was organized at Sergio's place (CE3WDH). See how everybody is enjoying eating pizza, drinking beer and famous Pisco and talking about ham radio (only ham radio???).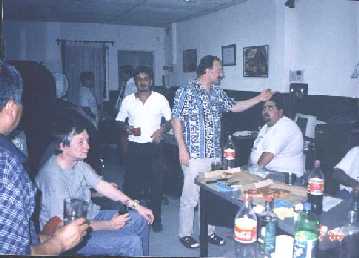 Manfred, DK1BT, sitting in the front, Danilo, XQ3IDY (left) and Mar, DL3DXX (right) standing and Carlos, CE3WBY, sitting (right). Mar is praying to the god of 160m for good propagation during the DXpedition.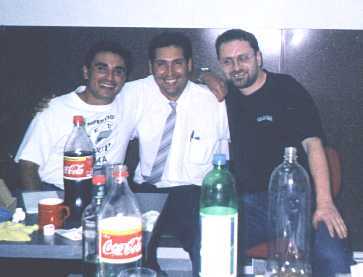 Danilo, XQ3ZW (ex XQ3IDY), to the left, a unlicensed gentleman in the middle and Falk, DK7YY, on the right, who has a pleasant and enjoyable evening as well.
Thanks for the pictures to Carlos, CE3WBY.