April 2016
It has been awhile since we had anything new to report. But now we are excited to announce the arrival of a brand new 1.25 meter repeater on Nescopeck Mountain!
Last year we changed out our dual band UHF/VHF antennas and replaced them with tri-bands. We did this because they were old and needed replacing, and we thought it would be nice to maybe add a 1.25 meter repeater in the future. The future has arrived!
W3RC has installed a repeater on 224.600 Mhz PL77. This repeater is tied to the WC3H 70 cm repeater on 447.925 PL77. The 1.25 meter repeater uses two modified TYT 9000D mobile transceivers. We are very happy to have another band available in the area! Please join us on the 220!
W3RC has found another great use for the MESH network. The 33 cm repeater is now tied to the AllStar Link network. AllStar Link is similar in some ways to EchoLink. We are currently linked to a massive 'cluster' of repeaters scattered over a multi-state area. All of them are tied together so when you talk on one, you talk on all of them.
The controller for the 33 cm repeater is now a Raspberry Pi, which is connected to AllStar Link over our MESH network. There is no need for over the air link radios as the controller / link is all located at the repeater site on top of the mountain.
All of the other repeater controllers are programmable over the MESH.
Unfortunately, our 6 meter antennas have been damaged. We have had to take the 6 meter repeater out of service until we can find replacements. We must also hire a certified climber to do the work.
On a happier note, we have a bunch of new Hams in the area and / or passing thru on a regular basis. They are becoming regulars and we are very happy to have new friends joining us.
Check the Photos page for new additions.
---
March 2015
Spring is in the air. The robins are hopping around, the snow has been melting and we are all anxious to make a trip to the repeater site. One major achievement has been made with the MESH. Tunneling scripts are now available to be installed on WRT45GS routers. We have installed the scripts and have tunneling working! This means that WC3H can sit in the warm comfort of his home and remotely program the repeater controllers. We are very happy. It has taken almost two years to get everything together and working, but all of that has paid off.
We are hoping that our dearly departed tower cam can be brought back to life with a thaw and a power cycle. Lesson learned. Even an outdoor camera can freeze to death if you stick it on top of a tower, on top of a mountain, in the clouds and snow.
---
February 2015
It has been a really really cold winter and the temperatures are presenting some challenges to the equipment. First our dearly departed web cam on the tower froze to death. The link receiver from 147.120 is acting a bit flaky and going a bit deaf now and then. The 6 meter repeater decided it doesn't want to transmit anymore. The 447.925 repeater went on a brief vacation then came back to life on it's own. So suffice to say the long cold winter has exposed a few flaws that we need to correct as soon as the weather permits a trip up to the mountain.
---
January 2015
Happy New Year! Still way too frozen to get up to the repeater site. Our poor tower cam has apparently frozen to death. We hope a good thaw and a power cycle brings it back to life. We really put it up there as an experiment and it was a really inexpensive camera, so we are not heartbroken. We hope to get it back up and running because the views are spectacular!
---
December 2014
Merry Christmas! It is really cold, snowy, and icy. No way we can get up the mountain till spring. Good thing we have the MESH stuff installed. We are working in the relative comfort of the valley to get tunneling working between Bloomsburg and Berwick. Stay tuned!
---
November 2014

We have accomplished many things so far this month! We replaced the 2 m / 70 cm dual band antennas with new tri-band antennas to accommodate a 220 Mhz link or repeater in the future. The new antennas are working great! We have been getting lots of nice comments about how clean the repeater sounds.
We elevated our MESH gear to 75 feet on the tower, and also moved the camera up to the same level. The signal strength and link quality of our MESH system has shown dramatic improvement! The camera on the tower is performing like a champ so far. Since the camera is not POE ready, we used a combination of a Ubiquiti 24 volt 1 amp POE supply at the bottom, and an adjustable 3 amp voltage regulator circuit at the top. The camera requires 12 volts at 1 amp and this combination gives us 12 volts at 2 amps available at the camera. The views from the tower are nothing short of amazing!
We are now able to connect to the laptop PC at the site over the MESH with remote desktop. The PC has one native serial port, and we added two USB to serial ports. We have all of our documentation and software installed on the PC. This will allow us to remotely program the repeater controllers.
We still need to install the new repeater controller. That will happen very soon because it has to be finished before the snow falls.
---
October 2014
We picked up a surplus Panasonic ToughBook CF-51 laptop (cheap). We also got a WansCam HW0038 outdoor pan / tilt dome camera (inexpensive but looks great so far). We installed a WRTG54-GS LinkSys router inside the building. We will have the PC, camera, Bullet M2 and AirGrid M2 plugged into the router with DTD linking enabled.
Measurements were taken so we know how much CAT-5 cable we need for each run up the tower, across the catwalk, into and around the building, then to the router. We need three cables because we are moving the Bullet M2 vertical, the AirGrid M2 dish, and the camera up the tower to about 60 feet elevation. We considered using a weatherproof box and a POE powered switch at elevation, but decided it is better to be able to reach these things from the ground, so three cables it is.
RS232 cables are being made to plug between the PC and the repeater controllers. We will use remote desktop over the MESH for repeater programming and other purposes, such as storing manuals and all relevant materials related to repeater maintenance. We will also have internet access at the site due to the use of a gateway node. As soon as the PC has all of the goodies installed we will put it in one of the racks with a 1U drawer. Then we can have the phone line shut off and no longer have a phone bill for the site! Yay!
We upgraded all of our nodes to BBHN v3 Beta firmware. A known instability in v2 was bringing the whole network down frequently. We were constantly running to reboot nodes. Since the upgrade all nodes have stayed up and running.
DTD linking has been turned on at the KC3APN cluster, as well as the W3RC and K3BS clusters. The WC3H and W3OHX ARA tower site clusters will also have DTD linking enabled. We ran without DTD linking turned on to be sure we had good stability. Now that we have been more or less problem free for several weeks, we are enabling DTD linking to see if things stay up and running. Having DTD linking enabled will give us a much faster throughput, because the Ubiquiti nodes plugged into the LinkSys router node use the LAN ports to communicate rather than the radios. Having the PC and camera plugged into the same router node means everything can talk directly to each other. ETX times become much shorter, and the entire network should work better and faster.
For now the camera is inside the building diligently keeping watch over the repeater racks in complete darkness. The IR works rather well. It is a 1280x720 mpeg4 streaming camera with all kinds of security features. It will be mounted at about 60 feet of elevation on the tower in a couple of weeks. Once the camera is up on the tower we will have spectacular views day and night. The Nescopeck mountain site overlooks a wide variety of interesting places, such as the Susquehanna Steam Electric power station, RT 80 and the Pilot truck stop, Berwick, Nescopeck, Hazleton, etc. The camera pans 355 degrees and tilts 90 degrees. We will probably add an indoor camera (or three) back into the mix as a security feature for the building at a later date. KC3APN dreams of a remote control telescope somewhere on a mountain top...
Other plans include replacing our current dual band antennas with tri-band antennas. This will allow us to add a 220 Mhz repeater in the future.
W3RC plans some adjustment to audio levels and other parameters on the 927.375 Mhz repeater.
A pre-amp for the 53.59 Mhz (6 meter) repeater will be installed and tested. The repeater does not hear as well as we would like and this should cure that problem.
A new controller port expansion project using a CAT RLS-1000B Remote Link Switch is underway. That will make room for a future 220 repeater and / or link radios.
We plan on hiring a climber ASAP so we hope to have everything up and running by the end of the month. These are fun and exciting times!
---
September 2014
The Ubiquiti equipment has been mounted on a temporary basis at the B.A.R.S. tower site. A solid link has been established to the KC3APN cluster site, and to the A.R.A site. The W3RC cluster is available through the links. IT WORKS!
We have noticed some instability between the Ubiquiti devices. This is a known problem as stated on the broadband-hamnet.org site. We have been playing around and noticed a few things that may contribute to this instability. First of all, all nodes have two auto-scan features. WiFi scan can be set to automatic refresh. The second scan feature is MESH Status. This also has an automatic refresh feature. Both of these scan tools take time and overhead to run. Leaving one or both of these features running on your node can slow down traffic and eventually leave a node unresponsive or loose routing (so it seems). When using any scan feature be sure to click 'stop' and then click 'quit' to leave the page. Clicking 'quit' without hitting 'stop' first, or using the 'back' button on your browser can leave the scan running in the background, even if you are not viewing the scan page! Check all of your nodes to be sure you have not left any scans running constantly in the background.
Following this procedure has left our network faster, more responsive, and more STABLE. At least it seems that way so far. Stay tuned for more info as we experiment.
The folks at the broadband-hamnet site have been testing some software patches to correct the problem. So far two patches have been in Beta testing with mixed results. We are pretty sure they will have the issue resolved in the very near future. It is unknown at this time if we will need to re-flash an upgrade, or if it will be a downloadable patch.
---
The A.R.A. has mounted an AirGrid M2 dish and a Bullet M2 with a 9db vertical on their tower. The AirGrid is pointed directly at the WC3H tower. A 17.6 mile link has been available between KC3APN and the A.R.A. site with varying weather conditions. This link is within one degree on axis between KC3APN and the WC3H tower site. The equipment has not yet been erected at the WC3H site, so this is a direct link between KC3APN and A.R.A.! Some really fun 2.4ghz linking has been going on, including W3RC linking from his home to the A.R.A. site. The gang has been running around with mobile nodes doing some testing with impressive results.
Hopefully a temporary installation of an AirGrid M2 and a Bullet M2 with a 9db vertical will go up at the WC3H tower site by the end of the first week in September. After that K3BS will be linked into the system. W3HZL is working on a plan to get a link to the A.R.A. site. We are hoping other repeater clubs in the area will want to get in on the fun. We have the potential to link to C.M.A.R.C., and beyond down to Sunbury where the CSTG has put some nodes up.
---
August 2014
We did it! We have successfully linked up (as a test) between KC3APN's QTH and the WC3H repeater site. We upgraded our equipment a bit considering the long haul. We purchased two Ubiquiti AirGrid M2's and four Ubiquiti Bullet M2HP's. We mounted one AirGrid and one Bullet in place of the antennas we had before. These are located at the residence of KC3APN.
WC3H and N3TQK drove to the repeater site as we were finishing up with the mounting job in Berwick. When they arrived they erected some of the military pushup poles with another AirGrid and Bullet on the top. After a few brief moments of aiming the AirGrid, they acquired a 100% signal to the KC3APN AirGrid. We are very pleased to say the least. To start with, it was raining. The leaves are on the trees and they were barely skimming the tree line. The distance is 7.6 miles. Once the equipment is mounted on the tower it will have far better elevation and the trees will be less of an issue.
In addition, K3BS had set up a 24db dish with a Bullet attached at his home that was also pointing at the repeater site. A link was acquired there too! He also has a mobile node, and reported connecting as he drove between Nescopeck and the repeater site.
Sincere thanks to all who made this possible.
KC3BFS for climbing the ladder, removing the old mast and antennas, and then re-installing the mast with the new equipment.

W3RC for wiring CAT5 cables, mounting all the goodies on the mast, and going up on the roof to complete the wiring and aim the AirGrid

N3TQK for providing the ladder, tools, and expert dish pointing skills. It's hard to point a small dish at a target over 7 miles away and hit it within a minute. But George did it!

WC3H for providing the needed 4WD truck to get the repeater site, remote power, wiring, and remote computer operation during the test at the repeater site.

K3BS for mobile testing as well as the unexpected bonus link from his QTH. He is also a good anchor at the bottom of the ladder. ;o)

KC3APN for being the 'go-fer' and food runner. Also an anchor at the bottom of the ladder.

At the end of the day we all feasted on wings and had a great time chatting about the future of MESH in our area. Maximus Blue Bear Rex allowed everyone to keep their fingers and toes during all the commotion. Unfortunately Daisy the Amazing Weather Dog is no longer with us, but she would have wagged her tail with approval.
The next step is having the equipment mounted permanently on the repeater tower. A 24db dish and a Bullet M2HP was handed off the the ARA and will be used to link between their Freeland tower and the BARS site. And so it begins!
---
June 2014
Summer is finally here and all of the repeaters are back up and running in tip top shape!
During our abnormally long and cold winter three of the repeaters underwent some refurbishing, tuning and tweaking. We also installed a new controller that will allow much more flexibility and linking capabilities. Currently the 6 meter and 70cm repeaters are linked together. This brings the fascinating world of 6 meter to those of you who don't have a 6 meter rig, but have a UHF rig. As soon as the repeater was turned on we had a contact from New Jersey! We hope you all enjoy the link.
And remember, we really do like it when people use the repeaters. We encourage 'rag chewing' and you should always free to drop into a conversation and say hi!
Now that all of the repeaters are up again, we will start focusing a bit more on MESH networking. KC3APN has obtained another dish antenna, some LMR600 coax, a Ubiquity Bullet M2 HP, with matching POE kit, and an 8db vertical antenna. More distance testing and experimentation is needed before we hire people to plant devices at the tower site. We will keep you posted here in the news section, but don't forget to check the MESH section of the site.
---
January 2014

Happy New Year!

You can now access the B.A.R.S. 2 meter repeater From the N3EVW (448.825 Mhz PL 136.5) 70cm repeater in the Scranton area. EchoLink has been used to create the link so you may hear some extra tones or repeater ID's during transmissions that use the link. Many thanks to everyone involved! We are very happy to be part of a growing system of linked repeaters that bring the river communities and increasingly more outlying areas together. We have lots of new HAMs around and increased activity helps keep everyone interested in the hobby. Please be sure to check in now and then on any of the repeaters in the system. We will all be glad to hear from you!
---
December 2013

Merry Christmas!

A new link to the B.A.R.S. 2 meter has been established in Freeland. The new link is connected from W3OHX (146.067 Mhz PL 103.5) and will be great for those of you in the area. The B.A.R.S. repeater is very active and we hope the link will encourage others in the area to join in on the fun and conversation. A very happy holiday gift from all of the folks who operate the W3OHX repeater.

We received notification that our 70cm (447.925 Mhz) repeater was causing interference to a public utility repeater. Upon notification we promptly removed the repeater from service and are undertaking necessary repairs. The 6 meter (53.59 Mhz) repeater shares the controller for the 70cm repeater, therefore it is also out of service as a consequence. We have removed the equipment from the tower site and it is getting a compete overhaul in the warmth and comfort of WC3H's basement. We expect both repeaters to be back in service by early spring at the latest.
---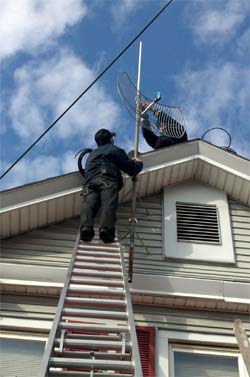 November 2013
The Berwick MESH link node is alive! In a wonderful example of 'helping hams', WC3H, N3TQK, W3RC, and KC3BFS descended upon the home of KC3APN and installed the antennas for his MESH mini-cluster. Materials used were one ten foot mast, one set of 18 inch Channel Master mounting brackets, one 24db dish antenna, one 15db vertical antenna, two 25 foot rolls of LMR-400 cable, one node, one 25 foot LAN cable, and one 25 foot extension cord. The node is in the attic, and the extension cord and LAN cable are there for easy access and power cycling. There are four nodes in the cluster, including a mobile. The mobile is not always under power.
This cluster will act as a target for further testing from the repeater site using the portable push up tower. The distance is 7.6 miles. We want to be sure we can get a high quality link without using any amplifiers before hiring a certified climber to go up the tower for a permanent installation.
Once the permanent link is established there will be some MESH services available for all of you to use and experiment with. Anyone interested in MESH Networking is encouraged to link up to the Berwick site (if you can) for now, or the repeater site when it is installed. Fun times ahead, and hopefully more sites to link to!
Daisy 'the amazing weather dog' gave her full co-operation during the installation and everyone ended the day with their limbs and digits unscathed by puppy teeth. It is rumored that mass quantities of chicken wings were consumed at this gathering, along with a ham and cheese hoagie. You can see the day's activity by clicking on the photos button.
C.M.A.R.C. is asking all hams who have disposable gear to contact N3OMA (Andy) so he can prepare for the upcoming spring hamfest season. Andy needs time to sort through and prepare worthy items for sale at the club table. If you intend to donate, please do not offload useless trash bin stuff. Anything ham radio, working consumer electronics, and anything else that you think others could use, and would be willing to pay for is welcome. You can contact Andy at [email protected]
---
October 2013
We are ready to install the MESH antennas at the Berwick node site. KC3APN gets vertigo and can't go up on his roof so some club members have graciously volunteered to help out with the installation. We hope to do this near the end of the month or the beginning of November. We will use a 24db dish and a 15db vertical antenna in diversity mode. We will not install any amplifiers at this time as we feel the 7.6 mile haul will work just fine without them. The Berwick mini-cluster currently has a web server, FTP server, an IRC chat channel on a node based server, and a pan tilt web cam with two way audio. An internet gateway is available for activities that fall within part 97 rules.
---
September 2013
Repeater adjustments and tweaks have been completed on the 2 meter repeater. We noticed that there was a slight delay developing when the repeater opened. Some cleaning out of those darn metallic spider webs, and some cleaning and reseating of connectors has done the trick.
This month we also experimented with a long distance MESH link. We used our military style portable 29 foot push up towers. We attached a 24db gain dish and a 15db vertical to each. We took one tower to the western intersection of Bell Bend Road and US 11 (near the power plant), and the other tower to the repeater site, high atop Nescopeck mountain. The distance was 4 miles. We achieved a 73% link quality almost as soon as the tower node had power applied. We did NOT adjust elevation angles, each dish was pointing out perpendicular to the tower pole. These are fantastic results. We didn't use any amplifiers, just antennas, which were not pointed at optimal angles! We are very excited to get a link node hooked up in Berwick. Once done we will put a node at the tower and link to the Berwick node. The Berwick KC3APN mini-cluster has some services up and running, and as soon as the link is established anyone who can hit the tower site will have someone and something to experiment with. Stay tuned!
---
August 2013
We are currently experimenting with using MESH Networking for remote control of the repeaters at the tower site. When we accomplish this it will be a great target for everyone to try to link to. The ultimate goal then would be to link to other repeater sites up and down the Susquehanna Valley, thus providing more targets. This could help us build out a complete network that would cover the river cities and towns. A functional cross-community MESH Network would be of great benefit to emergency services in times of disaster, which this area is unfortunately too often subjected to due to flooding. We are only in the experimental stage at this point and will keep you posted with any new developments as we progress. Click the MESH button for some basic MESH Networking information. Detailed information can be found at http://hsmm-mesh.org
---
July 2013
WC3H and KC3APN gave a presentation about MESH Networking at the C.M.A.R.C. club meeting. The presentation lasted about 45 minutes and was well received. We took lots of equipment and had live working examples with 4 nodes alive for the presentation. Club members seemed to be interested in possibly placing a node on one of their tower sites, which would then potentially linked to the B.A.R.S. repeater tower, providing a cross-community link between Berwick and Bloomsburg. We donated a pre-flashed node to the club at the end of the presentation to get them started.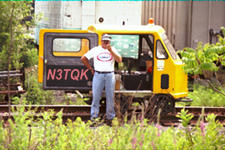 On the 27th and 28th of July the North American Rail Car Association held its annual event in the area. N3TQK is an active member and owns his own rail car. The event takes place over two days. On the first day the club ran from Northumberland to Berwick. On the second day they ran from Sunbury to Mt Carmel. The club runs on the North Shore rail lines. This provided a unique opportunity to make a rare QSO to a moving rail car! N3TQK was happy to make contacts on his mobile 2 meter rig during his travels. There's one for the log book!
---
June 2013
One day we were talking to KC3MN from Scranton on the B.A.R.S. repeater, and he mentioned that he was experimenting with MESH Networking. This peaked our interest as we see the potential to do remote repeater control as well as other fun projects. After picking KC3MN's brain and getting all excited, we set out as individuals to acquire a bunch of nodes and other equipment to experiment with. So far the gang has collectively gotten ahold of about 14 working nodes, two 29 foot military style push up towers, two 24db dish antennas, two 15db verticals (as well as some others), a portable battery back up power supply, and lots of other goodies like weather-proof boxes, cables and hardware. This looks like it could be lots of fun!
---